Did Ant-Man And The Wasp's Evangeline Lilly Accidentally Reveal The Return Of A Marvel Villain?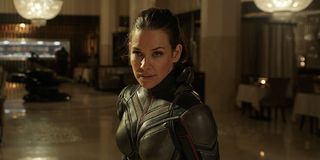 The Marvel Cinematic Universe is well-known for its secrecy, with plot details and casting announcements being kept under lock and key for as long as possible. Marvel actors have been even been known to film scenes with no set and no scene partner just to prevent them from guessing any upcoming storylines. However, even the best walls can have cracks, and actors are humans too. Take Evangeline Lilly, who plays Hope van Dyne, a.k.a. The Wasp. She may have just revealed the return of an old villain - and completely by accident.
According to Men's Health, Evangeline Lilly recently posted the front page of her script for the upcoming film Ant-Man and the Wasp: Quantumania on Instagram. There's nothing wrong with that, except that she tagged a number of her co-stars on the post. The tagged actors included returning actors Paul Rudd (who we all know as Scott Lang/Ant-Man), Michelle Pfeiffer (who plays Janet van Dyne), Michael Douglas (who plays Hank Pym), and - to the excitement of fans - Corey Stoll.
Who is Corey Stoll? As Marvel fans could probably tell you, Corey Stoll played Darren Cross, the brilliant, yet morally grey scientist who created the Yellowjacket suit in the first Ant-Man movie. Scott Lang thwarted Darren Cross's plan to sell his Yellowjacket technology to the nefarious Hydra organization, and the ending of the film led audiences to believe that the antagonist was dead. But that's maybe not the case after all.
If Evangeline Lilly tagged Corey Stoll in her post about the Ant-Man and the Wasp: Quantumania script, it's very possible that Darren Cross could make a surprise appearance. Marvel villains seem to have a habit of popping up when you least expect them, even if they were presumed dead. Considering the jumble of characters who were resurrected after the infamous Thanos snap, Marvel clearly doesn't have a problem with breaking the rules of mortality.
What is strange, however, is that Quantumania already has a villain: Kang the Conqueror, played by Lovecraft Country actor Jonathan Majors. If Darren Cross does come back, what would his role be? Would he only be playing second fiddle to Kang? It is also possible that Darren Cross could be joining forces with Ant-Man and the Wasp to take down Kang.
However, in addition to resurrection, Marvel has also played with timelines. Corey Stoll could, in fact, appear in the movie, but Darren Cross might only show up in flashbacks, memories or hallucinations. The same thing happened in the BBC series Sherlock, when Moriarty's return was teased, only to have the character appear in pre-taped videos.
Evangeline Lilly has since deleted her Instagram post, lending credence to the theory that Corey Stoll is returning. While this is certainly odd, it doesn't really prove anything. There could be many reasons why Evangeline Lilly tagged Corey Stoll in her post. Maybe she wanted to keep a friend in the loop, or maybe she just did it by accident. I know I've accidentally typed the wrong name when sending a text. Unless Marvel officially confirms Corey Stoll's role, we'll just have to wait for the movie to reveal the answer.
Ant-Man and the Wasp: Quantumania is set to premiere in theaters on February 17, 2023. There's plenty more Marvel content coming our way before then, so don't worry about the wait too much. There's always another villain to defeat in the MCU.
Your Daily Blend of Entertainment News
Actor, singer, and occasional dancer. Likes: fashion, books, old buildings. Dislikes: cilantro, the NJ Turnpike, sneaker wedges.