One Army Of The Dead Actor Says There Have Been 'Some Talks' About A Sequel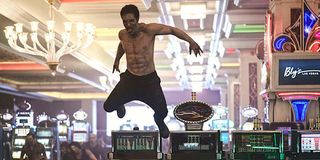 The following article contains MAJOR SPOILERS for Army of the Dead, so continue at your own risk!
It's pretty safe to say that Zack Snyder is crushing it on various platforms right now. His highly anticipated four-hour cut of Justice League was obviously a huge hit with fans over on HBO Max just a couple months ago, and then there's his Army of the Dead zombie flick hitting Netflix just a few days ago, as well as theaters. Fans of the action-packed zombie film will be pleased to hear that, according to star Omari Hardwick, there has already been "some talk" about a sequel to Army of the Dead.
If you remember correctly, Zack Snyder wrapped things up pretty nicely in Army of the Dead. The world is pretty close to becoming majorly screwed due to Omari Hardwick's character having boarded a private jet to Mexico City, only to find out he had been bitten by the zombie leader Zeus, thus turning him into an Alpha zombie. Pretty much the entire cast has been killed off at this point, but Omari Hardwick told ET that hope is very much alive for an Army of the Dead sequel, and it's one that would include him. Here it is in his own words:
Now, of course we would be seeing a totally different set of skills from Omari Hardwick if he is to be in an Army of the Dead sequel. He'll be a member of the undead the entire time he's in the potential film, unless there are flashbacks. He'll also most likely be the leader of the pack since the OG Alpha has been killed off.
Apparently Omari Hardwick isn't the only one speaking on the likelihood of a sequel, because Zack Snyder himself has given some pretty dang promising words about a sequel. In another ET exclusive, Snyder said it all depends on if there is enough demand for a sequel, but that he knows exactly where the story would go if the support is there. Here's how he put it:
It's still incredibly early, and Army of the Dead hasn't even been streaming for a week yet. While sequels have been known to act pretty quickly in some cases, it sounds like Zack Snyder is just going to feel this one out, even though he seems to be very on board for another gnarly zombie flick. Fans don't need to worry though, because there are actually two prequels in the Army of the Dead franchise's future, so hope is actually pretty high on all fronts.
Until then, you can still watch the recently released film by streaming it at home on Netflix or venturing out to a theater!
Your Daily Blend of Entertainment News
Thank you for signing up to CinemaBlend. You will receive a verification email shortly.
There was a problem. Please refresh the page and try again.