Cruella's John McCrea On Queer Representation In Film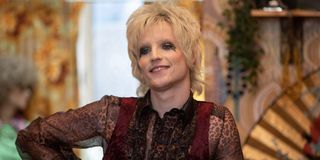 Disney's Cruella, the all-new live-action feature film about the rebellious early days of legendary villain Cruella de Vil, is an elaborate production, to say the least. It breaks the Disney mold in more ways than one and notably features an LGBTQ+ character. John McCrea, the actor behind the fashion icon Artie, has shared thoughts on queer representation in film.
John McCrea delivers a standout performance as Artie, who meets and befriends Estella (Emma Stone) before she embraces her wicked side and becomes Cruella. Artie is not given a love story in the film and his personal relationships outside of Estella are unknown, but McCrea has previously confirmed the character is queer. Artie exudes a confidence in his identity that is quite refreshing. McCrea shared the following about queer representation in film during an interview with CinemaBlend:
As we all know, the life of an actor is extremely tough and after countless auditions very few make it to the big screen. Being part of a community that historically has not been invited into the audition room makes this even more difficult. McCrea would like to see more and more LGBTQ+ people be offered these opportunities as time goes on, and it seems like Hollywood is getting on board with that lately.
John McCrea also said that while he hopes people keep writing more roles for queer people, he wants to see people be cast in all roles, not just queer roles. This makes sense, as no actor wants to be typecast and should be able to explore creatively and experiment with different roles and stories as they see fit throughout their careers.
Cruella is now available in theaters and streaming on Disney+ with Premier Access. Check out these LGBTQ movies to stream as we roll into Pride month celebrations.
Your Daily Blend of Entertainment News
Obsessed with Hamilton and most things Disney. Gets too attached to TV show characters. Loves a good thriller, but will only tolerate so much blood.