Following WandaVision, How Scarlet Witch Will Return To Her Avengers: Age Of Ultron Roots in Doctor Strange 2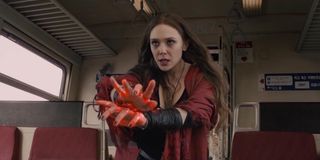 When we reunited with Elizabeth Olsen's Wanda Maximoff at the beginning of WandaVision earlier this year, she was coping with the loss of Vision by living out sitcom fantasies in the town of Westview. By the end of the Disney+ series, Wanda had unlocked the full potential of her chaos magic and officially became The Scarlet Witch. The next chapter of Wanda's Marvel Cinematic Universe journey will unfold in Doctor Strange in the Multiverse of Madness, but in addition to developing further as a popular character, Wanda will also return to Avengers: Age of Ultron roots by speaking in her Sokovian accent again.
Following her full debut in 2015's Avengers: Age of Ultron (which came a year after her cameo in Captain America: The Winter Soldier), Wanda Maximoff returned for Captain America: Civil War, Avengers: Infinity War and Avengers: Endgame, but her accent slowly faded away over the course of those movies, and it was nonexistent while she was living in that sitcom life during WandaVision. Well, we'll be hearing it again in Doctor Strange in the Multiverse of Madness, with Olsen saying the following about the accent's disappearance and return while speaking with Rolling Stone:
Back in January, Elizabeth Olsen talked about how she, Aaron Taylor-Johnson (who played Wanda's brother Pietro, a.k.a. Quicksilver) and a dialect coach came up with the Sokovian accent for Avengers: Age of Ultron from different Slavic sources. However, refining the accent took a lot of time, and as Olsen kept appearing in MCU movies, it was decided to have Wanda start speaking more like an American to blend in. Plus, since we learned in WandaVision that she grew up watching American sitcoms, it was likely pretty easy for her to start sounding like she came from the United States, which especially comes in handy when you're trying to emulate said sitcoms.
But Wanda Maximoff's accent hasn't just gone away, and now that her time in Westview is over, she'll go back to speaking like a Sokovian in Doctor Strange in the Multiverse of Madness. Judging by Elizabeth Olsen's comment, it sounds like she may have pushed for Wanda's Sokovian accent to return in order for the character to better reflect where she came from. And while Olsen isn't officially confirmed for any other upcoming Marvel movies beyond the Doctor Strange sequel, I imagine that if more appearances are on the horizon, she'll retain the Sokovian accent rather than go back to the American one.
So what can we expect Scarlet Witch in Doctor Strange in the Multiverse of Madness? While specific details have been revealed yet, WandaVision ended with Wanda studying the Darkhold and hearing her twin sons, Billy and Tommy, calling for help. So it's possible that while searching for her boys somewhere in the magical corners of the MCU, Wanda will run into Stephen Strange as he explores other realities. Doctor Strange 2's cast also includes Benedict Wong's Wong, Chiwetel Ejiofor's Karl Mordo, Rachel McAdams' Christine Palmer and Xochitl Gomez's America Chavez.
Doctor Strange in the Multiverse of Madness will work its magic in theaters on March 25, 2022. Learn what else the MCU is sending to the big screen with our upcoming Marvel movies guide.
Your Daily Blend of Entertainment News
Connoisseur of Marvel, DC, Star Wars, John Wick, MonsterVerse and Doctor Who lore. He's aware he looks like Harry Potter and Clark Kent.