Avengers Campus Review: Disneyland's Newest Addition Is A Marvel Fan's Dream Come True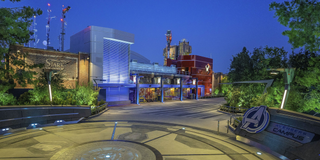 Two years ago Disneyland Resort unveiled the most ambitious project the theme parks had attempted since the opening of Disneyland itself. Star Wars: Galaxy's Edge was designed to be so much more than a theme park land. Rather than simply giving guests a couple rides and some places to eat, Galaxy's Edge wanted to make you feel like you were inside the Star Wars universe, like you were on an alien world. The resort's newest addition, the Marvel themed Avengers Campus, isn't quite that ambitious, but it doesn't need to be, it's plenty of fun on its own merits.
While Avengers Campus doesn't open to the general public until Friday June 4, I had a chance to tour through the new addition to Disney California Adventure as part of a special media preview, and I have to say I really enjoyed everything that I got a chance to experience, and I expect most Marvel fans looking forward to it are going to feel the same way.
Avengers Campus Embraces Its Theme Park Roots
One of the difficulties that Star Wars: Galaxy's Edge had was that it had to recreate something that was, by its nature, very alien. Making you feel like you're in a place other than a Disney theme park is that much harder to do when the place you're trying to create is a place we've never been. And while I think Galaxy's Edge does a remarkably good job at this, Avengers Campus achieves the same sort of feeling without having to work so hard.
Avengers Campus is just that, a campus. It's a place where the various Marvel heroes have come together to display their skills, and hire new recruits. And so the various elements that make up Avengers Campus make a lot of sense. Theme park guests are still guests, we're jall ust visiting an Avengers location rather than a theme park. When the Dora Milaje come down the street to put on a show of their abilities, it's because that's why they've traveled from Wakanda in the first place, to show the guests what they can do.
It's the simplest of ideas but it really works. And Avengers Campus relies on live performance likely more than any other single location inside a Disney theme park. During the media preview we were introduced to the Dora Milaje, Doctor Strange, and Spider-Man through scheduled shows. Black Widow was also visible walking on a catwalk on the Avengers HQ building, the site of a new attraction that will open in Avengers Campus' second phase.
And more heroes are certainly promised. Everybody from Captain America to Thor and Loki, Black Panther to Captain Marvel, have been part of DIsney California Adventure in the past, and they'll all appear inside Avengers Campus now and then.
The Spider-Man Ride Is Not To Be Missed
There is only one "ride" opening with Avengers Campus, and while that may feel like we're being short changed, WEB-SLINGERS: A Spider-Man Adventure is so much fun that I find it hard to believe that too many people will feel disappointed. At its core, it's a shooting gallery attraction, not unlike Buzz Lightyear Astro Blasters or Toy Story Midway Mania, but the attraction takes everything to such level that comparing it to those feels like we're selling it short.
Those other games require an interface, a mechanism to interact with the environment, but with WEB-SLINGERS the only mechanism is you, by throwing your arms outward real-time cameras sense your movement and location and fire a web in the appropriate spot. I found the accuracy to be so perfect that it honestly threw me off. You always have to compensate when firing projectiles in Toy Story Mania, so I found myself trying to do that, and missing because of it.
And yes, you get to fire webs at rampaging spider-bots, and you feel just like Spider-Man. The first time I started shooting webs I started giggling like a loon. Any fan of Spider-Man is going to absolutely be thrilled with the experience. Everything within the 3D environment is interactive. You can shoot spider-bots all you want but it's much more fun to shoot a crate covered in spider-bots and then pull them toward you, sending them all flying. There's so much on the screen at any one time that it will take riders multiple rides to see all the details and easter eggs and to figure out all the various tricks.
The other thing that makes WEB-SLINGERS: A Spider-Man Adventure unique is that the "game" portion is more co-op than competitive. While the game does keep track of individual scores, the focus is on the score earned by four riders together. That's the one that gets posted for all to see.
The Food At The Pym Test Kitchen Is A Welcome Addition to DCA
If you've read my coverage of theme parks in the past you know I'm something of a nerd when it comes to theme park food. I love the incredibly creative concepts that the folks at places like Disneyland can come up with. I'm willing to try any flavor combination once. Pym Test Kitchen, the quick service location found inside Avengers Campus, has that creative stuff, but it also has "normal" food that Disney California Adventure really needed.
While not all of the Pym's Test Kitchen menu was available during the media preview, the food we had, specifically the Pym-ini sandwich, (non-$100 model) and the Impossible Spoonful, pasta was a massive meatball (and hilariously tiny fork) was quite good, as was the Pingo Doce soda, whose name is a reference to the Edward Norton-led Incredible Hulk movie.
What I honestly found most important, however, was the inclusion of a breakfast menu that included traditional items like eggs, bacon, and french toast, though with a Pym twist, of course.. If you've ever wanted these simple sorts of dishes inside Disney California Adventure you needed a reservation at a table service location. The various counter service locations inside the park largely didn't serve them, so seeing them here was quite welcome.
Avengers Campus May Be The Perfect Balance Of Immersive Storytelling And Theme Park Fun
It has to be said that Star Wars: Galaxy's Edge requires a bit more from its guests. There's a level of "buy-in" that is needed for people to get the most out of the experience. Avengers Campus still creates a world of its own, but partially due to the fact that the story still takes place on earth, and partially due to the design from Walt Disney Imagineering, Avengers Campus simply doesn't require guests to do so much heavy lifting.
For some who welcomed that level of immersive storytelling, Avengers Campus may feel like a step backward, but if Galaxy's Edge taught us anything it's that not all guests are looking for that level of experience. Some just want to enjoy their theme park, while suspending disbelief a little bit, and Avengers Campus may have found the perfect sweet spot for those guests.
If you want to pretend to be Spider-Man, you have that ability. However, if you just want to pretend like you're in the presence of the real Spider-Man, that option is there as well. Avengers Campus is a welcome new addition to Disney California Adventure and one that everybody is going to want to experience.
Your Daily Blend of Entertainment News
Content Producer/Theme Park Beat
CinemaBlend's resident theme park junkie and amateur Disney historian. Armchair Imagineer. Epcot Stan. Future Club 33 Member.
Your Daily Blend of Entertainment News
Thank you for signing up to CinemaBlend. You will receive a verification email shortly.
There was a problem. Please refresh the page and try again.