Sylvester Stallone Got A Cool Early Birthday Surprise And It Involves Rambo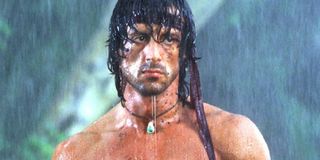 If there's one thing Sylvester Stallone has proven, it's that he's incredibly enthusiastic about the films he's been a part of. Whether it be Rocky, Cliffhanger or Demolition Man, he doesn't mind discussing the movies on social media or showing off cool throwbacks. John Rambo is another character that Stallone loves, as evidenced by the sheer number of times the actor has played him over the years. So you can imagine that Stallone was pretty ecstatic when he received an early birthday gift that's very Rambo-centric.
Sylvester Stallone's birthday isn't until next month, but the soon-to-be 75-year-old was already graced with a pretty cool surprise. The present in question was a nice way to pay tribute to Stallone's beloved John Rambo. And of course, the actor couldn't help but show off the present on his Instagram. Check out the sweet gift for yourself down below:
So it would appear that Sylvester Stallone was given a cool John Rambo statue for his birthday. Judging by the look of the Rambo figure, it would appear that this particular variation of the character is from 2019's Rambo: Last Blood. It's a cool birthday gift and one that Stallone seems to be incredibly pleased with.
This is far from the first time that Sylvester Stallone has shown love to the character of John Rambo on social media. Last year, the character received a major honor when a statue was erected and placed within the city of Hope, Canada, the place where First Blood was filmed decades ago.
The actor has also shared the occasional behind-the-scenes tidbit from the long-running franchise. He once posted a fun outtake from First Blood that included his John Rambo and Richard Crenna's Colonel Sam Trautman. Of course, the franchise is also known for its violence, so it's no surprise that Stallone also has a gross video or two from the set.
Sylvester Stallone remains one of the busiest stars in Hollywood but, as of right now, the Rambo franchise is at a standstill. As of right now, there's no indication as to whether or not another sequel will be made, but Stallone definitely doesn't seem opposed to the idea. He's previously hyped up the idea of more Rambo films and, based on the way the most recent installment ended, there's nothing to say that another film couldn't happen. Still, the actor seems to have other things on his plate, so there's no telling if he even has the time right now.
Whether there's another movie or not, it's just nice to know that Sylvester Stallone still holds John Rambo close to his heart. The fan-favorite actor may not end up reprising the role again, but you can bet he'll continue to drop fun posts like these for the foreseeable future.
Your Daily Blend of Entertainment News
Covering superheroes, sci-fi, comedy, and almost anything else in film and TV. I eat more pizza than the Teenage Mutant Ninja Turtles.
Your Daily Blend of Entertainment News
Thank you for signing up to CinemaBlend. You will receive a verification email shortly.
There was a problem. Please refresh the page and try again.