Think You Can Tell When Marvel Stars Are Wearing A Wig? Ant-Man's Evangeline Lilly Says Not So Fast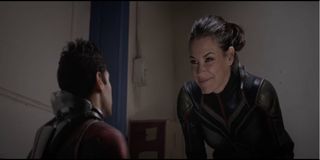 Bad wigs: you know them; you love them; you love to hate them. Even a casual fan of RuPaul's Drag Race can tell you how important a good wig can be (and how important it is to firmly secure it to your head). But with how far makeup and hairstyling techniques have come in the last few years, sometimes wigs just aren't necessary anymore. Ant-Man's Evangeline Lilly can attest to this.
The star of Ant-Man and the Wasp recently posted a throwback trailer pic of her dressed as Hope Van Dyne, which you can see below – adding to the comments with the message, "PS - YES, that is MY hair. NO, it is not a wig. For the record."
Evangeline Lilly is sporting the blunt bob from the original Ant-Man that many fans have thought was a wig. But the MCU's Wasp quashed those rumors: that's really her hair. It's reminiscent of the hairstyle worn by Hope Van Dyne's mother Janet in the original Marvel comics, and the cut was a tribute of sorts.
To be fair to the fans, it's easy to suspect Evangeline Lilly's hair was really a wig. The haircut is so straight and angular that it seems difficult to achieve on a natural human head of hair. It reminds me of a cartoon character's hair, and cartoon hair doesn't usually conform to the rules of physics or hairspray (Remember Entrapta's hair in the 80's She-Ra cartoon? It could literally move by itself).
Furthermore, the Marvel movies definitely contain their fair share of special effects, hair-related and otherwise. Ironically, some of the hairstyles that don't look like wigs actually are (like Tessa Thompson's Valkyrie hair), but it makes sense. It's much easier for a makeup crew to put a pre-styled wig on someone's head, rather than to create that exact style on the actor's real hair every time they need to shoot a scene. And sometimes it's the actor's choice: I can't really blame someone for not wanting to shave their head or dye their hair blue for a role. It's a huge commitment when a hairstylist could easily slap a wig or a cap on your head.
Evangeline Lilly, though, does not have this qualm. She seemingly had no problem rocking that sharp bob, and even more recently the star debuted a platinum-blonde pixie cut. It's unclear whether or not Hope Van Dyne will keep that hairstyle when she makes her next MCU appearance in Ant-Man and the Wasp: Quantumania. Hope Van Dyne had flowing dark tresses in Avengers: Endgame, so maybe Evangeline Lilly's cut was in preparation for the Wasp's new look. More likely, though, is that Evangeline Lilly will wear a wig (oh, the irony).
While the plot of Ant-Man and the Wasp: Quantumania is being kept under wraps, we do know a few things. Number one: Michael Douglas is growing his beard back. Number two: in addition to Evangeline Lilly, Paul Rudd and Michelle Pfeiffer will be returning to the Ant-Man universe. And Kathryn Newton of The Map of Tiny Perfect Things will be making her MCU debut as Cassie Lang, a character previously played by Emma Fuhrmann.
Ant-Man And The Wasp: Quantumania will arrive in theaters on February 17, 2023. In the meantime, you can keep up with all things Marvel here on CinemaBlend.
Actor, singer, and occasional dancer. Likes: fashion, books, old buildings. Dislikes: cilantro, the NJ Turnpike, sneaker wedges.
Your Daily Blend of Entertainment News
Thank you for signing up to CinemaBlend. You will receive a verification email shortly.
There was a problem. Please refresh the page and try again.