If Jungle Cruise Is Successful, Does Disney Need Pirates Of The Caribbean Anymore?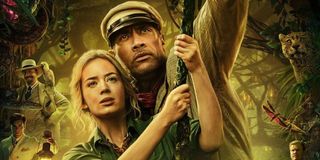 CinemaBlend participates in affiliate programs with various companies. We may earn a commission when you click on or make purchases via links.
After Disney unveiled the new trailer for Emily Blunt and Dwayne Johnson's long awaited Jungle Cruise movie, there was a familiar feeling that washed over myself and some of my colleagues here at CinemaBlend. While it seems like a lot of the DNA from Brendan Fraser's Mummy franchise is built into this new cinematic adventure, there's also quite a bit of Pirates of the Caribbean energy present in this next attraction-based film. So if Jungle Cruise is a success at the box office, does the audience even need a Pirates of the Caribbean reboot anymore?
Naturally, this whole argument is built on the premise that Jungle Cruise will be the smash summer hit Disney hopes it will be. So with that firmly in mind, we can talk out why one series should replace the other in the pecking order. Ultimately, it'll be up to the audience as to whether Jungle Cruise sinks or sails, and if it does, these are the reasons why it should send Pirates of the Caribbean sailing into the great beyond.
The Pirates Of The Caribbean Franchise Has Run Its Course
After five movies and a teased, yet unmade finale, not to mention losing the star at the head of its crew, the Pirates of the Caribbean has pretty much run its course. While competing reboots with Karen Gillan and Margot Robbie are currently in development, and some fans are excited by the possibilities, it still doesn't feel like a surefire shot. Considering how expensive the Pirates movies are to produce and market, two potential reboots feel like a bit of a stretch for a series that's been diminishing in returns.
While Pirates of the Caribbean: On Stranger Tides somehow managed to become the highest grossing film in the series, the film that followed, Pirates of the Caribbean: Dead Men Tell No Tales, missed the $1 billion mark. As this franchise feels like it's on the downswing, a reboot would naturally sound appealing. But if Jungle Cruise does well, it would render this series totally obsolete.
Jungle Cruise Is A Seafaring Adventure With High Stakes And Humor
Much as Pirates of the Caribbean did in its time, it looks like Jungle Cruise is going to be engaging in the same sort of seafaring adventure that Johnny Depp's former franchise once did. Only this time, you have Dwayne Johnson and Emily Blunt anchoring the show as the charming leads that blunder through obstacles in the name of comedy. And that's on top of a good amount of adventure being thrown into the mix as well!
Huge battles with comedic adversaries that have inflated self worth and/or mystical powers is basically the logline for both Jungle Cruise and Pirates of the Caribbean. You could practically ride both attractions at a Disney Park and legitimately confuse one for the other, were you not careful. Jungle Cruise feels like it's taken the Pirates formula and refreshed it in such a way that new actors could pick up the torch of the former blockbuster franchise.
Much Like The Pirates Movies, Jungle Cruise Is Pursuing A Legendary Treasure
Another key hallmark to the Pirates of the Caribbean saga is, of course, the treasures. And these have never been any ordinary treasures that are on display either, as everything from cursed Aztec gold to the Trident of Poseidon himself has been sought after by Captain Jack and his accomplices. Sure enough, Jungle Cruise has its own magical Macguffin to maneuver around, and it sounds like something straight out of Captain Jack Sparrow's wheelhouse.
The Tree of Life is Jungle Cruise's ticket to fortune and glory, as its reported healing powers are the prize that Emily Blunt's Dr. Lily Houghton and her brother are seeking to recover. Plus, as an added bonus in Pirates of the Caribbean bingo, this new movie also has a villain who was once a conquistador, but looks to eventually become part human/part mystical creature. Even Davy Jones himself would call that similarity out with clarity.
Dwayne Johnson And Emily Blunt Are Huge Names To Tie A Potential Franchise To
The Pirates of the Caribbean franchise was once driven, almost entirely, by the sheer star power that was Johnny Depp. For obvious reasons, that's not exactly a strategy that Disney can pursue at this moment, which is definitely a part of why there's two reboots on the table. But while Karen Gillan and Margot Robbie aren't exactly confirmed, let alone on set, for either of these projects, Dwayne Johnson and Emily Blunt's participation in Jungle Cruise is locked and loaded.
Already the on-screen chemistry between Dwayne Johnson and Emily Blunt looks like a match made in cinematic heaven, and both are still pretty huge draws at the movies. Between their box office pedigrees and their loyal fanbases, Johnson and Blunt are a pair that, if attached to a recurring franchise, would absolutely crush. And the best part is, having them as part of a fresh concept would only add to the potential longevity of the Jungle Cruise franchise.
Jungle Cruise isn't exactly a sure fire success, as there are plenty of Disney movies that spent a lot of money trying to become the next big franchise, only to flame out. The big difference is that with this new aquatic adventure picture coming along at the right time, it feels like the studio has found a way to continue pursuing crazy treasures on the high seas. For all of the reasons above, it's time for Disney to give the Pirates of the Caribbean series a viking funeral and let Jungle Cruise continue with smooth sailing.
That is, of course, provided that Jungle Cruise happens to be a box office success, and we won't see those results until after the film's release on July 30. With both theatrical release and Disney+ Premier Access offering the film upon that date, the odds are doubled when it comes to that potential for victory. Of course, you need to have Disney+ in order to purchase Premier Access, and if you're new to the platform, you should check out the Disney+ subscription bundle currently being offered.
This poll is no longer available.
Your Daily Blend of Entertainment News
Senior Movies Contributor
CinemaBlend's James Bond (expert). Also versed in Large Scale Aggressors, time travel, and Guillermo del Toro. He fights for The User.
Your Daily Blend of Entertainment News
Thank you for signing up to CinemaBlend. You will receive a verification email shortly.
There was a problem. Please refresh the page and try again.