8 Movie Franchises That Officially Are In Trouble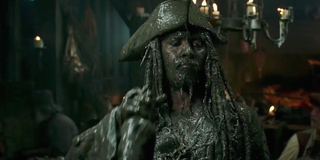 Now that we're midway through August, the summer movie season is finally winding down, with all the big blockbusters having come and gone. The summer of 2017 saw a lot of big winners at the box office and with critics, such as blockbusters like Wonder Woman, Guardians of the Galaxy Vol. 2, Spider-Man: Homecoming, and War for the Planet of the Apes, as well as original gems like Baby Driver and The Big Sick. However, the summer was not without its duds, as some big franchises fell completely flat this year -- so much so that now the future of these movies is up for serious debate.
To be clear, many of these movies made a lot of money once factoring in the international market. But most of them also performed far below studio expectations; were the lowest grossing films in their respective series (some of which were on No. 5); and were disliked by the majority of critics and moviegoers. All of these reasons are enough to give studios some clear pause in plans for future sequels, which is what makes them in trouble. This was a real bummer summer for film franchises that were used to drawing in big numbers, and it could be a while before you see a sequel for any of these eight franchises.
The Dark Tower
Let's start with the most recent film on this list: The Dark Tower. The long-in-development adaptation of Stephen King's dark western fantasy series finally made its way to screens in August. Despite boasting some big name talent (which means almost nothing these days), The Dark Tower was dead on arrival, opening with just $19.5 million. Critics disliked the bland film, a genre mash-up that was always going to be difficult to sell. A relatively low production budget kept this from being a total bust for Sony, though. Once upon a time, The Dark Tower was one of the most ambitious projects, with plans for a TV series to accompany a saga of films. Right now, Sony is still clinging to that TV series, but The Dark Tower's poor reception can't possibly spell good news for that or any sequels that were also in the works.
Alien
Alien: Covenant looked like it was a return to form for the series. After the slower and philosophical Prometheus, fans were happy to see an Alien film that, you know, had an Alien in it. However, Alien: Covenant was just another Prometheus in disguise, and audiences quickly caught on. After premiering at $36.2 million (the second highest opening for the series), it dropped a whopping 70% in its second weekend to $10.5 million. Yikes. True, Covenant grossed over $232 million worldwide, but in America, it only managed $74.2 million. That means Covenant is only the fifth-highest domestic grossing Alien film. Originally, Ridley Scott and Fox were gung-ho for a lot more Alien sequels, but a recent rumor indicated that the studio was halting plans to better evaluate the franchise's future in the wake of Alien: Covenant's disappointment.
Cars
No one was really begging for Pixar to make another Cars movie, but when your toys sell, nothing else really matters. The Cars franchise has never really been Pixar's shining star (like, say, the Toy Story movies), but Cars 3 was a noticeable attempt to disprove naysayers and deliver a satisfying story after the zero-shits-given that was Cars 2. While the film did receive better reviews, it still wasn't up to the standard that Pixar had set for itself. Box office-wise, Cars 3 is the lowest grossing film in the Cars series, scoring a total of $148.4 million domestically. While it is the 16th Pixar film to open at No. 1, it's the second lowest grossing of Pixar's entire library (The Good Dinosaur is lowest). Cars was able to make it to a trilogy, but that doesn't mean more adventures in mutant car world aren't on the table. We all thought Toy Story 3 was the end, but now here comes Toy Story 4. However, maybe even toy sales aren't enough to even things out this time.
The Pirates of the Caribbean
The Pirates of the Caribbean franchise has been experiencing diminishing returns for some time now, and the latest entry didn't exactly buck the trend. Pirates of the Caribbean: Dead Men Tell No Tales is the fifth Pirates film and the lowest grossing one in the series domestically. Jack Sparrow's latest got $171.5 million from the domestic box office, less than the $266 million earned by On Stranger Tides. Internationally, however, is a bit of a different story. Pirates is a franchise that does exceptionally better in foreign markets than in America. While it didn't do as well as the last three films, Dead Men Tell No Tales sits at $614.5 million internationally (over $700 million worldwide) and has proven to be the exception to the rule of struggling summer blockbusters. You can't call Pirates 5 a home run, but it did well enough to qualify as a hit. That doesn't mean a sequel is a good idea, as there is clearly a dipping level of interest from both major markets. A sixth Pirates is not likely to change that.
Diary of a Wimpy Kid
Even harmless family-friendly films aren't safe an unforgiving summer. The Diary of a Wimpy Kid franchise is still a thing and the fourth film, Diary of a Wimpy Kid: The Long Haul, opened this summer. It featured an all-new cast in order to keep that kid wimpy for as long as possible, but it did not feature an all-new energy. It was more of the same for Wimpy Kid, which audiences must have sensed because the film only grossed about $38 million worldwide. That's the lowest in the entire series, a common trend you'll find on this list. Audiences are either A) sick of sequels, B) sick of poorly made sequels or C) both. Either way, it might be time for the Wimpy Kid to become a Wimpy Man.
Transformers
Oh, Transformers. We keep complaining about you never doing anything different, but you always take all our money anyway. Transformers: The Last Knight may have finally been the breaking point. The fifth film of the franchise is not only the lowest rated (15% on Rotten Tomatoes) but it's also the lowest grossing with $594 million. Obviously, that's still a lot of money, but by Transformers standards, it's not that great. While foreign markets did come out to support the loud robot movie, it's still the franchises weakest debut since the first film back in 2007. This is troubling for Transformers because the studio has been trying to expand the franchise, having assembled a writer's room to create spinoffs like Bumblebee. Keep in mind that Akiva Goldsman, the creative mastermind of the Transformers films, is no longer involved following the release of The Last Knight, so take that as you will.
King Arthur: Legend of the Sword
This was a weirdly big summer for King Arthur in movies, but the King of Camelot got to star in a movie all his own. King Arthur: Legend of the Sword was a sexy, action-packed reimagining of the classic legend by Guy Ritchie, who did the exact same thing with Sherlock Holmes. Unlike that franchise, King Arthur was considered by many critics as doomed to fail. Warner Bros. spent $175 million to make this movie, plus another $100 million for marketing. The movie grossed about $143 million. The movie was a Frankenstein's monster as Warner took various elements from other King Arthur projects and just mashed them together, seemingly forgetting that no one cares about King Arthur. At one point, the hope was that this would spawn a new cinematic universe, but Warner Bros. forgot to just make the first one good -- and they aren't the only ones guilty of doing this.
The Mummy/Dark Universe
If you ever needed a reminder about not running before you can walk, then look to the example of The Mummy, Universal's big entry into cinematic universe. The Mummy is the first a series of planned films featuring reimagined classic horror monsters and for a second there, it looked like it might be the last. The Tom Cruise-led film currently possesses a 16% approval rating on Rotten Tomatoes and a domestic box office total gross of $80.1 million. Once again, the foreign box office offers a life line, with an international total of $325 million. The Mummy was the largest international opening of Tom Cruise's entire career, but does this make it a success? Reportedly, after high production and marketing costs, The Mummy is projected to lose around $95 million. Not exactly stepping with your best foot forward. Alex Kurtzman, who is the Dark Universe's Kevin Feige, doesn't even know if he's still involved with the franchise. The Dark Universe does have time to course correct with Bride of Frankenstein, but The Mummy didn't do that movie any favors by being a fairly generic supernatural action movie.
Your Daily Blend of Entertainment News
Matt has lived in New Jersey his entire life, but commutes every day to New York City. He graduated from Rowan University and loves Marvel, Nintendo, and going on long hikes and then greatly wishing he was back indoors. Matt has been covering the entertainment industry for over two years and will fight to his dying breath that Hulk and Black Widow make a good couple.