8 LGBTQ+ Marvel Characters We Want To See Disney Confirm In The MCU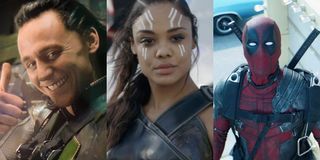 (Image credit: (Marvel))
Happy Pride Month, Marvel fans! As the comic book universe has continued to be expansive across the far stretches of time, space and the multiverse, so have the characters at the center of its storylines. Between the pages of the many weekly Marvel Comics issues, a diverse range of characters continue to grow the universe's LGBTQ+ community including with recent fan-favorites Valkyrie and Peter Quill. And, as the MCU becomes an invaluable extension of these stories, we hope to see more LGBTQ+ Marvel characters be confirmed on the big screen and Disney+.
LGBTQ+ representation matters, and Hollywood's biggest movie franchise can do better in the diversity department while telling its superhero stories. In celebration of this Pride Month, let's take a look at the key characters in the Marvel universe fans would like to see be confirmed as gay icons in the MCU after being confirmed as such in the comics:
Loki
Tom Hiddleston's Marvel villain has been a mainstay in the Marvel Cinematic Universe and is reprising his character for the Disney+ series Loki following his last appearance in Avengers: Endgame. In the comic books, Loki was confirmed as genderfluid in a 2014 issue of Original Sin. As we step into a deeper dive of the character with the six-episode Disney+ series, a teaser for the series had Loki marked as "fluid" on a TVA document if one looks closely. We'll be curious if the series represents his gender identity and sexuality in any way aside from the document.
Valkyrie
In Thor: Ragnarok, Marvel introduced Tessa Thompson's Valkyrie, who has since become King of Asgard following Thor's slump in Avengers: Endgame. Thompson's character has roots in the comics as a bisexual character, who memorably has a relationship with anthropologist Annabelle Riggs. And, in a removed scene from Ragnarok, Taika Waititi shot a scene of a woman walking out of her bedroom at Thompson's request to make it canon in the movies. A direct exploration of Valkyrie's bisexuality is said to be part of Thor: Love and Thunder as Thompson teased she will need to "find her queen."
Peter Quill
Last year, Guardians of the Galaxy character Peter Quill, a.k.a. Starlord, was written as bisexual in the comic books during a polyamorous plot line. In Guardians of the Galaxy #9, the character engaged in an open romantic relationship with a humanoid couple. We don't exactly expect this specific storyline to reach Chris Pratt's Peter Quill, but it would break a powerful barrier if Marvel Studios confirmed Starlord as a bisexual man, canonically, in the movies in some way.
Ayo
Similarly to Tessa Thompson's Valkyrie, there was another recently cut female gay relationship in Black Panther. The movie was taking inspiration from 2016's World of Wakanda comic storyline where two warriors from the Dora Milaje were lovers. In a cut scene from the Academy Award Best Picture-nominated film, Danai Gurira's Okoye and Florence Kasumba's Ayo had a flirtatious moment. In the final film, Gurira's character was featured to be in a relationship with Daniel Kaluuya's W'Kabi. Perhaps Marvel can still someday lean into the LGBTQ+ origins of the characters with an expansion of Kasumba's Ayo.
Iceman
Fox's X-Men franchise concluded last year with the release of The New Mutants, which featured the first same sex kiss between Marvel characters with Maisie Williams and Blu Hunt's characters. There are a number of mutants who represent the LGBTQ+ community and as Marvel plans to reboot the X-Men, one popular gay character who could be made known is Bobby Drake, a.k.a. Iceman. Back in 2015's All-New X-Men #40, the character came out to Jean Grey, and Bobby remains an out gay man in the comics.
Mystique
Another major X-Men character who is part of the Marvel LGBTQ+ community is Raven Darkhölme, a.k.a. Mystique. The character was featured in the original trilogy and later explored further with Jennifer Lawrence's portrayal in the prequel series. What's interesting about the character in the comic books is she's always changing genders through her shapeshifting abilities. Mystique therefore has the power to become a character that defies sexuality and gender identity. She had a brief, but canonic relationship with Irene Adler, a.k.a. Destiny, in the comics, as shown in 2019's The History of the Marvel Universe #2, in the form of a flashback done 30 years after Irene's death in a 1989 comic.
America Chavez
With Marvel unfolding its fourth phase of films and TV shows, one of the most highly-anticipated movies is Doctor Strange in the Multiverse of Madness. It was announced late last year that one of the new generation of heroes joining the MCU is America Chavez, to be played by The Baby-Sitters Club actress Xochitl Gomez. The introduction of the character will see some incredible Latinx representation already, and considering all that's coming up in the Doctor Strange movie, we don't expect much more than an introduction, but down the line the studio could definitely extend her storyline as a lesbian teen.
Wade Wilson
Last, but certainly not least is the Merc with a Mouth, Mr. Deadpool. In the comic books, Wade Wilson has been identified as pansexual, meaning an attraction to all genders. A comic book writer confirmed back in 2013, the antihero is into "anything with a pulse." Deadpool is known to be flirty around characters, including Cable and Spider-Man, yet in the movies, Ryan Reynolds' character is hyper focused on his straight relationship with Vanessa. As Deadpool 3 approaches, we'll see if Marvel takes the plunge.
The MCU has been around since 2008, and there has yet to be any real representation of the LGBTQ+ community by Disney, aside from the controversial moment from Avengers: Endgame where Joe Russo played an unnamed gay character named "Grieving Man" in the credits, who has one line referring to loving another man lost in the Snap.
Marvel has been teasing more LGBTQ+ representation moving forward and there are a wealth of options coming up (as just we've detailed). The MCU has certainly had its share of straight relationships displayed in its films and we'd be excited for the studio to represent the LGBTQ+ community moving forward.
Your Daily Blend of Entertainment News
YA genre tribute. Horror May Queen. Word webslinger. All her writing should be read in Sarah Connor's Terminator 2 voice over.