Celebrate Pride Month On Streaming: What To Watch Throughout June 2021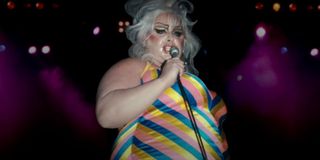 CinemaBlend participates in affiliate programs with various companies. We may earn a commission when you click on or make purchases via links.
It is important to celebrate and honor the contributions, accomplishments, and sacrifices made by the LGBTQ community throughout the year, but few months (at least in the United States) see as much support and recognition of the community than June, better known as Pride Month. Over the past few years, the goodwill and outreach that takes place throughout the month and all its activities has only grown, getting to the point where multiple platforms like Netflix, HBO Max, Hulu, Amazon and Disney+ have dedicated entire sections of their streaming libraries to highlight the biggest and brightest LGBTQ voices.
So, for Pride Month 2021, we have put together a rundown of all the major streaming services and what each has to offer in terms of movies, TV shows, documentaries, and other specials that help spread the word about the dedicated, fearless, and welcoming community. Here are a few things to watch as we celebrate Pride Month.
HBO Max Shine On
One of the most impressive offerings from a streaming service in Pride Month 2021 is HBO Max's "Shine On" section, an entire section dedicated to movies, shows, comedy specials, and other exclusive content highlighting the best the LGBTQ community has to offer. Below is a list of a few of the highlights of the "Shine On" section that best illustrate what HBO Max has to offer throughout the month of June.
The Times Of Harvey Milk (1984)
The 1984 documentary The Times of Harvey Milk tells the moving story of California's first openly gay elected official as he fought for the advancement of gay rights all the way up until his assassination at San Francisco City Hall in November 1978 as told through interviews with his closest friends, colleagues, and allies. Watch The Times of Harvey Milk on HBO Max.
It's A Sin (2021)
Russell T. Davies' (Queer as Folk, Doctor Who) five-part limited series It's a Sin follows a group of close-knit friends in 1980s London as they find the meaning of love in the midst of the Aids crisis. Watch It's a Sin on HBO Max.
Tig Notaro: Boyish Girl Interrupted (2015)
Before she became the bonafide star of Army of the Dead, Tig Notaro was a successful stand-up comic with a unique voice and a treasure trove of amazing stories. Such is the case for the comedian's Grammy and Emmy-nominated 2015 comedy special, Tig Notaro: Boyish Girl Interrupted, which touches on everything from her breast-cancer diagnosis to the death of her mother. Watch Tig Notaro: Boyish Girl Interrupted on HBO Max.
To watch hours upon hours of other movies, shows, documentaries, and specials that can be enjoyed all month long, check out HBO Max Shine On.
Hulu's LGBTQ Hub
Hulu has long been a home for great LGBTQ stories like the 2020 holiday romantic comedy Happiest Season, and that's never been more apparent than throughout Pride Month 2021. With a special LGBTQ hub and a "Pride Never Stops" campaign, the streaming platform is highlighting all of its great Pride content in one place with plenty of options to choose from. Here are some of the best…
Pride (2021)
The documentary series Pride, which originally aired on FX, chronicles the decades-long struggle for LGBTQ civil rights in the United States of America. Each of Pride's six episodes focus on a different decade starting in the 1950s, working its way to modern times through interviews with activists, experts, and allies. Watch Pride on Hulu.
Love, Victor (2020 - Present)
Before Love, Victor Season 2 premieres June 11, check out the debut season of the Hulu original series that follows a teenage boy as he embarks upon a journey of self-discovery at his new high school, his new city, and his new life. Watch Love, Victor on Hulu.
Changing The Game (2021)
One of the biggest focuses of the LGBTQ community in recent years has been the fight for trans rights, and the new Hulu documentary Changing the Game does a great job of tackling the issue. Told through the eyes of three high school athletes, the moving documentary examines how each student (and their peers) adapt to their radical change. Watch Changing the Game on Hulu.
There are also tons of movies and other TV shows to choose from if you're looking for great LGBTQ stories in Hulu's LGBTQ Hub.
Amazon Live Out Loud
The Live Out Loud collection of Pride Month content on Amazon is truly something to behold. Not only does the streamer put all of its great LGBTQ stories in one place that's easy to navigate, it also features some great offers including free access to some of the most groundbreaking programming like Queer as Folk and The L Word from Showtime. On top of that, there's a curated list of great movies available for rental or purchase throughout the month. Here are some of the best offerings…
Uncle Frank (2020)
The 2020 family road trip drama Uncle Frank follows Beth Bledsoe (Sophia Lillis) as she rides with her uncle, Frank (Paul Bettany) from New York to their family's home in South Carolina to attend a funeral. Along the way, Frank, who has never returned home or gotten over a traumatic event from his youth, is forced to come to terms with himself and his past. Watch Uncle Frank on Amazon.
Transparent (2014 - 2019)
The critically-acclaimed Amazon original series Transparent follows the Pfefferman family as their patriarch, Morton (Jeffrey Tambor) identifies as a woman named Maura. Blending elements of comedy and drama, the award-winning series stays with the family as they come to terms with the game-changing admission and how their lives will be forever changed, perhaps for the better. Watch Transparent on Amazon.
Queer As Folk Season 1 (2000)
The first season of the Showtime drama series Queer as Folk is included with your Amazon Prime membership throughout Pride Month 2021, giving you an opportunity to go back and revisit the revolutionary Showtime series that became the first of its kind to focus solely on the lives of gay men and women when it first aired in 2000. On top of that, the original British version of Queer of Folk is also streaming on the platform throughout the month of June. Watch Queer As Folk Season 1 on Amazon and watch Queer As Folk UK on Amazon.
Check out the rest of the great movies and TV shows on Amazon's Live Out Loud section.
Netflix
Although Netflix doesn't have a section solely dedicated to Pride Month 2021, the streaming giant offers a vast library of movies, shows, and documentaries touching on some of the biggest names in the LGBTQ community and strides they have made over the years.
Orange Is The New Black (2013 - 2019)
One of the first Netflix originals to take off, the prison comedy-drama Orange is the New Black centers on a female prison and its inmates as they bide their time behind bars. Notable for its LGBTQ representation upon its debut in 2013, the show served as a launching pad for Laverne Cox, who has gone on to become a massive star in her own right. Watch Orange is the New Black on Netflix.
I Am Divine (2013)
Harris Glenn Milstead, better known as his stage name Divine, was a trailblazer in his time, creating a unique blend of humor, showmanship, and utter filth on stage and in numerous films directed by John Waters. The 2013 documentary I Am Divine does a fabulous job of telling the life story of the iconic drag figure and the impact he had, not only on his friends, colleagues, and contemporaries, but society as a whole. Watch I Am Divine on Netflix.
The Death And Life Of Marsha P. Johnson (2017)
The 2017 documentary The Death and Life of Marsha P. Johnson follows a group of filmmakers as they attempt to put the pieces together surrounding the mysterious 1992 suicide of transgender legend Marsha P. Johnson, a death many believe to actually be a homicide decades after her body was found floating in the Hudson River. Watch The Death and Life of Marsha P. Johnson on Netflix.
Disney+
There is actually quite a few movies, shows, and short films on Disney+ that touch on LGBTQ issues and members of the community that you can enjoy throughout Pride Month 2021. Here's a small sampling…
Out (2020)
The 2020 Spark Shorts film Out follows a young man named Greg as he contemplates introducing his boyfriend to his parents, effectively coming out to them in the process. And just when Greg thinks his day couldn't get any more complicated, he magically switches places with his pet dog, which actually helps him get the nerve to tell his parents his big secret. Watch Out on Disney+.
Howard (2018)
The late songwriter Howard Ashman, who passed away from complications brought on by AIDS, was responsible for some of the biggest songs in everything from Disney hits like The Little Mermaid, Beauty and the Beast, and Aladdin to Little Shop of Horrors. The 2018 emotional and nostalgic documentary Howard documents not only the Academy Award-winning lyricist's successful career at Disney, but also his upbringing and his battle with AIDS in the final years of his short life. Watch Howard on Disney+.
The Owl House (2020 - Present)
The Disney Channel animated series The Owl House, which has found a second home on Disney+, follows Luz Noceda (Sarah-Nicole Robles), a teenage human girl who steps into a portal bringing her to an otherworldly summer camp. The show received early recognition for the way in which it incorporated LGBTQ characters and issues into its various storylines. Watch The Owl House on Disney+.
Starz
Whether it be documentaries or films that tackle complex issues like religion, morality, and sexuality, Starz offers a great number of moving stories focusing on the lives of members of the LGBTQ community.
Disobedience (2017)
The 2017 romantic drama Disobedience follows Ronit Krushka (Rachel Weisz), a woman who returns to her Orthodox Jewish community following the death of her estranged father, a respected rabbi. During her visit, Ronit crosses paths with her childhood friend Esit Kuperman (Rachel McAdams), with whom she has a bond that's so close and sensual, members of the community disallow it. Watch Disobedience on Starz.
Ahead Of The Curve (2021)
The 2020 documentary Ahead of the Curve tells the unforgettable story of Franco Stevens and her contribution to the LGBTQ community: the best-selling lesbian magazine known as Curve. From the unbelievable day at the race track that funded the startup all the way to present day, this engaging and enlightening documentary also dives deep into the legacy of the celebrated magazine. Watch Ahead of the Curve on Starz.
Philadelphia (1993)
The 1993 legal drama Philadelphia sees Tom Hanks portray Andrew Beckett, a man with HIV who's fired from his prestigious law firm not for his work but for his condition and lifestyle. Calling on the services of attorney Joe Miller (Denzel Washington), Andrew takes his old firm to court in a wrongful dismissal suit. Watch Philadelphia on Starz.
This is just a very small portion of all the great LGBTQ stories that are worth checking out even after Pride Month 2021 has come and gone.
Your Daily Blend of Entertainment News
Philip grew up in Louisiana (not New Orleans) before moving to St. Louis after graduating from Louisiana State University-Shreveport. When he's not writing about movies or television, Philip can be found being chased by his three kids, telling his dogs to stop barking at the mailman, or yelling about professional wrestling to his wife. If the stars properly align, he will talk about For Love Of The Game being the best baseball movie of all time.