No Big Deal, Just Florence Pugh Killing It With Stunt Work From The Set Of Black Widow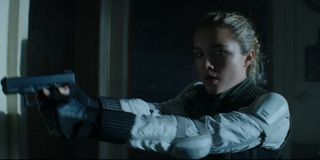 CinemaBlend participates in affiliate programs with various companies. We may earn a commission when you click on or make purchases via links.
Black Widow arrives in theaters on July 9th, and it will kick off the Marvel Cinematic Universe's long-awaited Phase 4 and the return to the big screen. Black Widow will mark the end of Scarlett Johansson's tenure as Natasha Romanoff, who has been an integral part of the MCU. Florence Pugh is seemingly being positioned as the new Black Widow in waiting, and she is clearly fired up and ready for Marvel's return to theaters. Black Widow will feature some insane stunts and action judging from recent clips. Now we have a behind-the-scenes look at Florence Pugh killing it with stunt work on the set of Black Widow.
Black Widow is going to be action-packed, and with its espionage and super spy leanings, it looks like the MCU's attempt to dethrone Mission: Impossible with it's spy-centered action set pieces. Scarlett Johansson has had some fantastic stunts and action sequences in the MCU, and since the torch of "Black Widow" is being passed on. It's fitting that Florence Pugh is going all-in on her stunt work since she is possibly taking over as Black Widow. Here is Florence Pugh rehearsing some fight choreography on Instagram:
No big deal, It's just Florence Pugh learning some fight choreography with fight coordinator James Young. Pugh initially had reservations about getting into "super-hero" shape but has seemed to go all-in for Black Widow. Characters like Natasha Romanoff and now Florence Pugh's Yelena stand out among the powerful heroes and villains in the MCU because they don't have abilities-- leading to more practical stunt work. However, they still get stuff done in spectacular fashion.
The MCU has found its streaming home on Disney+. You can use this link to sign up for the streaming service.
Florence Pugh will play Yelena, another spy that was trained in the Red Room like Natasha Romanoff, earning the moniker of Black Widow. She has all the same training as Natasha, and seeing them on screen together will be something to behold. Scarlett Johansson has recently discussed Natasha's relationship with Florence Pugh's Yelena, which goes into her history and her mysterious past before she was an Avenger.
Rachel Weisz has offered up some details on her Black Widow character, revealing that she is also a Widow trained in the Red Room and a very talented scientist. Black Widow will see three different super spies working in cohesion to confront their origins as respective Widows. Black Widow will also seemingly be a send-off for Scarlett Johansson's Natasha. And quite possibly the MCU starting point for Florence Pugh's Yelena, so it will be interesting to see how Marvel accomplishes both those goals in the film.
Black Widow will kick off Marvel's theatrical start to phase 4, which is packed with highly anticipated films. Fans can't wait to get back into the swing of things and see an MCU movie in theaters after so long away. Black Widow arrives in Theaters and on Disney+ July 9th.
Your Daily Blend of Entertainment News
Movie and TV obsessive. A good Heist movie is the way to my heart. Enjoyer of everything from Marvel Movies to Rom-coms.
Your Daily Blend of Entertainment News
Thank you for signing up to CinemaBlend. You will receive a verification email shortly.
There was a problem. Please refresh the page and try again.