Fast And Furious Director Explains How Vin Diesel Convinced Him To Return For F9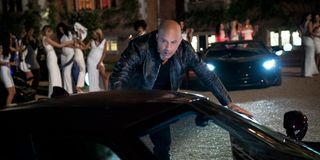 Fast and Furious 9 is almost upon us, and the series about family, cars, and explosions has already pushed the series past a major blockbuster milestone. F9 has screened, and you can see what people are saying about the latest entry in the Fast and Furious franchise. F9 will feature the return of Sung Kang's Han, who has always been a fan favorite, as well as Michelle Rodriguez performing some wild motorcycle stunts. Director Justin Lin has been so influential throughout the entire run of films, and he has recently explained how Vin Diesel convinced him to return for F9.
Justin Lin keeps returning to the Fast and Furious franchise, and he has been integral in the evolution of the series since Fast and Furious: Tokyo Drift. Justin Lin has returned to the series in F9 and couldn't be happier to back in the series he has been a part of in various capacities since 2006. On IMBDs "Movies That Changed My Life" podcast, Justin Lin explained how Vin Diesel convinced him to return for Fast and Furious 9, saying:
Justin Lin says that he felt like he did all he wanted to do in The Fast and Furious universe. Lin recalls Vin Diesel calling him while he was editing Star Trek, wanting to talk about Dom's character and where he is at in the story. Justin Lin had some reservations about the call because he was done with the franchise, but Diesel turned out to be very convincing.
Justin Lin says his return to the franchise was very organic and started with Vin Diesel wanting to go through Dom's evolution as a character. Lin says he was finally convinced to come back by Fast and Furious fans who had seen the most recent movie and that everywhere he would go, he would get asked his opinion on the franchise. One day he woke up with an idea of a part of the Fast Family they haven't fully explored yet, which led to him returning to direct F9.
Justin Lin has already explained why he keeps returning to the franchise, but this gives more context as to what drove him to return was that he felt there was unfinished business and an important story to tell. Justin Lin's son is even getting in the mix, helping contribute to a wild F9 stunt. The Fast and the Furious has always been about family, and now the children of the stars and directors are getting in on it, meaning 20 more years of Fast movies is on the horizon.
Many fans are watching all the Fast movies before F9 comes out. Love it or hate it, Fast and Furious 9 will likely be a major hit. And as more people are returning to theaters, this bodes well for other movies that are preparing for release. It's a great excuse to finally get back into theaters and see a film that is perfect for the big-screen experience.
Your Daily Blend of Entertainment News
Movie and TV obsessive. A good Heist movie is the way to my heart. Enjoyer of everything from Marvel Movies to Rom-coms.