Harry Potter Alum Evanna Lynch Recalls Being Intimidated By Emma Watson And Other Wizarding World Co-Stars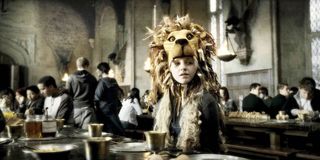 If Harry Potter fans wondered if Evanna Lynch, the face of beloved wacky character Luna Lovegood, is just as much a Potterhead as the rest of us, they should look no further. It appears that Lynch reacted pretty much exactly the same way as any other fan would when presented with the opportunity be on set with the Golden Trio. Because the actress now recalls how intimidated she was by Daniel Radcliffe, Rupert Grint, and Emma Watson while acting and being on set of the huge Wizarding World franchise.
It's well-known by fans of the Harry Potter franchise that Evanna Lynch was a big fan of the books before she was cast as Luna Lovegood, and it would seem that her fangirl status leaked over into her professional life while on set. In an interview with Us Weekly, Lynch says that even though Emma Watson was incredibly nice to her, she was nervous around her and the two other members of the Golden Trio, and even tried to rehearse conversations with them before they happened. In her own words,
I don't think I would be any less nervous to talk to my childhood heroes, either. If you add the fact that Lynch also had the nerve-racking task of actually acting in the films, I would probably have a complete nervous breakdown if I were in her shoes.
Also, one has to take into consideration that Emma Watson, Daniel Radcliffe, and Rupert Grint had been working together since they were very young; they were all around 11 years of age when they met and worked together on the first film. Evanna Lynch joined the cast of Harry Potter in the fifth film, when all the main characters were already very bonded to one another. It's very likely that Lynch felt even more like an outsider when coming into the franchise a little late.
Even though she was a late comer to the franchise, very much like her character, Evanna Lynch quickly became a fan favorite. Her likability translated to the screen, despite a lot of her scenes in the books being cut out of the films. This may have to do with how similar she seems to her character, who is very easy to love, and was one of the reasons J.K. Rowling advocated for her to portray Luna on the condition that she overcome her eating disorder, which Lynch did with the help of Rowling's novels.
Even though Evanna Lynch was intimidated by her wizarding world co-stars, it doesn't seem to be due to anything they purposefully did. In fact, it's wonderful to hear that Emma Watson was so kind to her, and really does emulate the experience that Luna had in the novels with the Golden Trio, as they accepted her into their group with love and kindness.
The Harry Potter cast seemingly still remains pretty close, even if they aren't around each other all of the time like they were in their childhood stardomes. While reunions don't happen too often, we do get little throwbacks every so often and stories like Evanna Lynch's are nice little peaks into the minds and experiences of some of our favorite childhood actors and figures in the Harry Potter universe.
Constantly thinking about books, coffee, and the existential dread I feel from Bo Burnham's Inside. While writing I'm also raising a chaotic toddler, who may or may not have picked up personality traits from watching one too many episodes of Trailer Park Boys.
Your Daily Blend of Entertainment News
Thank you for signing up to CinemaBlend. You will receive a verification email shortly.
There was a problem. Please refresh the page and try again.