Ryan Reynolds' Hilarious Reaction To Being Told He'll Get 'Shot, Stabbed, Drugged, Drowned' In The Hitman's Wife's Bodyguard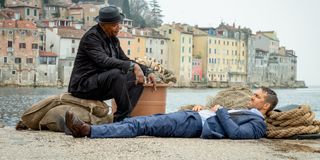 Being a movie star is usually seen as either a glamorous opportunity to play pretend or a grueling exercise in grounding any given role in harsh reality. Though looking at how much Ryan Reynolds' Michael Bryce got kicked around in The Hitman's Bodyguard, the Patrick Hughes-directed franchise occupies an interesting crossroads between the two. And when it came time to make The Hitman's Wife's Bodyguard, Hughes and his writers had a very specific list of punishments, which, when presented to Ryan Reynolds, provoked a very on-brand response.
Speaking with Patrick Hughes on behalf of The Hitman's Wife's Bodyguard, there was no way to avoid the fact that he really had it out for Michael Bryce. Even in the research provided for the press day, Hughes' intent was pretty clearly spelled out: Ryan Reynolds was going through the ringer in the sequel to this surprise hit. There was no line that Patrick Hughes wouldn't cross, which led to the following story shared during our interview:
All of that, and then some, is visited upon Ryan Reynolds in The Hitman's Wife's Bodyguard, which feels like an insult/injury combo seeing as Michael Bryce in therapy after his traumatic experiences during The Hitman's Bodyguard. Patrick Hughes' desire to make Bryce's road back to AAA accreditation isn't some sort of sadistic urge though. Quite the contrary, as while Hughes was pulling together The Hitman's Bodyguard, he already started to put together the key ingredients that he wanted to see in a potential sequel.
Luckily enough, not too long after the 2017 movie became a surprise box office smash, The Hitman's Wife's Bodyguard was greenlit. Which meant that series creator Tom O'Connor, along with writers Brandon Murphy and Phillip Murphy, had the structure from which they could take the series one step further into the insanity. According to Patrick Hughes, Michael Bryce's suffering is key to the fate of the franchise, as The Hitman's Wife's Bodyguard operates on the following principle:
If you've been enjoying both The Hitman's Bodyguard and The Hitman's Wife's Bodyguard, you pretty much enjoy Ryan Reynolds suffering for his art. While it might not be actual suffering at the hands of his director and co-stars, it definitely looks the part as you watch it all unfold across both films. The sequel in particular has a lot of fun pushing the comedic envelope, which leaves Michael Bryce with a lot more physical scars to match the ones he's inflicted psychologically.
Digging to the root of why it's so much fun for Patrick Hughes and his audience to watch Michael Bryce suffer, it's probably because of the unique position his character is working from. After being disgraced during events that put him and Darius Kincaid on opposite sides of the sniper rifle, all he's ever wanted is to regain his AAA status. Much like Job in The Bible, Ryan Reynolds' protagonist is made to walk through all sorts of Hell in the name of reaching his endgame. It all makes even more sense when hearing Mr. Hughes' personal thoughts on the characters in The Hitman's Wife's Bodyguard:
Theoretically, Michael Bryce's journey is suffering. Were he ever to receive his AAA accreditation again, that's game over for the character, as there's nowhere else for him to go. So as long as people want to see antics like The Hitman's Wife's Bodyguard on the big screen, Ryan Reynolds will have to keep limber and prepare for whatever slings, arrows, shovels and drugged darts head the way of his character. And if you're interested in seeing this latest trials of Michael Bryce, you can check out The Hitman's Wife's Bodyguard, which is currently in theaters.
Senior Movies Contributor
CinemaBlend's James Bond (expert). Also versed in Large Scale Aggressors, time travel, and Guillermo del Toro. He fights for The User.
Your Daily Blend of Entertainment News
Thank you for signing up to CinemaBlend. You will receive a verification email shortly.
There was a problem. Please refresh the page and try again.