Of Course The Hitman's Wife's Bodyguard Was Influenced By The Classic Era Of James Bond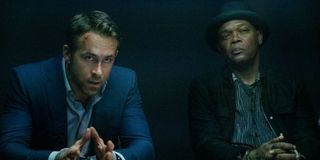 The action genre we know today owes a huge debt to the classics that came before, especially when those classics come from the James Bond franchise. A leading innovator in stunt work and thrilling chases, 007 has inspired many movies to go the extra mile when devising new ways to wow the crowd. So of course, when director Patrick Hughes was planning how to beef up the excitement in The Hitman's Wife's Bodyguard, that old Bond magic naturally played a huge part in what crowds are now seeing unfold on the big screen.
Admittedly, as a huge James Bond fan myself, I got some massive Thunderball vibes from The Hitman's Wife's Bodyguard. There are tons of components that harken back to that particular Sir Sean Connery-led adventure in the 007 canon, and in my interview with Patrick Hughes on behalf of the film, I had to ask if the Bond films were a conscious influence on its production. Sure enough, from one Bond fan to another, Hughes admitted to the following inspiration:
If there was ever an era that fit the Bond aesthetic in The Hitman's Wife's Bodyguard, it would definitely be Sir Roger Moore's. Yes, Thunderball feels like a huge influence, as it hits some of the same thematic materials from that film. Antonio Banderas' Aristotle Papadopoulos feels like a sillier version of Emilio Largo, right down to his plot to hold Europe for ransom if his demands aren't met. Plus, the entire final showdown takes place on the villain's yacht, which again, is totally Thunderball.
However, the big difference is the way that The Hitman's Wife's Bodyguard lands its punches feels very much in the wheelhouse of Moore's humor-laced antics. All of the action hits hard and fast, but it's couched in huge swaths of comedy fueled by Salma Hayek, Samuel L. Jackson and Ryan Reynolds' shenanigans on the road. Basically, if Thunderball was made with Sir Roger Moore in the lead and a heavy R-rating in mind, it would have turned out something like this particular movie.
The moment that seals the deal, though, is in The Hitman's Wife's Bodyguard, when that wall of defense that Patrick Hughes mentioned kicks in. Just as Ryan Reynolds' Michael Bryce and Samuel L. Jackson's Darius Kincaid make their way onto their adversary's yacht, a handful of henchmen rocket up from the water on hoverboards. Seeing as Thunderball's exhilarating pre-credits sequence saw Sean Connery blasting into the sky on his own jetpack, it's hard not to think of that moment when you see The Hitman's Wife's Bodyguard engage in its own take. And just as Mr. Hughes specified, if you skip to 02:06 in the trailer below, you can see a small piece of that segment for yourself.
The Hitman's Wife's Bodyguard occupies a crossroads of James Bond influences, and it does it rather well. Though the film isn't squeamish about showing its characters off as hardcore killers, there's still plenty of laughs to keep the film from crossing over into a grimdark sort of action thriller. Should there be another sequel in the world of Michael Bryce and his adventures with the Kincaids, there'll be plenty more Bond moves to crib if Patrick Hughes needs a little more over-the-top inspiration.
You can currently see The Hitman's Wife's Bodyguard in theaters, in conventional or large format release. And if that's not enough Ryan Reynolds excitement for you, Free Guy will get the same treatment on August 13. But if you want to watch Thunderball in the name of proper comparison, then you can check that out over on Tubi, with no subscription required.
Senior Movies Contributor
CinemaBlend's James Bond (expert). Also versed in Large Scale Aggressors, time travel, and Guillermo del Toro. He fights for The User.
Your Daily Blend of Entertainment News
Thank you for signing up to CinemaBlend. You will receive a verification email shortly.
There was a problem. Please refresh the page and try again.