A Quiet Place Part II's John Krasinski On Handing Off The Franchise's Third Movie To A New Director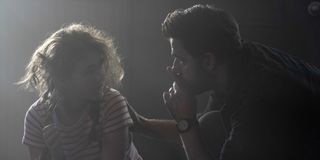 A Quiet Place Part II has been a major hit for director John Krasinski, who has, whether he expected to or not, spawned one of the biggest franchises in movies right now. Funny enough, Krasinski initially didn't want to make a sequel to A Quiet Place but, now, the franchise is has proven to be so successful that a third film has been given a release date by Paramount Pictures. Emily Blunt, Krasinski's wife and the star of the films, has implied that there are many ideas where the franchise could go, so there are a number of possibilities for the film. But Krasinski won't be directing this particular project, and he's now commented on handing off the movie to a new director.
After creating A Quiet Place and directing the first two films in the acclaimed horror saga, John Krasinski will be passing on the third movie to a new director. Jeff Nichols will direct the A Quiet Place spinoff, with Krasinski's blessing. The actor and filmmaker recently discussed the decision to step back from the director's chair and the process behind picking the right person for the job, telling Empire:
John Krasinski says he came up with the story for the new A Quiet Place movie and that the only person he ever had in mind to direct it was Jeff Nichols. Krasinski praised Nichols, calling him one of the best filmmakers working right now and shouting out Nichol's film Mud, which starred Matthew McConaughey. Krasinski says that the director is precisely the kind of filmmaker he was looking for to direct the next film in the franchise. This stems from the fact that he believes Nichols is someone who can convey intimacy and realness.
John Krasinski says that Nichols was always his first choice and that he pitched him on the idea. From there, Nichols apparently took that concept and developed his own world. It sounds like Krasinski is excited that he got the filmmaker he wanted, and it appears the collaboration between the two has been strong thus far. It's still early days on the new movie, but Krasinski says Nichols has turned in his script for the A Quiet Place spinoff. So things are definitely moving right along.
With the A Quiet Place franchise, John Krasinski created an original world and, in the process, he provided a fresh story within the horror genre. He's gotten a lot of praise from fans, critics and directors alike. As a matter of fact, just recently, Krasinski talked to CinemaBlend's own ReelBlend podcast about how Stephen King's support of A Quiet Place Part II meant so much to him. And since he's done such a great job with this series, you better believe there are other genres we would like to see Krasinski tackle.
A Quiet Place Part II is a massive hit, and it's success at the box office is a positive sign for the state of movie theaters. There's a lot to love about the film, and let's hope that Jeff Nichols can keep the streak going with his movie. And for those who haven't seen the movie in a theater, know that it will be available to stream soon.
Your Daily Blend of Entertainment News
Movie and TV obsessive. A good Heist movie is the way to my heart. Enjoyer of everything from Marvel Movies to Rom-coms.