The Suicide Squad Actor Shares What It Was Like To Be One Of The First People To See James Gunn's Movie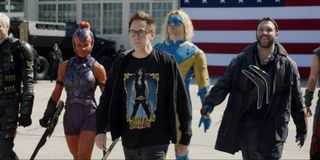 James Gunn's The Suicide Squad is almost here, and it's shaping up to be one of the most explosive, violent, and hilarious films of the summer. So far, we know the movie will be R-rated, and Gunn has confirmed the film's runtime, among other small details regarding his DC debut. And as fans are still pondering the odds of who's most likely to die, members of the cast are starting to see the film, including Flula Borg. Now, the actor is sharing what it was like to be one of the first people to actually see the DC movie.
Flula Borg is one of the new actor joining the franchise, and he'll play the role of Javelin. During a recent conversation with Comicbook.com, discussed his experience working with James Gunn and how he felt about the movie when he first watched it. The actor said:
Flula Borg describes his experience watching The Suicide Squad as a "fever dream," and he is still in disbelief that he was a part of such a project. Borg calls the film a "magical genius adventure ride," which is really interesting knowing what we know about the violent nature of DC's latest film. But it's clear that the actor is in awe of what James Gunn was able to do, and most of us would probably be geeking out too, if we had been able to star in a movie like this.
Flula Borg makes another interesting point when he says that all the dope things James Gunn does makes The Suicide Squad feel like a war film as well as a comic book film. This actually makes a lot of sense, as it's been clear from the trailers and posters that Gunn is going for a tone that's similar to classic "man on a mission" movies.
This actually isn't the first time Flula Borg has given a great reaction to The Suicide Squad, but his energy and hype levels are even greater this time around. Another The Suicide Squad star, David Dastmalchian, has also been blown away by James Gunn's genius and how the movie turned out. There's been speculation as to whether the movie is a reboot or a sequel but, based on how fun it sounds, fans probably won't think about that too much after leaving the theater.
The Suicide Squad will be here before we know it as it hits theaters and HBO Max on August 6th. Regardless of whether the movie is a direct sequel, a straight reboot, or a little of both, you can't help but love that the cast is fully hyped and is more than ready for fans to see it!
Your Daily Blend of Entertainment News
Movie and TV obsessive. A good Heist movie is the way to my heart. Enjoyer of everything from Marvel Movies to Rom-coms.