John Cena Shares Thoughts On Whether DC's The Suicide Squad Is A Sequel Or A Reboot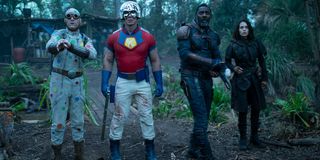 DC's The Suicide Squad is almost here, and fans can't wait to see the new and improved squad in action. As the hype continues to build, David Dastmalchian has confirmed that he's seen the finished product, and his reaction has me crazy excited. However, some are probably still wondering whether the new film a sequel or a reboot. It's a fair question, especially since the first movie has been a major topic of discussion, as of late. The editor of the first film recently discussed the major changes that were made to David Ayer's Suicide Squad, and franchise star Joel Kinnaman has spoken about what went wrong with the original. Now, John Cena has shared his thoughts on whether James Gunn's film is a true continuation or a fresh take.
James Gunn's The Suicide Squad mixes in a bit of the new and a bit of the old. There are plenty of new additions, and even the returning characters have been somewhat updated. So it's hard to say whether or not it shares continuity with David Ayer's 2016 film. John Cena, who plays Peacemaker, has some interesting thoughts regarding whether the movie is a sequel or reboot, telling Observer:
John Cena definitely has a unique perspective on The Suicide Squad, as he says it's neither a reboot nor a sequel. Instead, he simply believes it to be a movie from the brain of one James Gunn, making it a unique and creative entry that falls outside of the aforementioned categories. So The Suicide Squad is something else entirely, it seems, and Cena definitely sounds excited for people to check it out.
John Cena praised James Gunn's creativity and clearly enjoyed being a part of the director's unique creative process. The actor also says that whether people are expecting The Suicide Squad to be either a reboot or a sequel, no one is really ready to see the film. His comments help shroud the film in some mystery, which should get fans thinking and even more excited. Kudos to Cena for being able to tease without giving anything away.
Aside from the movie itself, John Cena's new action figure for his The Suicide Squad character shows off a new and surprising weapon for the Peacemaker. The actor has been hyping up his brutal, justice-seeking character for some time and has even dressed like him in interviews, much to the delight of James Gunn. He's also excited about the character's upcoming HBO Max spinoff series. However, it remains to be seen if his busy schedule will have an impact on a potential return to the WWE for Summerslam.
So far, James Gunn has confirmed the runtime for The Suicide Squad and a few more details about the film. It'll be cool to see how the Guardians of the Galaxy director has changed the franchise for this new installment and, thankfully, it won't be long before we find out.
The Suicide Squad releases in and theaters and streams on HBO Max on August 6th.
Movie and TV obsessive. A good Heist movie is the way to my heart. Enjoyer of everything from Marvel Movies to Rom-coms.
Your Daily Blend of Entertainment News
Thank you for signing up to CinemaBlend. You will receive a verification email shortly.
There was a problem. Please refresh the page and try again.