15 Awesome New Horror TV Shows Heading To Netflix Streaming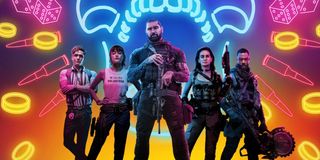 (Image credit: netflix press)
With all of the high-profile projects currently in development as Netflix Originals, it can be easy to get overwhelmed and lose track of everything that's actually coming soon. Admittedly, it's been pretty easy in the past to keep tabs on the horror projects heading to the streaming giant, since there are usually only a handful in play. Currently, however, Netflix has a veritable smorgasbord of new and exciting horror TV shows set to debut across 2021-2022 (and possibly beyond).
Fans are already rabid with anticipation for the impending fourth season of Stranger Things, and there are also a lot of eager audience members waiting to see how Locke & Key continues its comic book storyline in Season 2. But here, we're running down the list of all-new horror projects heading to Netflix - though a couple of the entries are admittedly spinoffs - and we'll be noting release dates when applicable.
Archive 81
Based on the podcast of the same name, Archive 81 is a found-footage horror series following an archivist (Mamoudou Athie) whose attempts to restore a collection of '90s videotapes get him overly invested in a documentarian (Dina Shihabi) who fell victim to the dangerous cult she was investigating at the time. Created by former Vampire Diaries and The Boys writer/producer Rebecca Sonnenshine, and produced by James Wan's Atomic Monster, Archive 81 will also star How to Get Away with Murder's Matt McGorry, Big Little Lies' Martin Donovan, Katy Keene's Julia Chan and the X-Men franchise's Evan Jonigkeit.
Release Date: Late 2021
Army Of The Dead: Lost Vegas
Shortly after bringing Justice League's long awaited "Snyder Cut" to audiences, Zack Snyder dropped his well-received zombie actioner Army of the Dead on Netflix, and fans can take gory comfort in knowing there's an anime spinoff subtitled Lost Vegas in the works. The new TV project, as well as the prequel spinoff feature, will be scripted by the film's co-writer Shay Hatten. The series will deliver the origin story for Dave Bautista's character and his rescue unit as the zombie outbreak kicks off in Vegas. Many of the film's stars will be reprising their roles, with Snyder directing two of the episodes.
Release Date: Unknown
Brand New Cherry Flavor
Alita: Battle Angel star Rosa Salazar is set to lead the upcoming Netflix horror series Brand New Cherry Flavor, with Todd Grimson's novel of the same name being adapted by Channel Zero and Hannibal's Nick Antosca along with fellow Channel Zero writer/producer Lenore Zion. The story, which partially takes place in a seamy and steamy L.A. in the 1990s, will follow Salazar's aspiring film director Lisa Nova as she gets invested in a maddening and globe-spanning journey of supernatural revenge. Other co-stars include The Good Place's Manny Jacinto, Agents of S.H.I.E.L.D.'s Jeff Ward, Escape at Dannemora's Eric Lange and Get Out's Catherine Keener.
Release Date: 2021
Cuckoo Song
Another adaptation of a celebrated novel, Cuckoo Song's source material from author Frances Hardinge is a young adult work that falls into the fantasy genre, though it sounds like the live-action version for Netflix will tap more into the spookier elements. Co-written by Sarah Dollard (Doctor Who), Andrea Gibb (Dear Frankie) and Corinna Faith (The Innocents), Cuckoo Song tells the story of a human woman who must put aside the bad blood with her monstrous sister in order to try and reverse a supernatural pact that went terribly wrong, all to bring comfort to their grieving family.
Release Date: Unknown
1899
1899 is the follow-up (though unrelated) Netflix horror project from Jantje Friese and Baran bo Odar, the co-creators of the acclaimed time-jaunting mystery-thriller Dark. While that series was in German, 1899 is a multiligual effort that follows a group of European migrants taking a steamship to London in the titular year, only for the trip to go south not long after they come across another migrant ship in the open sea. Hopefully this project can be as effective a historical horror as AMC's The Terror and doesn't get bogged down by period stereotypes.
Release Date: Unknown
Exception
Announced during Netflix's inaugural Geeked Week promotion, Exception is a space horror anime TV series that's based on a new story penned by Japanese writer and filmmaker Hirotaka Adachi. The project takes place in the distant future, where humans have been forced to leave Earth for another galaxy, and centers on a group of advanced 3D-printed spacecraft that finds a planet to be terraformed. The streaming service did unveil that the well-respected Final Fantasy visual artist Yoshitaka Amano will be handling character designs for Exception, so it sounds pretty awesome all the way around.
Release Date: Unknown
First Kill
Years after the "vampire romance" craze anchored by projects like The Vampire Diaries and Twilight, Netflix is biting down on First Kill, which is based on the same-named short story written by V.E. Schwab as part of the 2020 collection Vampires Never Get Old: Tales with Fresh Bite. The eight-episode season will focus on Sarah Catherine Hook's Juliette Fairmont, who aims to make her first kill that will cement her place within her prestigious vampire family. Unfortunately, the first potential victim she picks, Imani Lewis' Calliope Burns, is part of a family of vampire hunters. (Naturally.) With American Horror Story vet Emma Roberts as an executive producer, Fresh Bite is being co-written by Schwab, with former Punisher and Fringe writer/producer Felicia D. Henderson serving as showrunner.
Release Date: Unknown
The Midnight Club
The first of two upcoming Netflix projects from Haunting of Hill House/Bly Manor creator Mike Flanagan, The Midnight Club is an adaptation of Christopher Pike YA novel of the same name, with more of Pike's stories being worked into the narrative. With Nightmare on Elm Street scream queen Heather Langenkamp as a kooky doctor running a teen hospice, The Midnight Club refers to the group of hospice residents that meet at midnight each night to share spooky stories, eventually leading to a death pact that sparks a series of strange incidents. The series will also star Friday Night Lights vet Zach Gilford and X-Files alum William B. Davis, among others.
Release Date: 2022
Midnight Mass
Kicking off Round 2 of Mike Flanagan's "Midnight" Netflix shows is the upcoming supernatural horror series Midnight Mass, which will also star Midnight Club's Zach Gilford, Samantha Sloyan and Mike Biedel, as well as the Haunting shows' Kate Seigel, Annabeth Gish, Rahul Kohli and Henry Thomas. (Flanagan loves to use many of the same actors, so don't be surprised to see Carla Gugino popping up in either of the Midnight series.) This show focuses on an isolated island community that experiences miracles and other baffling events after the arrival of a mysterious priest. If this is the director's take on Wicker Man-esque stories, I'm here for it and then some.
Release Date: Late 2021
Resident Evil
Arguably the greatest horror video game franchise, Capcom's Resident Evil is gearing up for its first live-action TV series that will likely reflect the source material far more successfully than Paul W.S. Anderson's film franchise did. With former Supernatural showrunner Andrew Dabb leading the creative team, the new show will take place across two different timelines, with the first centering on sisters Jade and Billie Wesker and their secretive father. The second timeline, meanwhile, is set more than a decade in the future, with only 15 million people left on a planet overrun by billions of plants, animals and ex-humans infected by the destructive T-Virus.
Release Date: 2022
Resident Evil: Infinite Darkness
Before the T-Virus comes around to affect the live-action world, Netflix is giving fans the four-episode anime series Resident Evil: Infinite Darkness (opens in new tab) to tide us all over for a while. The new project is the first CGI follow-up to 2017's Resident Evil: Vendetta, and will center on the stories behind the fan-favorite video game characters Leon Kennedy and Claire Redfield. Capcom's Hiroyuki Kobayashi will be supervising the project, which promises to be just as action-packed as it is horror-tinged.
Release Date: July 8, 2021
The Sandman
As the magnum opus comic book series from imagination master Neil Gaiman, The Sandman is the epitome of his signature brand of dark fantasy stories with sinister undercurrents. It looks like Netflix is letting Gaiman make his TV adaptation as big and comic-specific as possible, too, so fans should be prepared for something memorable, with Sweetbitter star Tom Sturridge in the brooding lead role of Dream, the king of stories. To severely understate this series' dense narrative: the TV show will center on Dream attempting to restore his kingdom, called The Dreaming, after being held captive for more than a century. With a cast that also includes Gwendoline Christie as Lucifer, Kirby Howell-Baptiste as Death, and Jenna Coleman as John Constantine's ancestor Johanna - among many, many others - The Sandman could easily be Netflix's next cult fave-turned-monster hit.
Release Date: Unknown
10 After Midnight
As it goes with almost everything crafted by Oscar-winning filmmaker Guillermo Del Toro, his impending horror anthology series 10 After Midnight has been in the works for years without anything having fully come together yet. Still not very much is known about the new project, which was ordered back in May 2018, but Del Toro is said to be curating the list of stories and storytellers that will be utilized on the show. In case anyone is suspicious that this series might not ever come to fruition, 10 After Midnight did reportedly start casting in May 2021, with a June production schedule being targeted. So hopefully none of us will be three years older by the time the episodes actually debut, even though everything Del Toro does ends up being worth the wait.
Release Date: Unknown
The Watcher
As one of the newest projects on this list to be announced, The Watcher is the latest piece of twisted entertainment from American Horror Story and The Politician co-creator Ryan Murphy. Set to star Twin Peaks' Naomi Watts and Homecoming's Bobby Cannavale, The Watcher is based on the still-unsolved New Jersey mystery involving a couple moving into a new house and subsequently being hauntingly harassed by someone dubbing him-or-herself The Watcher, who claimed to have been watching the house for decades in a series of threatening letters. Expect this one to go a little off the rails once reality dips into speculative fiction, especially since Catfish filmmakers Henry Joost and Ariel Schulman are also attached as directors. Filming is set to begin in Fall 2021.
Release Date: 2022
Wednesday
As the Addams Family's animated universe will continue on with its upcoming sequel, the franchise is also returning to live-action with filmmaker Tim Burton for a new spinoff series focusing on that most deviously dour of horror family offspring, Wednesday Addams. Jane the Virgin and You vet Jenna Ortega will take on the titular role in the coming-of-age horror-mystery, which is being scripted by Smallville creators Al Gough and Miles Millar, with Burton directing. It centers on the character's years at Nevermore Academy, where she is attempting to master her innate psychic abilities, in order to stop a local killing spree that ties back to a supernatural event from Gomez and Morticia's past. Kinda sounds like a Riverdale spinoff, but here's hoping the final product is more than that.
Release Date: Unknown
With even more genre projects no doubt yet to be announced throughout the next year and a half, Netflix subscribers can take comfort in knowing there are plenty of (hopefully) top-notch new horror shows making their ways to streaming.