Resident Evil's Wild Title Explained: What Is Raccoon City?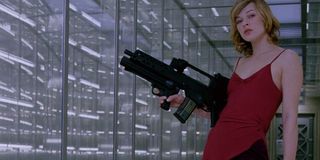 Sony Pictures has just announced the official title of its upcoming Resident Evil reboot, Resident Evil: Welcome to Raccoon City. Long-time fans of the zombie-filled franchise are probably pretty excited to return to the town where it all started, but newcomers may be a little lost. So, I'm here to explain the wild title and explore exactly how Raccoon City fits into the franchise.
In a tweet from the studio, it was seemingly confirmed that the Resident Evil: Welcome to Raccoon City will be taking place in one of the franchise's most famous locations. Check it out:
Sony Pictures announced the official title with some pretty sweet art, featuring a welcome sign for Raccoon City, home of Umbrella. The post also confirmed the reboot will hit theaters on September 3, 2020, ahead of its previous release date.
Now, what the heck is Raccoon City and who is Umbrella? Well, in the video games Raccoon City is a midwestern town that is home to the infamous Umbrella Corporation, a large pharmaceutical company. One day reports of indiscriminate violence and cannibalism catch the attention of the Raccoon City police department. An elite task force, S.T.A.R.S, is then deployed to investigate, only to uncover a massive zombie virus outbreak caused by Umbrella. Players can choose to play as two different members of S. T. A. R.S, Chris Redfield or Jill Valentine ahead of their fight with a number of mutated monsters.
According to director Johannes Roberts, the reboot will take place in 1998 and explore the infamous Spencer Mansion and Raccoon City. Fans of the video game series may recognize the horrifying mansion from the first Resident Evil game, which was released in 1996. Resident Evil: Welcome to Raccoon City will serve as a jumping off point for what some are hoping turns into a zombie-filled cinematic universe.
While there's been no confirmation that the studio is looking to expand into a multiple film run, it wouldn't be a surprise considering the Paul W. S. Anderson's first series of adaptations featured a total of six entries. Despite a lack of love from critics, Anderson's Resident Evil films made over a billion dollars world-wide.
The previously untitled adaptation was first announced way back in 2017 with Greg Russo attached to write. However, it was later announced that Russo had backed out of the project to instead work on the upcoming Mortal Kombat reboot. In 2018 Johannes Roberts came on board as writer and director. Resident Evil: Welcome to Raccoon City has already assembled a pretty awesome cast, with The Flash's Robbie Amell and Crawl's Kaya Scodelario attached to star.
Hopefully, the upcoming reboot will be a box office success and break the video game adaptation curse. While I loved Paul W. S. Anderson's contribution to the Resident Evil franchise, I'm ready for a movie that will more closely align to the first couple of video games. All that is to say, it's starting to look like we are living in a renaissance of video game movie adaptations and I couldn't be more excited. With Mortal Kombat on the horizon and Resident Evil: Welcome to Raccoon City hitting theaters later this year, there's plenty to be excited about, even if we still have a ton of questions about the reboot.
Into tracksuits by Paulie Walnuts, the Criterion Channel and Robert Eggers.
Your Daily Blend of Entertainment News
Thank you for signing up to CinemaBlend. You will receive a verification email shortly.
There was a problem. Please refresh the page and try again.