xXx's Xander Cage And Other Characters I Want To See Vin Diesel Revisit Following F9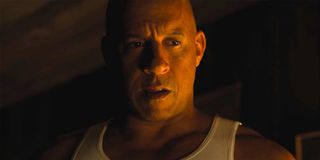 Whenever I think about Vin Diesel characters (which is admittedly a lot), the first name that comes to mind is Dominic Toretto. Maybe it has something to do with the buzz surrounding the release of F9, or maybe it has something to do with the fact he's the biggest badass of Diesel's on-screen performances. But while I anxiously wait for Mr. "One Quarter-Mile At A Time" to return for Fast and Furious 10, there are a few franchises I would like to see Diesel return to sooner rather than later.
I mean, outside of the Dominic Toretto, Vin Diesel has played some great characters that are more than deserving of a second, third or even fourth shot at some point in the future. Over the years, Diesel has warmed his way into moviegoers' hearts with characters like Xander Cage in xXx and Chris Varick in Boiler Room, and honestly I want to see more. Below I will break down four movies or franchises from Diesel's career and why I think now is the right time to revisit each of them.
Xander Cage (xXx)
We are supposed to be getting xXx 4 at some point in the very near future, so the return of Xander Cage (not to be confused with xXx: Return of Xander Cage) seems the most likely out of all Vin Diesel franchises not named Fast and Furious. And I mean, there are plenty of ways for Diesel to return for a third thrilling ride as the extreme sports enthusiast-turned-super-spy (remember, he wasn't in xXx: State of the Union), with the most notable one being the way xXx 3 ended.
The last time we saw Xander Cage was at August Gibbons' (Samuel L. Jackson) funeral, where the former NSA official revealed he faked his death and was starting a new XXX Program, which Cage agreed to join. When the franchise picks up again, it would be great to see Cage team up with Xiang (Donnie Yen) and his crew for another globe-trotting adventure. But with all the legal drama behind the scenes, who knows when we'll get to see more of Cage's adventures.
Richard B. Riddick (Chronicles Of Riddick)
A fourth installment in the Chronicles of Riddick franchise has been in the works for more than a half-decade at this point, and Richard B. Riddick is one of the characters Vin Diesel is ready to revisit, it's just a question as to if and when it will actually happen. And while the franchise pales in comparison to some of Diesel's other action franchises (especially Fast and Furious, which has broken the $1 billion mark twice), the movies do have a following and remain fun additions to the horror-action genre.
The last time we saw the titular character in 2013's Riddick, he was setting off into deep space after escaping a vicious alien horde on a sun-scorched planet filled with all kinds of nasty dangers. And while it would be great to see how the next chapter plays out for Riddick and his surgically enhanced eyes, it looks like the fourth installment, which has a working title of Furia, will instead be an origin story for the character. Maybe then we'll get to see Riddick go through the process of getting those enhanced eyes we've come to know and love over the years.
Ray Garrison/Bloodshot (Bloodshot)
I can't help but feel bad for everyone involved with the making of Bloodshot, as the superhero film based on the Valiant Comics character of the same name had the misfortune of being released on March 13, 2020, just as the world was beginning to shut down due to the COVID-19 pandemic. This is something we should all consider when we look at Bloodshot's worldwide total of $33.5 million, according to BoxOfficeMojo. Hell, everyone from the creative head of DMG Entertainment (Valiant Comics' parent company) to Vin Diesel himself don't seem too worried about its performance and are actually looking to make a sequel at some point.
At the end of the first Bloodshot, Ray Garrison (Vin Diesel) takes out Rising Spirit Technologies (scientists, soldiers, and the actual building) before sacrificing himself to kill his creator, Dr. Emil Harting (Guy Pearce) but is revived and escapes the destruction to live a new life. If the original plans of having a Valiant Comics shared universe in the vein of the MCU stick, it looks like we will be seeing the plenty Bloodshot for quite some time.
Chris Varick (Boiler Room)
Okay, this last character I want to see Vin Diesel revisit is a stretch, but hear me out. Before Diesel became an action star he gave a performance in the 2000 crime drama Boiler Room that certainly didn't hurt his case for being one of Hollywood's rising stars. In case you don't remember, the movie is set in the world of get-rich-quick schemes at a New York brokerage firm and features characters that would make Jordan Belfort in The Wolf of Wall Street shake his head in disappointment. And while the movie centers on Seth Davis (Giovanni Ribisi) and his takedown of the firm after being nabbed by the FBI, I can't help but get drawn in by Diesel's character, Chris Varick, one of the senior brokers at J.T. Marlin, and what happened to him after everything went down.
In the final moments of Boiler Room when Seth is preparing to leave with a floppy disk of incriminating information, he asks Chris to help an investor that lost everything. Chris does the right thing, signs the order, and attempts to flee just before federal agents swarm the complex. And while we don't know for sure if Chris made it out of the building in time, I like to imagine he had the sense to escape through a backdoor and avoid capture.
If a Boiler Room 2 were to ever be made, I would love for it to focus on Vin Diesel's character. I mean, he's the best thing about the first movie with his well-rounded character and undeniable charm (especially during the "Reco" scene when he does the Dominic Toretto arms in the air celebration move from The Fast and the Furious). Building a sequel around his character either coming out of prison (if he was arrested) or leading a new life (if he escaped) could be fun diversion from Diesel's over-the-top action movies.
It remains to be seen when (or if in the case of Boiler Room) Vin Diesel will revisit any of his characters not named Dominic Toretto, but I will definitely be there to take it all in and see what he has in store for all of us. In the meantime check out all the 2021 movie premiere dates for everything else coming to a theater or streaming service this year.
Philip grew up in Louisiana (not New Orleans) before moving to St. Louis after graduating from Louisiana State University-Shreveport. When he's not writing about movies or television, Philip can be found being chased by his three kids, telling his dogs to stop yelling at the mailman, or yelling about professional wrestling to his wife. If the stars properly align, he will talk about For Love Of The Game being the best baseball movie of all time.
Your Daily Blend of Entertainment News
Thank you for signing up to CinemaBlend. You will receive a verification email shortly.
There was a problem. Please refresh the page and try again.