Why Tom Cruise Is Reportedly Being Blamed For Mission: Impossible 7's Latest Delay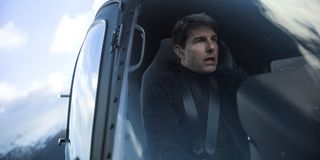 Mission: Impossible 7 is still one of the most anticipated blockbusters fans have been waiting for despite production being delayed multiple times. Last year filming was stopped several times during the coronavirus pandemic. Tom Cruise also famously ranted about health and safety protocols once the show got back on the road, leading to varying reactions from fans, though much of the crew defended the actor. Unfortunately, this isn't the end of the saga, as filming has reportedly once again been shut down due to a Covid outbreak, and now the MI7 crew is reportedly blaming the megastar for the latest delay.
Tom Cruise was furious social distancing rules weren't previously being followed on Mission: Impossible 7, but now there is an insider claiming that the crew may actually be blaming Cruise for the latest shutdown. There is a rumor being swirled around that the cause of the latest Covid incident is allegedly Tom Cruise's fault, with said "insider" telling the British publication The Sun:
The insider isn't named and this is clearly someone hedging what's happened at this point, but the person is claiming that Tom Cruise is allegedly at fault for the latest postponement following a positive Covid test on set. Allegedly, since Tom Cruise has not been seen on set since that, rumor has it he is the person who likely came into contact with someone who tested positive. The possibility that Cruise was involved is enough for those rumors to have blown up big, thought it's worth pointing out Cruise may simply be skittish when Covid is involved.
I mean, seriously, take this one with a grain of salt, as the insider goes on to clarify the rumor saying:
Look, the rumor could just be a response from the crew to the chewing out Tom Cruise gave the crew last year. There is no proof that it was Tom Cruises' fault; thought it's easy to see how a rumor like this could be developed with the crew on set given the events of the last year and the irony of the situation should it be Cruise who had Covid-19.
Regardless of what's going on, it looks like Mission: Impossible 7 has hit another snag, but fans are still excited to see what dangerous and sometimes brutal stunts will be on display in the latest flick. Tom Cruise will surely be doing something even more daring than his motorcycle sequence from Mission: Impossible Fallout that could have gone wrong and we've already seen some hints at the train sequence that is to come. Covid or no Covid, once this movie hits it will definitely be hotly anticipated.
While we wait for an actual trailer for Mission: Impossible 7, we will have to settle for teases for set pieces and stunts or perhaps even rewatching the films in order. Again, the franchise should be worth the wait, and hopefully, there will no more delays in production for the seventh or eighth installments.
Your Daily Blend of Entertainment News
Movie and TV obsessive. A good Heist movie is the way to my heart. Enjoyer of everything from Marvel Movies to Rom-coms.