How Laurence Fishburne Feels About People Constantly Asking Him If He's In The Matrix 4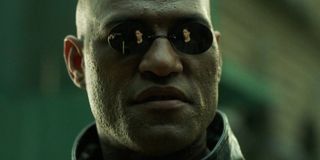 One of the most memorable parts of The Matrix series is its ensemble of characters. Neo, Trinity, Agent Smith and of course, Morpheus are as inextricably linked to the franchise's popularity as its jaw-dropping action sequences and mind-melting storyline. So as you'd expect, fans are hoping to see as many familiar faces as possible when the fourth installment of The Matrix hits theaters -- and they're not shy about asking the series' stars, like the legendary Laurence Fishburne, if we can expect to see them again.
Unfortunately, if you're awaiting the return of Morpheus, you are in for some disappointment. Laurence Fishburne's Morpheus won't be making an appearance in Matrix 4. While he was already priming fans back in summer of 2020, he still seems to be open to discussing the film even if he isn't in it. In a recent interview, though, when asked whether it gets old being asked if he's in the next Matrix movie, he had a gracious response (via Collider):
It's admittedly difficult to imagine a Matrix film that doesn't feature Morpheus in some way, but that seems to be the reality we will have to get used to. It's at least nice to know that Laurence Fishburne understands' our enthusiasm for his character. While it's unlikely that Lana Wachowski would actually answer our questions as to why Fishburne won't be in Matrix 4, we can only assume that it will all make sense once we've seen the film.
While we don't have too many details yet about what the storyline will entail, we do know that she will be introducing several new characters. The film is also bringing back some iconic Matrix players, including Keanu Reeves' Neo and Carrie-Anne Moss' Trinity.
This doesn't have to mean we've said goodbye to Morpheus forever, either. There's always a chance that more Matrix films will be greenlit and, if it fits the story, the beloved Zion operative could still make a comeback. Even if that doesn't happen, though, we can still see him on screen with Keanu Reeves in another franchise. The actor has confirmed that he's reprising his role as The Bowery King in John Wick: Chapter 4, which is slated to hit theaters in May 2022.
As for The Matrix 4, even though it feels like we've been waiting forever to see it, the premiere date is finally drawing closer. Whether it's called The Matrix Resurrections or not, it is slated to hit theaters and HBO Max on December 22, 2021.
Your Daily Blend of Entertainment News