Looks Like Guardians Of The Galaxy's Vol. 3 Is Getting Close To Filming As Karen Gillan Preps For Nebula's Lengthy Makeup Routine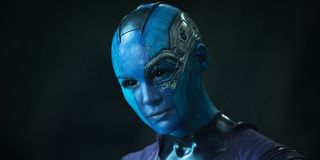 Guardians of the Galaxy Vol. 3 has had its fair share of setbacks. Originally set to hit theaters in 2020, the movie's release was eventually pushed back to 2023 after director James Gunn was fired and rehired by Disney. While fans everywhere shed tears of despair, they don't need to anymore because, based on a recent message from Nebual actress Karen Gillan, the movie is closer to filming than we might think.
In some behind-the-scenes pics originally posted on her Instagram story, the ever-delightful Karen Gillan showed herself in the process of casting facial molds for Nebula's intense prosthetics. Insta stories disappear within 24 hours, but luckily for us Twitter user cosmic_marvel took screenshots. You can sneak a peek below:
It's hard to believe these layers of paste will become the sleek, cerulean Nebula, but that's Marvel practical effects for you. Makeup and prosthetics are a huge aspect of the Guardians movies, as they turn Dave Bautista into the heavily tattooed Drax the Destroyer and the flaxen-haired Pom Klementieff into the bug-eyed Mantis. Creating specific molds for makeup prosthetics is the first step in what will undoubtedly be a time-intensive process, so it makes sense that the artists are starting work on them ahead of production.
Another possible reason for the Nebula molds? The recently announced Guardians of the Galaxy holiday special, set for a 2022 release on Disney+. While there's no confirmed plot, we can reasonably assume that main crew members like Peter Quill and Rocket will be included. It's unclear if Nebula would be part of their holiday celebration (do they even have Christmas in space?), but it's possible that she could make an appearance.
Additionally, James Gunn teased that the script for that special is finished, so it makes sense that getting the prosthetics ready would be the next step. The special will presumably take place within the current Phase Four timeline, but Marvel loves to play around with the space-time continuum, so anything's possible.
This isn't the first sneak peek we've gotten of Guardians of the Galaxy Vol. 3, either. James Gunn loves to interact with his fans on Twitter, and he's been dropping hints on everything from the script to storyboarding. Like the holiday special, plot details are under wraps. However, the director has indicated that Guardians Vol. 3 will be the last movie to focus on our favorite space gang, so the story will probably get pretty emotional. Gunn even teased a major character death but, hopefully, that doesn't actually pan out. Isn't it enough that we lost Gamora and Groot (sort of)?
Guardians of the Galaxy Vol. 3 is currently scheduled to hit theaters on May 23, 2023. While we wait for the return of our beloved space adventurers, there's plenty of Marvel content to keep us occupied. For more information on upcoming Marvel releases, you check out CinemaBlend's MCU Phase Four release guide.
Your Daily Blend of Entertainment News
Actor, singer, and occasional dancer. Likes: fashion, books, old buildings. Dislikes: cilantro, the NJ Turnpike, sneaker wedges.