The Guardians Of The Galaxy Holiday Special: 8 Questions We Have About The James Gunn Special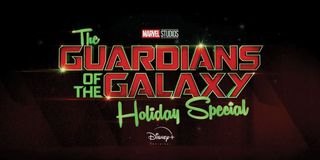 Recently, Disney decided to unload a ton of new TV shows and movies to the public during a Disney+ reveal show that seemed to keep bringing on new versions of everyone's favorite Star Wars characters, superheroes, and Disney princesses. However, there was one announcement that got everyone super excited, and that was that the a-holes of space were getting their own special, titled The Guardians of the Galaxy Holiday Special.
James Gunn, the man behind the first two Guardians of the Galaxy movies, is going to be returning to direct this holiday special, and fans are understandably really excited for the possibility of seeing their favorite space-fighting group for the first time since Avengers: Endgame. While Guardians of the Galaxy Vol. 3 is scheduled to start production soon, that film won't be premiering until 2023, and many fans will need something to hold them over until this. So this holiday special will give fans what they have been craving.
However, there are multiple questions that fans might have for this upcoming special, considering all we really know is that it's coming and it'll be something related to the holidays. What else could there be to this? Who's going to be staring in this? Who might make a cameo? There's so much that we don't know, so that's what this list is going to explore.
What Is The Guardians Of The Galaxy Holiday Special Premiere Date?
While it has been confirmed that the holiday special will be coming in 2022 at some point, there's no complete set date yet for when it will premiere on Disney+. Considering this is a holiday special, we're going to assume that it's going to come out around the holiday season in 2022, which seems like a safe bet. If it came out at any other time during the year that would be quite the surprise.
When Is The Story Set Within The MCU?
Considering this is going to be taking place in the same timeline as the current MCU movies, one can only wonder where and when this holiday special would take place. The Guardians of the Galaxy movies have been known to have some tricky timelines in relation to the movies that we have seen on earth, such as Age of Ultron. And since Avengers: Endgame finished not too long ago, is this going to be taking place after that crazy battle? Or is this way before it? Or are we going to see people from Quill's past included as well? Will we see Yondu again? Timelines – especially in Marvel – are tricky in general to get down. We might find out everything we could and still not understand exactly when it's taking place, so all we can do is wait.
What On Earth Is This Plot Going To Be About Besides The Holidays?
Look, I love the holidays. I feel like everyone loves the holidays. It's a reminder of how good people can be during this time of year, where joy and happiness are spread throughout the world and everyone seems to have a lighter touch in their step. But I, for the life of me, cannot figure out what the plot of the Guardians of the Galaxy Holiday Special is going to be about. I mean, yes, of course, we'll probably see some Christmas trees or a menorah, but how are they going to tie in space, these crazy monsters, and the holidays? Is Star Lord going to host some sort of Christmas party on his ship? Or is this going to take place on earth?
I'm genuinely curious as to what they plan to do with something like this considering the last time the holidays were included in any sort of special from space, it didn't quite end well. But this is also a different sort of story and director and characters in general, so I assume that it's going to have the same sort of humor and action that the original movies have, but all we can do is hope that the holiday special will be just as good at the movies.
Will Gamora Be Included In The Guardians Of The Galaxy Holiday Special At All?
If you were one of the few people who didn't somehow see the two most current Avengers movies, avert your eyes. But, if you have, I've been wondering if Gamora is going to be included at all in this special. The last time we saw her, at the end of Avengers: Endgame, she sort of just… vanished. I'm pretty sure that she didn't fade off with Thanos, but considering that her character has been such an integral part of The Guardians of the Galaxy series, it would be pretty surprising if there wasn't at least an appearance of her. However, this isn't the same Gamora that we know from the first two movies, so it's possible that we won't see her until Guardians of the Galaxy 3. We'll just have to wait and see when the cast is confirmed.
Will Groot Have Grown Up More, Or Has Not Much Time Passed?
Again, timelines are messy. It's hard to say how the timeline will work throughout Phase 4 of the MCU, but I'm sort of assuming that at least some time will have passed and Groot will have grown up a bit more from his teenage version. However, we still don't know exactly when this holiday special takes place, so we're still sort of left in limbo for if he's going to have changed or not. It also seems that Groot has seemed to grow up a little in the more recent addition to the MCU. But if we don't know the timeline as to when this will take place, all we can do is theorize about if he'll be the same or not.
Will There Be Appearances From Any Of The Other Superheroes From Endgame?
This is sort of a stretch considering this is just going to be a holiday special, but there are certain superheroes that could make an appearance if this is in space – and even more so if it is on Earth. A lot of people are rebuilding the world after the horror that Thanos caused, so if it takes place on Earth, there's a possibility that there might be maybe some crossovers with some of the new Disney+ shows that are coming out in the MCU. Or, if it's in space, there could be a cameo from Captain Marvel. But again, nothing is confirmed, so it's better to just wonder for now and see if maybe something might happen. However, there is this one superhero I'm thinking really could show up, and that's Thor.
It's been confirmed that Chris Pratt as Star Lord will be appearing in the latest Thor movie, Thor: Love and Thunder because Thor did apparently sail off into the sunset with the Guardians near the end of the Avengers: Endgame. However, for the millionth time, we have no idea during what timeline this is taking place. It could be before Endgame or after. But, because I want to believe that Thor will reappear, I'll assume it will be taking place after and hoping that Thor will be questioning the Christmas traditions of the humans.
Will Any New Characters Be Introduced Or Teased?
While nothing has been confirmed yet, I actually wouldn't be surprised if some new characters were introduced in the Guardians of the Galaxy Holiday Special. Nothing crazy like brand new superheroes or anything like that, but if there were little side-characters that were introduced, that sounds like something a holiday special would do. If Gamora isn't going to be making an appearance – which honestly, it seems like it might lean more in that direction if the timeline is lined up with the ending of Endgame – then new characters might be something that James Gunn will use to sort of fill the void that was left behind by the popular space assassin. It's not like there's any shortage of Marvel characters that they could use to do this with, so the options are out there, but it really depends on what Gunn wants to do at the end of the day.
How Long Will The Guardians Of The Galaxy Holiday Special Be?
Now this hasn't been confirmed as a feature film and we probably shouldn't expect it to be, because it's called a 'special,' but it could run for longer than a typical special. For example, specials tend to run an hour-long – like the recent South Park COVID-19 special, or the Lego Star Wars Holiday Special, which was 44 minutes – but because this is bringing back the main cast of the film, as well as the main director of both films, I could imagine that this might be longer than normal for a special. It's also going to be premiering on Disney+, which is known to have some crazy budgets for some of their TV shows like The Mandalorian, so for something as big as Guardians of the Galaxy, a big-budget might also translate to something that is longer, but for now, we can only wait.
We aren't going to know much more about the special for some time considering it won't be released until 2022, but the best we can do is think about what could possibly happen. What are your thoughts on this new special?
Big nerd and lover of Game of Thrones/A Song of Ice and Fire. Will forever hate season eight. Superhero and horror geek. And please don't debate me on The Last of Us 2, it was amazing!
Your Daily Blend of Entertainment News
Thank you for signing up to CinemaBlend. You will receive a verification email shortly.
There was a problem. Please refresh the page and try again.