Ghostbusters Afterlife: 7 Quick Things We Know About The Sequel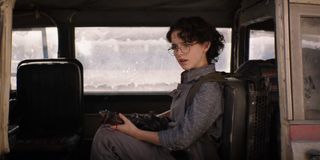 The Ghostbusters franchise is one that defined many of our childhoods and continues to make its impression on the world of pop culture. The first two Ghostbusters films helped make Bill Murray, Dan Aykroyd, Harold Ramis, Ernie Hudson, and Rick Moranis even more beloved comedy figures. Now over 30 years later, the Ghostbusters are getting a bit of a makeover with Ghostbusters: Afterlife.
The upcoming film will continue to grow the legacy of the original Ghostbusters by introducing us to the next generation. Ghostbusters: Afterlife is one of the most anticipated films of 2021. We can't wait to see the next chapter for Bill Murray's Peter Venkman and the rest of the Ghostbusters and their families. While we wait for Ghostbusters: Afterlife's release, let's look at some key things we already know about the new movie.
Ghostbusters: Afterlife Will Be Released In November 2021
Like many films, originally Ghostbusters: Afterlife was supposed to come out in the summer of 2020. However, due to COVID-19, its date was eventually moved to March 5, 2021. Then in October 2020, Ghostbusters: Afterlife was moved from Spring 2021 to Summer 2021, and then moved again to November 2021.
If things remain the same, the film will be released on November 11, 2021. Fingers crossed that Ghostbusters: Afterlife blasts into theaters in at some point this year (and hopefully on-demand soon after).
Ghostbusters: Afterlife Has An A-List Cast
Ghostbusters: Afterlife made sure to pack a big punch when casting for this sequel. It brought together a talented bunch of young stars and seasoned vets, including everyone's dream best friend and one of the most underrated actresses.
Paul Rudd will play a school teacher named Mr. Grooberson (as revealed from the Ghostbusters: Afterlife trailer). It appears that he is very into ghost hunting and kind of leads the kids down the path towards becoming Ghostbusters. Carrie Coon plays Callie, a single mom who is going broke. She moves her children, Trevor (Finn Wolfhard) and Phoebe (McKenna Grace) to their grandfather's old home.
Paul Rudd has had a career since the 90s, appearing in popular films and shows like Clueless, Wet Hot American Summer, Friends, Anchorman, Parks and Recreation, and the Ant-Man movies. Carrie Coon has appeared in the critically acclaimed series The Sinner, Fargo, and The Leftovers.
McKenna Grace is best known for playing the younger versions of many characters, like Sabrina Spellman in Chilling Adventures of Sabrina, Theo in The Haunting of Hill House, and Tonya in I, Tonya. She's also appeared in these series and movies: Once Upon a Time, Gifted, The Vampire Diaries, Captain Marvel, and Troop Zero. Finn Wolfhard is best known for playing Mike Wheeler in Stranger Things (which has a few Ghostbusters references). He has also appeared in The Turning, The Goldfinch, and IT.
The Ghostbusters: Afterlife Plot Introduces The World To A New Generation Of Ghostbusters
The official Ghostbusters: Afterlife synopsis reads:
It's clear from this description that Phoebe and Trevor are direct descendants of one of the original Ghostbusters. The film will follow them as they learn their legacy and take over the reins.
Ghostbusters Afterlife Has Ties To The Original Films
Unlike the very enjoyable 2016 Ghostbusters, Ghostbusters: Afterlife won't be a complete reboot of the franchise. Instead, it will be a sequel and the third installment in the original Ghostbusters films. It'll have many ties to the first two Bill Murray-starring films.
The official Ghostbusters: Afterlife trailer has so many easter eggs, from the Ghostbusters suits to Ecto-1. The biggest thing tying this film to the original movies is that Callie, Phoebe, and Trevor are all family members of one of the original Ghostbusters. It hasn't been revealed which one is Trevor and Phoebe's grandfather, but most signs point to them being the grandchildren of Egon Spengler (played by the late Harold Ramis).
Phoebe's appearance looks a lot like a younger, girl version of Spengler, and in the trailer, you can see that Spengler's Ghostbusters' suit is hanging in the closet of her grandfather's house. Many of the details surrounding Ghostbusters: Afterlife is being kept under wraps, but this may just be the beginning of introducing legacy Ghostbusters into this world.
Ghostbusters: Afterlife Includes Some Of The Original Ghostbusters Cast
It was first revealed that Sigourney Weaver would reprise her role as Dana Barrett. Then Vanity Fair confirmed that Bill Murray, Dan Aykroyd, Annie Potts, and Ernie Hudson would also reprise their roles. It was also confirmed that Rick Moranis wouldn't be returning as Louis Tully. The original cast seems excited to be back together and in their original roles.
In an interview with Living Life Fearless, Hudson spoke about the emotions he and the other original Ghostbusters cast felt reuniting.
He also mentioned how impactful it was seeing a kid Jason Reitman on set back then to the person now directing it. The cast has been praising Reitman's directing and the script that he co-wrote with Gil Kenan. In the Vanity Fair behind the scenes feature, Bill Murray had this to say about the script:
Jason Reitman Brought His Father To Tears With A Ghostbusters: Afterlife Screening
Original Ghostbusters director Ivan Reitman is one of the lucky few who have already seen Ghostbusters: Afterlife. In an exclusive Empire interview with Jason Reitman, he shared that he took his father to the Sony lot to screen the film. Reitman revealed that his father hasn't been leaving the house much due to COVID-19, so him leaving to accompany him at Sony was already a big moment.
This tender moment shows just how important Ghostbusters: Afterlife is to the Reitmans and many others who grew up with these films or helped create them.
Ghostbusters: Afterlife Plans To Make The Horror Just As Important As The Humor
The first Ghostbusters: Afterlife trailer made the film seem a lot more dark and serious than many may have expected. The original Ghostbusters was a horror-comedy, with actors like Bill Murray and Dan Aykroyd making us laugh through our jump scares. Despite the dark nature of the trailer, actor Finn Wolfhard made sure to let fans know, in an interview with Hollywood Reporter, that Ghostbusters: Afterlife is very funny.
It sounds like Jason Reitman wanted to get the comedy right, but he also wanted to make sure it was also a scary film. In the same Empire interview, Reitman told an antidote where Steven Spielberg disclosed that the library ghost was one of his top ten scares of all time. Reitman also shared that the film is funny but he also found it scary growing up and wanted to make Ghostbusters: Afterlife just as scary as he felt it was as a child.
In an interview with 660 City News, Dan Aykroyd described the new film's direction as "warm, heartfelt and indeed, quite scary when you confront some of the issues that are being discussed."
Ghostbusters: Afterlife will (hopefully) hit theaters on November 11, 2021. You can follow all the latest release dates and changes here.
Your Daily Blend of Entertainment News
Spent most of my life in various parts of Illinois, including attending college in Evanston. I have been a life long lover of pop culture, especially television, turned that passion into writing about all things entertainment related. When I'm not writing about pop culture, I can be found channeling Gordon Ramsay by kicking people out the kitchen.