Arnold Schwarzenegger Had A 'Big Problem' With James Cameron's T2 Script, And It Makes Sense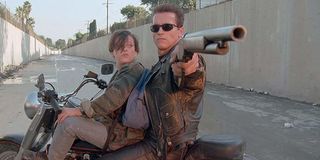 Terminator 2 is one of the greatest sequels ever made and one of the most iconic movie roles on Arnold Schwarzenegger's legendary resume. T2 is part of the reason Schwarzenegger was voted as the celebrity most likely to fend off an alien invasion. These days, T2 director James Cameron is working on the sequels to Avatar, and he knows all about the pressures of following up a great first film. Cameron recently discussed Arnold Schwarzenegger having a 'Big Problem' with T2's script, and it makes sense.
Terminator 2 was a follow-up to a great first film, taking its basic DNA and expanding and changing what made the first film a hit into one of the biggest movies of all time. James Cameron has spoken about some reservations Arnold Schwarzenegger had when he read the script for Terminator 2. In fact, James Cameron told The Ringer about Arnold's 'Big Problem' with T2, saying:
James Cameron says he could tell something was bugging Arnold Schwarzenegger and that something was about the script for Terminator 2. Cameron says that the 'big problem' Arnold had with the script was that he doesn't kill anybody in it. Arnold was seemingly very confused that he was still the Terminator, but he doesn't kill anyone during the sequel. Cameron says he tried to explain how it would shock the audience and that they would never see it coming, but clearly Schwarzenegger wasn't sure.
The location at Cannes where this went down makes the story even wilder. James Cameron says he tried to reason with Arnold Schwarzenegger, explaining the reasons and how it will make the sequel work, but Arnold was still unsure. I mean, I get it. Schwarzenegger was playing the iconic killing machine who would walk into a room and cause mayhem. That's what fans and the actor himself expected, but Cameron wanted to play with that expectation and, in doing so, made Terminator 2 one of the most influential blockbusters of all time.
It all paid off for Arnold Schwarzenegger, resulting in a movie he later admitted he thought would scare his daughter away from actors like Chris Pratt. James Cameron is now trying to do similar things with Avatar 2, even going so far as to threaten to fire the entire writer's room for the film's sake. Reinventing a beloved movie and subverting fan expectations seems to be Cameron's formula for success, and the Avatar sequels will undoubtedly try to do both things.
James Cameron has recently celebrated one year since filming wrapped on the Avatar sequels with his team. Fans of the first Avatar won't have to wait very long for the first sequel as it is scheduled for a 2022 release. Let's hope James Cameron's knack for bigger and better sequels holds as true for Avatar as it did for T2.
Movie and TV obsessive. A good Heist movie is the way to my heart. Enjoyer of everything from Marvel Movies to Rom-coms.
Your Daily Blend of Entertainment News
Thank you for signing up to CinemaBlend. You will receive a verification email shortly.
There was a problem. Please refresh the page and try again.