Independence Day Streaming: How To Watch The Will Smith And Jeff Goldblum Movie Online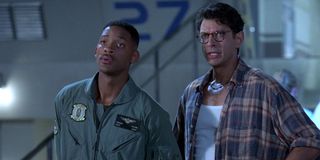 CinemaBlend participates in affiliate programs with various companies. We may earn a commission when you click on or make purchases via links.
This is crazy to think about, but it has been 25 years since we heard the fat lady sing when Will Smith and Jeff Goldblum saved the world from an extraterrestrial threat in Independence Day. And what better way to celebrate 1996's box office champ than by watching Independence Day streaming?
Below is everything you need to know about how to watch Bill Pullman give arguably the best presidential speech ever captured on film (and how the speech saved the movie's title) and everything else about Roland Emmerich's epic blockbuster. And just to cover all the bases, there is also some information about all the ways to watch the 2016 sequel Independence Day: Resurgence for those who want to see how things shaped out for all (or most) of their favorite characters.
Where To Watch Independence Day Streaming
It has never been easier to watch Independence Day as the classic '90s sci-fi action flick is streaming on HBO Max in stunning high-definition (the destruction of the White House and the Empire State building has never looked as intense). To take in humanity's last stand on Independence Day, all you have to do is log on to HBO Max through your browser or a compatible streaming device, search for Independence Day, and press play. Before you know it, you'll be watching Will Smith drag a not-quite-dead-yet alien to Area 51.
Stream Independence Day on HBO Max. (opens in new tab)
If you don't have HBO Max or perhaps want to own Independence Day you can do just that by renting or buying a digital copy on Amazon. All versions purchased on Amazon come with the nifty X-Ray feature which gives you access to everything from the cast to some pretty great Independence Day behind-the-scenes facts.
Rent/Buy Independence Day on Amazon. (opens in new tab)
Where To Watch Independence Day Resurgence Streaming
There are some people out there who really want to watch Independence Day: Resurgence, Roland Emmerich's 2016 sequel that brought back Jeff Goldblum and Bill Pullman but couldn't land Will Smith for a continuation of Steve Hiller's story. If you have never seen the movie or perhaps forgot what goes down 20 years after humanity handed it to the aliens, you can take it all in on Amazon where Resurgence is available to rent or purchase.
Rent/Buy Independence Day: Resurgence on Amazon. (opens in new tab)
How Bill Pullman's Iconic Speech Helped Give Independence Day Its Name
It is hard to imagine Independence Day being called anything but Independence Day, but that was nearly the case while the film was still in production. In a June 2020 interview with CinemaBlend's own Mike Reyes, Bill Pullman revealed that 20th Century Fox really wanted to call the movie Doomsday for reasons, but his iconic speech before the film's final battle helped Rolland Emmerich make a case for his preferred title, stating:
See, not only does the world have Bill Pullman to thank for helping save the world, we're also in his debt for preserving one of the cinema's best movie titles.
Now that we know how to watch Independence Day streaming all there is to do is grab a bucket of popcorn, boot up your surround-sound speakers, and take in one of the greatest summer blockbusters of all time.
Philip grew up in Louisiana (not New Orleans) before moving to St. Louis after graduating from Louisiana State University-Shreveport. When he's not writing about movies or television, Philip can be found being chased by his three kids, telling his dogs to stop yelling at the mailman, or yelling about professional wrestling to his wife. If the stars properly align, he will talk about For Love Of The Game being the best baseball movie of all time.
Your Daily Blend of Entertainment News
Thank you for signing up to CinemaBlend. You will receive a verification email shortly.
There was a problem. Please refresh the page and try again.