Chris Pratt Reveals Wild Story Behind 'Manifesting' Jurassic World Role While Working On Parks And Recreation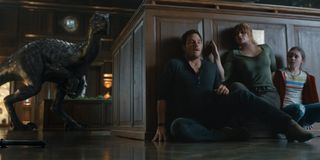 Chris Pratt has a major Amazon film called The Tomorrow War out right now, and the seemingly popular film already has a sequel on the way. But The Tomorrow War is not Pratt's biggest or most hotly anticipated movies coming up. In fact, Jurassic World: Dominion is one of the biggest movies coming in 2022, and Chris Pratt is back and ready for a thrilling adventure that will feature even more dangerous dinosaurs than ever before in the franchise. Chris Pratt is a bonafide star now, though he recently revealed the wild story behind him 'manifesting' his Jurassic World franchise role that apparently happened while he was still working on Parks and Rec.
Before Chris Pratt was a hero in a Marvel franchise or starring in big-budget action movies, he played Andy Dwyer on NBC's Parks and Recreation. Chris Pratt recently shared the funny bit he was doing for Parks and Rec that he now feels had to have helped amass the good juju that led to him landing the role. Chris Pratt told the story himself, saying:
Speaking to IMDB, Chris Pratt says that during Season 2 of Parks and Rec, he had to do a behind-the-scenes video called a "mini flip" that no one else wanted to do, so they let him have at it. During the filming of the clip, Pratt's phone rang, and he pretended that he had just gotten a text from Steven Spielberg telling him he got a part in Jurassic Park 4. That's a funny joke, but it became prescient later.
Obviously, at the time it seemed like there was no way Steven Spielberg would cast him in Jurassic Park 4. At that point in Chris Pratt's career, no one would have guessed he would be the star he is. He was just a funny character on a hit comedy series! But it turns out Pratt would go on to get his role in Jurassic World.
Next up, Jurassic World: Dominion is bringing back the stars of the original Jurassic Park films, and they have significant roles to play in the movie. New footage of a T-Rex being headbutted in Jurassic World: Dominion has been released and would get any Jurassic fan excited. There is still hope for a Fast and Furious/Jurassic World crossover, but the fast series may collab with a different franchise first.
Chris Pratt has so many crazy projects in the works, including Guardian's of the Galaxy Vol. 3 and the just-announced sequel to his brand new sci-fi hit The Tomorrow War. Between his work as Star-Lord, Andy Dwyer, and Jurassic World's, Owen Grady, Chris Pratt has been unmistakably making a mark on the entertainment world, and not just the Jurassic one.
Your Daily Blend of Entertainment News
Movie and TV obsessive. A good Heist movie is the way to my heart. Enjoyer of everything from Marvel Movies to Rom-coms.