Black Widow: What The Fans Are Saying About The Latest Marvel Movie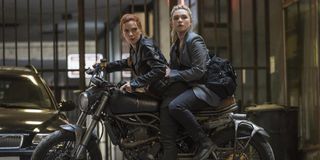 It took a long time for Black Widow to arrive, whether your countdown began from the moment Scarlett Johansson debuted as Natasha Romanoff in Iron Man 2, or you're simply remembering how the movie was originally supposed to come out in May 2020. Either way, Black Widow finally premiered last Friday both in theaters and on Disney+'s Premier Access tier. We haven't had an MCU movie since Spider-Man: Far From Home, but at long last, this dry spell is finally over thanks to this story depicting what Natasha was up to between Captain America: Civil War and Avengers: Infinity War.
We've already gone over how critics felt about Black Widow (including CinemaBlend's own Sean O'Connell), and clearly the movie has gotten off to a great commercial start. But what do the fans think about the first cinematic entry in the MCU's Phase 4? That's what we're here to go over, so let's strap in and read some Black Widow social media reactions.
There's A Lot Of Love Out There For Black Widow
As with any movie, opinions range on Black Widow, and looking at the overall MCU picture, this won't necessarily go down as one of the franchise's more exceptional entries. Nevertheless, Black Widow has earned a lot of positive critical reception, and you won't find any shortage of people who are recommending that others watch the movie either on the big screen or in the comfort of their own home.
One of the ways Black Widow has impressed many people is how it shines the spotlight on Natasha Romanoff's family from her Red Room days, comprised of Florence Pugh's Yelena Belova, Rachel Weisz's Melina Vostokoff and David Harbour's Alexei Shostakov (a.k.a. Red Guardian). In the midst of the action and thrills, Black Widow delivers some excellent scenes between these four.
Sadly, finally getting to meet Natasha Romanoff's pre-Avengers family is bittersweet. Because Natasha died in Avengers: Endgame, we'll never get to see her with Yelena, Melina and Alexei again, and now some folks are imagining what could have been had the MCU unfolded differently.
As for the future of Yelena, Melina and Alexei, while there's no word yet on the latter two returning to the MCU, we'll definitely be seeing more of Natasha Romanoff's little sister, which is most fortunate considering how she's being received by the fans.
Florence Pugh's Yelena Belova Is Incredibly Popular
A little over 20 years after she debuted in the comics, Yelena Belova has now made her live-action debut, with Little Women's Florence Pugh bringing her to life. Scarlett Johansson may be the star of Black Widow, but Pugh's Yelena performance is definitely a show-stealer.
From her amusing quotes to her heartfelt moments, there's a lot to like about Florence Pugh's Yelena Belova, who shares the Black Widow mantle. And if you found yourself getting emotional during one of Yelena's more serious moments in the spotlight, don't worry, you're not alone.
If you're a hardcore MCU fan, perhaps you can't help but compare how certain characters in the franchise are similar to one another. Now that Yelena Belova's MCU debut has been seen by the public, that's what this person did for her and Tom Hiddleston's Loki, specifically the one leading his own Disney+ series.
However, while there's a lot to enjoy about Black Widow, not everything about the movie has been met with approval from the fans.
The Taskmaster Reveal Is Polarizing
Carrying out the agenda of Ray Winstone's Dreykov in Black Widow is the mysterious Taskmaster, who is able to mimic the fighting style of any opponent. Tony Masters is Taskmaster in the comics, but Black Widow decided to have someone different under the mask. I won't spoil this individual's identity for those who haven't seen the movie, but this twist has been polarizing among viewers, and it definitely seems like more people dislike it than like it.
While Black Widow marks Taskmaster's biggest appearance outside of the comics, the character has gotten a fair amount of attention in other media, including the 2018 Spider-Man video game. This person felt that the video game did the character more justice than Black Widow.
That's not to say that Black Widow going a different direction with Taskmaster didn't make sense narratively, but clearly a lot of people were bothered by how many creative liberties were taken with this supervillain.
But rather than end things on a negative note, let's go over another positive aspect of Black Widow.
Black Widow Has Some Great Callbacks
Thanks to its placement within the MCU timeline, Black Widow contained some great callbacks to both the franchise's past and future. For instance, it turns out that the vest Natasha Romanoff wore in Avengers: Infinity War was given to her by Yelena Belova, who bought it because of all its pockets.
Black Widow also delivers payoff to some lines of dialogue from nearly a decade ago. Remember this scene between Natasha and Loki in The Avengers?
Black Widow even has a great callback to an earlier portion of the movie. Following Yelena making fun of Natasha posing while in battle, the former tried copying the latter, and the result was amazing.
These are just some of the Black Widow reactions out there, so feel free to look through Twitter to learn what others think about Marvel's latest movie. Keep checking back with CinemaBlend for more Black Widow coverage and news concerning upcoming Marvel movies.
Your Daily Blend of Entertainment News
Connoisseur of Marvel, DC, Star Wars, John Wick, MonsterVerse and Doctor Who lore. He's aware he looks like Harry Potter and Clark Kent.