Florence Pugh Teases Hope For Black Widow 2 While Saying Thank You To Marvel Stuntwoman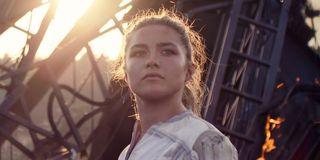 As Yelena Belova, Florence Pugh has proven to be a standout in Black Widow. The Oscar-nominated actress more than held her own alongside the formidable Scarlett Johansson and left many fans looking forward to seeing her again in the MCU. It seems like Florence Pugh is among those who is eagerly awaiting Yelena's next appearance -- maybe even in a Black Widow 2, if her latest Instagram post thanking her stuntwoman is anything to go by.
Over the weekend, Florence Pugh celebrated the release of Black Widow by acknowledging the team that got her ready for action. In a post on her Instagram account, she shared a video of herself and her stuntwoman, Kella McAllister, practicing a jump. The slo-mo clip, along with the lengthy and effusive caption attached, was a very sweet way for the actress to show her appreciation for those who helped her with the daunting and sometimes terrifying task of bringing Yelena to life.
The post itself is cool enough on its own -- any glimpse behind the scenes at the MCU always feels like a treat. But it's hard not to notice the hopeful tone that Pugh takes in her message to McAllister:
In addition to Kella McAllister - a.k.a. Bunny - Pugh also gives a shout out to Trayan Milenov, James Young and the rest of her Black Widow stunt team. If we're reading between the lines here, it almost sounds like she's envisioning a future when they can all reunite again for more Black Widow magic. Take a look at the clip and appreciative message Pugh shared here:
Of course, we already know that Yelena Belova will feature in the Disney+ Hawkeye series, so it's possible that Pugh is just looking forward to that project. The "hope" piece of her message, though, seems to imply that she could be referencing something that hasn't yet been confirmed. It seems like a given that Yelena would serve a more prominent role in any future Black Widow-focused stories, given what we know about the trajectory of Natasha's storyline. So by that logic, Black Widow 2 would definitely put Yelena back in action.
Okay, maybe this is all wishful thinking. But the reviews for Black Widow have been great, and it seems like fans are embracing it, too. In other words, the demand is there. If a central player like Florence Pugh is on board, and it looks like she is, all that's left is for Disney to green light a sequel. And we'll be waiting patiently.
Black Widow is currently playing in theaters and streaming on Disney+.
Your Daily Blend of Entertainment News
Thank you for signing up to CinemaBlend. You will receive a verification email shortly.
There was a problem. Please refresh the page and try again.