Space Jam: A New Legacy Reviews Have Arrived, Here's What Critics Are Saying About The LeBron James Movie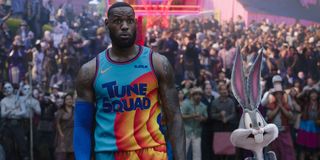 To those of you who look back on 1996's Space Jam with sweet nostalgia, get ready for the sequel: Space Jam: A New Legacy! This live-action/animated comedy features the Looney Tunes characters (duh), plus LeBron James, Don Cheadle, Khris Davis, Sonequa Martin-Green, Cedric Joe, and Zendaya, and was directed by Malcolm D. Lee. When LeBron (who plays himself) and his son Dom are trapped in a digital space by a rogue A.I., the basketball legend must get them home safe by leading Bugs, Lola Bunny, and the whole gang to victory on the court over the A.I's digitized champions.
Will Space Jam: A New Legacy become as legendary as the original? We'll soon find out, when it releases in theaters and on HBO Max simultaneously this Friday, July 16. Critics have started sharing their reviews of the comedy, so let's check them out.
Let's start with the home team, like always. Our very own Sean O'Connell really did not enjoy the film, rating it 1.5 out of 5 stars. He had a lot of criticisms, from LeBron's uninspired acting that made him look bored, to the absolute barrage of Warner Bros. references that you can't escape, not even for five minutes. O'Connell called the film a "soulless, two-hour commercial" for Warner Bros, and said:
Frank Scheck of The Hollywood Reporter had similar criticisms. He thought the movie looks like Warner Bros. just "vomited up" all their property with what looks like an appearance from every character ever featured in a film from the studio. Though he thought the animation was impressive, he argued that the pacing was too clunky, while James lacked the charismatic appeal of Michael Jordan's performance in the first film. Scheck said:
Joshua Rivera from Polygon thought Space Jam: A New Legacy looked like "a marketing slideshow with a two-hour running time." (Definitely sensing a pattern in these reviews) He thought the comedy was pretty lacking in actual comedy, noting that it'll probably make children giggle, and criticized the story for not being actually worthwhile and leaving the viewer with too many questions. Overall, Rivera said:
Katie Walsh from the Tribune News Service thought the sports comedy was fun, but still had some criticisms. While she enjoyed the fact that the characters have clearer motivations than in the original Space Jam, she thought Space Jam: A New Legacy lacked any kind of emotional drama. She also commented on the, you guessed it, unnecessary onslaught of Warner Bros. characters. Overall, Walsh said:
While these reviews so far have been pretty negative, Amy Nicholson of Variety actually had some more positive things to say about Space Jam: A New Legacy. She thought it was better than the original, praising James' commitment to his role and applauding the film for inspiring curiosity about cinema history in kids. Overall, Nicholson said:
Well, this movie seems to be getting somewhat negative reviews. But you'll be able to form your own opinion soon, when the comedy releases in theaters and on HBO Max this Friday, July 16.
In the meantime, plan your next movie-going experience with our summer release guide.
Your Daily Blend of Entertainment News
Thank you for signing up to CinemaBlend. You will receive a verification email shortly.
There was a problem. Please refresh the page and try again.