That Time Amber Heard's Aquaman 2 Workout Totally Got Interrupted By An Uninvited Guest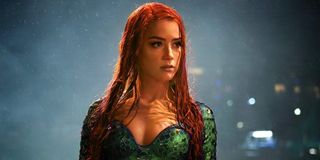 Amber Heard seems super dedicated to her role as Mera in the upcoming Aquaman and the Lost Kingdom or Aquaman 2. Heard has been showing off her training for James Wan's highly anticipated sequel and, in between training for her role, she has been sharing some sweet photos with her new baby. From what we've seem Heard definitely seems to be built for superhero training. However, there was one time during which one of the actress' Aquaman 2 workouts was totally interrupted by an uninvited guest.
You would think these superhero-related workouts would involve a lot of heavy weights and super serious exercises. However, Amber Heard continues to debunk that with her new workout video. But while the DC Extended Universe star tackles this most recent workout like a champ, the aforementioned uninvited guest tried to make things a bit more challenging for her. Check out Heard's Twitter video down below:
Amber Heard can be seen doing gymnast flips on rings, and it honestly looks really fun but tough. The balance and strength required to perform on rings is crazy, but the results of such a workout are sure to be great for anyone who does them consistently. In this case, it's hard not to applaud Heard for her efforts, even when she can't fully flip over by herself. It's also funny to see her trainer both help and distract her while she performs those feats.
As Mera, Amber Heard performed some impressive stunts in the original Aquaman movie, but this workout routine could indicate that she's going to do even more when it comes to the sequel. It'll be interesting to see how Aquaman 2 plans to test the character on a physical level. And maybe the distractions from her trainer will help in the long run. It goes without saying that Mera and Jason Momoa's Arthur Curry do have to deal with a number of factors while performing heroics on screen, after all.
The entire cast of Aquaman 2 is very dedicated to getting into their best superhero shape. Patrick Wilson is taking his workout cues from Jason Momoa and isn't shy about posting workout photos with his co-star. And recently, the pair have been working out together even more as filming has commenced for the Aquaman sequel. Considering that director James Wan has been promising a bigger and better movie, it only makes sense that the actors would want to ultimately create bigger and better versions of themselves.
Staying in shape all the time can be taxing on stars, as even Jason Momoa has recently explained why he hasn't been feeling superhero ripped ahead of Aquaman 2. Still, he seems to have picked things up with production now in full swing. In addition, Yahya Abdul-Mateen II had fun preparing for the sequel, but he's also making time to recover from his work days -- and doesn't mind posting a thirst trap when doing so. Between Momoa, Abdul-Mateen II and Amber Heard, that's a lot of fitness inspiration to last the rest of summer, which should make the Aquaman sequel that much better.
Aquaman and the Lost Kingdom hits theaters on on December 16, 2022
Movie and TV obsessive. A good Heist movie is the way to my heart. Enjoyer of everything from Marvel Movies to Rom-coms.
Your Daily Blend of Entertainment News
Thank you for signing up to CinemaBlend. You will receive a verification email shortly.
There was a problem. Please refresh the page and try again.