The Always Shirtless Jason Momoa Explains Why He's Not Feeling Superhero Ripped Ahead Of Aquaman 2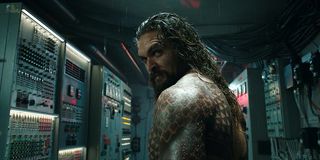 Aquaman star Jason Momoa is known for being ripped in every role he has been in, especially as Arthur Curry. Aquaman being shirtless is a character trait, even when it seems like it's freezing on set, so being in shape is a thing that Momoa has to keep up. The perpetually shirtless Game of Thrones alum explained why he's not feeling superhero ripped ahead of Aquaman and the Lost Kingdom.
Being superhero ripped around the clock is a full-time job in and of itself. We all hit those points where we get so busy and tired of our routines that we neglect our responsibilities, even if it's for a little while. Stars like Jason Momoa have to stay in insane shape almost year-round and it's understandable things can get in the way. Momoa has explained why he isn't feeling his superhero best physically, telling Anthony Anderson on Jimmy Kimmel Live:
Jason Momoa says he has been busy doing a lot of fighting and putting the finishing touches on his Apple TV+ show See, so he hasn't been able to work out like he usually would or should be doing right now for Aquaman 2. Momoa says he's flying out soon, presumably going back into production for The Lost Kingdom, promising he's going to get it together soon.
For more context, during the segment, Anthony Anderson introduces a game to Jason Momoa where he has to take his shirt off, and Momoa looks incredible. We would all want that body if we could have it, but he still isn't satisfied knowing what it takes to get into that superhero shape that Aquaman calls for.
Patrick Wilson is also getting ripped alongside Jason Momoa for Aquaman 2, so Momoa isn't the only member of the cast who has to get into superhero shape. Amber Heard, who plays Mera, has shared videos of her intense workouts getting in prime condition for the sequel. Yahya Abdul-Mateen, who is also always ready to take his shirt off, is enjoying teasing the return of Black Manta, so everyone is pumped and excited for Aquaman and the Lost Kingdom.
Jason Momoa has recently received a star on the Hollywood Walk of Fame, cementing his status as a superstar. Momoa is also preparing for the release of Dune this fall, and his Apple TV+ See will see him face to face with his Dune co-star Dave Bautista. Jason Momoa is on a great run with some amazing and highly anticipated films on the horizon and is showing no signs of slowing down.
Your Daily Blend of Entertainment News
Movie and TV obsessive. A good Heist movie is the way to my heart. Enjoyer of everything from Marvel Movies to Rom-coms.