Why Nic Cage Decided To Play Nic Cage In Upcoming Movie Despite The Idea Being 'Terrifying'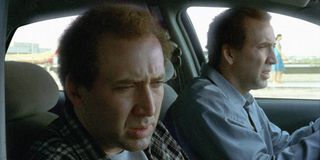 Whether he's delivering an Oscar-worthy performance or another meme-able movie moment, Nicolas Cage always, always commits to the role he's been cast to play. That's what makes him one of the most unforgettable actors of the last few decades. It's also why it makes perfect sense that he'd take on the daunting task of playing himself in an upcoming film. Though he admits the idea of playing Nic Cage is "terrifying," it sounds like he knew what he was getting into when he took on the role of a lifetime.
These days, Nic Cage is yet again reminding us why we'll probably never stop talking about him. While he's not always a critical darling, his new movie Pig -- about a man in search of his pig -- is getting rave reviews. And while the Joe Exotic biopic he was attached to seems to have been shelved, he's got an even more ambitious performance in the works.
In Tom Gormican's The Unbearable Weight of Massive Talent, Nicolas Cage will be playing, well, Nicolas Cage. That kind of career move is more than enough to make turn heads, which is something he's very used to doing. But it turns out that taking on a meta role is something that gave him a bit of pause at first. He told Variety:
The Unbearable Weight of Massive Talent is an action-comedy and follows the actor as he struggles through a rough patch. He's riddled with debt and desperate for a chance to work with Quentin Tarantino. So he takes a $1 million gig to appear at a billionaire drug lord's birthday party, which turns out to not be the best career decision he's ever made. Cage said that the version of himself that he's playing on-screen helped him contextualize the role:
Keeping in mind that even though he is playing himself, he's not playing himself, seems like a good way to approach this kind of a project, and it will be interesting to see how it all pans out. Though Nicolas Cage is often remembered for his most bizarre roles, he's also starred in some exceptional films over the years. Who knows, The Unbearable Weight of Massive Talent could end up being one of his best movies yet. The film is currently scheduled to release on April 22, 2022.
Your Daily Blend of Entertainment News
Thank you for signing up to CinemaBlend. You will receive a verification email shortly.
There was a problem. Please refresh the page and try again.