Resurfaced Spider-Man Test Footage Shows J.K. Simmons Was Always Perfect For J. Jonah Jameson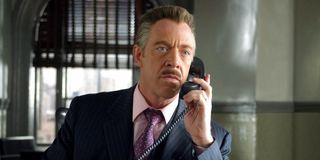 There are very few castings that can be called "perfect," but among the ones that easily fill that classification is J.K. Simmons playing J. Jonah Jameson. The actor's time as the loudmouthed and temperamental publisher of The Daily Bugle is among the most praised elements of Sam Raimi's Spider-Man trilogy. Well, on the slim chance you need a reminder just how amazing Simmons was in the role, some test footage of him auditioning for the role has resurfaced to fulfill that job.
At the beginning of 2000, Sam Raimi was hired by Sony Pictures to direct Spider-Man, and over the course of the same year, the movie's cast was slowly put together. While it's unclear specifically when J.K. Simmons boarded the project, you can see how his J. Jonah Jameson screen test went thanks to the below clip shared by Twiter user Daily Raimi Spider-Man!:
Here we have J.K. Simmons acting out a shortened version of J. Jonah Jameson's introductory scene in Spider-Man, with the character already have an axe to grind with the Web-Slinger and demanding that someone that get a clear photo of this menace. While the performance in the screen test is a little more subdued compared to what was in the movie, it's still abundantly clear that Simmons is an excellent fit for the role. All that was left to do was put on a suit and rock the character's trademark hairstyle and mustache.
In addition to playing J. Jonah Jameson in Spider-Man, Spider-Man 2 and Spider-Man 3, J.K. Simmons also vocally reprised the character in various animated series, like Ultimate Spider-Man and Hulk and the Agents of S.M.A.S.H. As far as the cinematic realm goes, Jameson was absent from the Amazing Spider-Man film series, with his presence only being felt in an email he sent to Andrew Garfield's Peter Parker in The Amazing Spider-Man 2. Then in the Marvel Cinematic Universe, after sitting out Spider-Man: Homecoming, Jameson finally made his grand big screen return in Spider-Man: Far From Home's mid-credits scene. Rather than hire a new actor, director Jon Watts wisely brought back Simmons to play the MCU version of the character, who's bald rather than boasts the flattop hairdo.
Within the MCU reality, J.K. Simmons' J. Jonah Jameson runs The Daily Bugle as a controversial online news platform, with that being exemplified at the end of Spider-Man: Far From Home by the host broadcasting doctored footage of Mysterio framing Spider-Man for the attack on London and revealing that Peter Parker is the Wall-Crawler. In addition to reprising the role for Spider-Man: No Way Home later this year, Simmons also said last year that another Jameson appearance was already in the can, and No Way Home hadn't begun filming by that point. What had been shot, however, was Morbius, and while it hasn't been confirmed yet if Simmons is in the Jared Leto-led vampire flick, it does seem as though this new version of Jameson will be a player in the Sony Pictures Universe of Marvel Characters.
Much like Judi Dench did with M in the James Bond movies, J.K. Simmons has been given the rare opportunity to play a different version of a character he already brought to life in a separate film series, thus keeping his run as J. Jonah Jameson going for almost two decades now. We'll see what's in store for him next when Spider-Man: No Way Home swings into theaters on December 17.
Your Daily Blend of Entertainment News
Connoisseur of Marvel, DC, Star Wars, John Wick, MonsterVerse and Doctor Who lore. He's aware he looks like Harry Potter and Clark Kent.