Fight Club: 10 Behind-The-Scenes Facts About The Iconic Brad Pitt Movie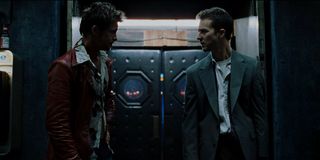 Few films made in the last quarter century have remained as shockingly relevant as Fight Club - and not just for its pristine quotability, outrageous performances (including Jared Leto), mind-bending climax, and director David Fincher's striking, anarchic vision. The story of our Narrator's (Edward Norton) life-changing friendship with eccentric soap salesman Tyler Durden (Brad Pitt) is actually a darkly humorous, ahead-of-the-curve condemnation of its violent, anti-consumerist themes instead of the celebration some its harshest critics assumed it to be in 1999.
Learn all about the early controversies of this powerful, inventive cult classic, and much more, in the following behind the scenes facts, including some praise from the author who started it all.
Fight Club Author Chuck Palahniuk Believes The Movie Has A More "Streamlined" Plot Than His Book
The story of Fight Club, in which the Narrator and Tyler Durden form a support group for men to cure their frustrations through violence, originally came from the mind of Chuck Palahniuk. The demented satirist is actually one of the few authors to admire a film adaptation of his own work more than the source material. Check out what he told DVD Talk when asked how he felt about the film:
Chuck Palahniuk's admiration is just one instance of proof that Fight Club is one of the movies in which every detail seemed to come together perfectly. One of the most essential key elements to that result is the cast, which could have been totally different.
Reese Witherspoon Was One Of Many Actresses Considered To Play Marla Singer
It is impossible for Fight Club fans to imagine anyone better than Edward Norton as the Narrator and Brad Pitt as Tyler Durden, but I would argue that the most perfect casting decision was Helena Bonham Carter as Marla Singer - the Narrator's rival support group patron and Tyler Durden's friend with benefits. However, she was not the first choice to play the unstable female lead for Twentieth Century Fox, who had considered the likes of a then-23-year-old Reese Witherspoon, Norton's then-girlfriend Courtney Love, and a post-Seinfeld Julia Louis Dreyfus, according to Cinephilia Beyond's retrospective. Comedian Janeane Garofalo once claimed Norton shot down the idea of her playing Marla, which the Oscar-nominee later denied.
Meat Loaf Wore A Suit With Fake Breasts Filled With Flax Seed To Play Bob
Probably the most surprising, yet lovingly remembered, addition to the Fight Club cast is rock star Marvin "Meat Loaf" Aday as Robert "Bob" Paulsen, whose name will certainly never be forgotten to anyone who has seen the film. The Narrator meets him while visiting a support group for men with testicular cancer and is perplexed by the sight of his large breasts, as a result of taking prescribed estrogen hormones. The Rocky Horror Picture Show star recalled to Q Magazine (via Stuff) how the role required him to wear a fat suit equipped with breasts filled with flax seed that weighed 28 pounds each before adding that he now feels sorry for large-breasted women having walked (and ran) in their shoes as Bob.
Brad Pitt Helped Inspire The Look Of Jared Leto's Fight Club Character
Another Fight Club cast member noted for having a memorable appearance (and certainly not just in this movie) is Jared Leto, who played a member of the eponymous support group referred to only as Angel Face. The world has never seen the Academy Award winning actor so blonde and, according to the following quote from his career breakdown with GQ, we have Brad Pitt to thank:
In the video, the Joker of the 2016 Suicide Squad cast goes on to talk about the moment in Fight Club when the Narrator brutally batters his face, which apparently resulted in a few genuine hits. That was actually not the only time Edward Norton accidentally became a purveyor of pain on the set.
Edward Norton Really Punched Brad Pitt In The Ear By Accident
The first punch we see thrown in Fight Club, per Tyler Durden's request to the Narrator, is a real punch, which Edward Norton revealed on The Tonight Show Starring Jimmy Fallon in 2019. While promoting his film Motherless Brooklyn (in the same month the 1999 movie happened to be celebrating its 20th anniversary), Norton mentions how he did not mean to hit Brad Pitt in the ear when he punched him, resulting in his co-star's genuine reaction. He also adds that the real punch was suggested by director David Fincher, who also became a pain peddler on set, but not so much by accident.
An Unpadded Stuntman Performed The Narrator's Stairs Tumble 12 Times
There are are so many memorable moments throughout the Fight Club DVD commentary (conducted by Brad Pitt, Edward Norton, and David Fincher) that range from hilarious to bewildering. One moment that serves as a potent mix of both comes when Tyler Durden pushes the Narrator down a long flight of stairs, prompting Pitt and Norton to express their sheer dread over the assumed eight times the poor stunt man performed the tumble without any protective padding. Fincher interjects that they actually filmed 12 takes of that stunt before adding that the first one was what made it into the final cut.
The Cold Breaths In The Ice Cave Sequence Were Recycled CGI Effects From Titanic
While we can be thankful that Fight Club is not without its practical effects (at the expense of some people, however), CGI was utilized to create certain visuals, such as the visible breath coming from Edward Norton and Helena Bonham Carter's mouths when the Narrator fantasizes about his ice cave with sliding penguins. Digital artist John Siczewicz claims in a Cinefex profile (via Huffington Post) that "existing breath elements" originally created in 1997 for Titanic after the ship sinks were reused for the dream sequences. So, in a way, Leonardo DiCaprio does have a connection to Fight Club in deeper ways than his real-life friendship with Norton and his bromance with Brad Pitt in Once Upon a Time in Hollywood 20 years later.
Helena Bonham Carter's Most Twisted Fight Club Line Was Almost Something Else
Out of all the shocking and depraved lines of dialogue throughout Fight Club, Marla Singer's claim that she hasn't "been fucked like that since grade school" after her first sexual encounter with Tyler Durden, arguably, takes the cake. Believe it or not, according to The Wrap, this quote was the result of producer Laura Ziskin urging David Fincher to replace the original line ("I want to have your abortion"), which he agreed to if she promised not to make him change it a second time. Ironically, Ziskin found herself begging Fincher to put back the original quote she deemed too offensive when she heard the replacement, which proceeded to famously offend many.
Brad Pitt And Edward Norton Saw A Venice Film Festival Rep Walk Out Of Fight Club
Before it became known as a thought-provoking classic of modern cinema, Fight Club was not loved by everyone - including the late, great Roger Ebert, even. However, Brad Pitt actually has fond memories of the initial backlash, such as the time he and Edward Norton sat next to the man who ran the Venice Film Festival when the film screened at the event. In the following quote from an interview with Marc Maron on his WTF podcast, the actor recalls this glorious moment of disapproval:
I wonder if things would have made a difference if Laura Ziskin's wishes to change that line again had been granted.
Rosie O'Donnell Spoiled The Twist Of Fight Club On Her Talk Show
Another person who was not very impressed with Fight Club was Rosie O'Donnell, who had one of the most popular daytime talk shows on television at the time the movie was released. The comedian decided to take time during her program to voice her displeasure over the film and even go as far as revealing the crazy twist ending the week that the film was set to come out, something Brad Pitt would deem "unforgivable" on the DVD commentary, as quoted by The Hollywood Reporter. O'Donnell recently commented on the moment on The Jess Cagle Show, noting that it was not until years later when she learned how angry the stunt made Pitt and Norton, after Courtney Love told her.
It seems that all is finally forgiven and forgotten about Rosie O'Donnell's Fight Club spoil after more than a couple of decades since it released. However, I still will not dare to mention the epic twist in this article. Why? You know the rules.
Jason has been writing since he was able to pick up a washable marker, with which he wrote his debut illustrated children's story, later transitioning to a short-lived comic book series and (very) amateur filmmaking before finally settling on pursuing a career in writing about movies in lieu of making them. Look for his name in just about any article related to Batman.
Your Daily Blend of Entertainment News
Thank you for signing up to CinemaBlend. You will receive a verification email shortly.
There was a problem. Please refresh the page and try again.