Upcoming Reese Witherspoon Movies And TV: What's Ahead For The Morning Show Star
Elle Woods, Tracy Flick, and more!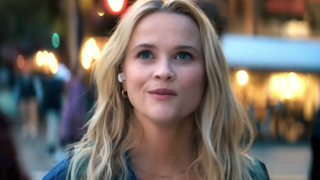 (Image credit: Netflix)
Both as an Oscar-winning actress and a film and television producer, Reese Witherspoon continues to demonstrate her persistent presence in Hollywood, building new and exciting career possibilities for herself. Having proven herself in comedies and dramas, the acclaimed actress is staying active with a variety of different upcoming projects, including Your Place or Mine, another season of Apple TV+'s The Morning Show, the long-awaited Legally Blonde 3, and even a return to the Election property. That's in addition to a number of other movies and shows that she's attached to solely as a producer, including (but not limited to) a much-anticipated adaptation of Daisy Jones and the Six.

Certainly, Witherspoon isn't hurting for work. The Academy Award winner is as busy as ever with several intriguing new properties which will hopefully only continue to demonstrate her exceptional talents. Alas, for those wondering, it doesn't sound like Big Little Lies Season 3 is one of those projects, though maybe that will change. Nevertheless, if you love Reese Witherspoon, here's what you can look forward to.
Your Place Or Mine - February 10, 2023
While Reese Witherspoon has found a great deal of success through television efforts on HBO, AppleTV+, and Hulu, the actress/producer is heading to another premier service, Netflix, for her next few movies. Witherspoon is attached to produce and star in the upcoming romantic comedy Your Place or Mine, which will serve as the directorial debut of screenwriter Aline Brosh McKenna (The Devil Wears Prada, Crazy Ex-Girlfriend).

Also set to be produced by Jason Bateman and Michael Costigan's Aggregate Films, Your Place or Mine follows Witherspoon and Ashton Kutcher as two long-distance best friends who change each other's lives when one pal decides to pursue her lifelong dream and the other volunteers to keep an eye on her teenage son. The movie, which lands on Netflix on February 10, could very well become a new addition to the list of the greatest romantic comedies.

The Morning Show Season 3 - TBA
While the Oscar-winning actress is better known for her extensive filmography, Reese Witherspoon has been expanding herself evermore in the growing world of prestige television. In recent years, the actress/producer starred in HBO's acclaimed Big Little Lies, which she followed with the Hulu original mini-series, Little Fires Everywhere, in 2020. In addition to those two television adaptations, Witherspoon frontlines The Morning Show alongside Jennifer Aniston. The Emmy-winning drama series, which also stars Steve Carell, Mark Duplass, and Billy Crudup, started Apple's TV bid with a bang.

The show's second season, which was released in late 2021, was just as successful, and the series was quickly given the opportunity to try things out a third time. Though no release date has been announced for The Morning Show Season 3, the Apple TV+ original, which will see the addition of John Hamm to its talented cast, entered production back in August 2022. In January 2023, Witherspoon told Entertainment Tonight that filming was almost completed, while also teasing that there will be "lots of romance" when the show eventually does return.
Legally Blonde 3 - TBA
Get ready to bend and snap once more! While Reese Witherspoon is known for several esteemed performances throughout her acclaimed career, one that remains among her most beloved and revered is her role as Elle Woods in 2001's Legally Blonde and 2003's sequel, Legally Blonde 2: Red, White & Blonde. While the comedy follow-up didn't garner nearly as much critical or commercial success, the original was such a beloved comedy that many people have wondered if or when she'll reprise this character for a long-awaited trilogy capper. Sequel talk only led to more rumors and speculation, but in 2018, Witherspoon confirmed that she'll return to the pink in Legally Blonde 3.

While the project is currently in the works, we don't know when exactly we'll get to see it. They're in the midst of finalizing a screenplay, which will be written by Dan Goor and Mindy Kaling. Hopefully, once Witherspoon is happy with the script and there's time in her schedule, cameras will finally start rolling. Right now, there are a lot of questions surrounding the threequel, but one thing that is for sure is that Witherspoon has said there is no Legally Blonde 3 without Jennifer Coolidge.
All Stars - TBA
Reese Witherspoon's working relationship with Your Place Or Mine director Aline Brosh McKenna doesn't end with the Netflix comedy, as the two are planning to work together again on the upcoming Amazon original comedy series, All Stars. In December 2022, Deadline revealed that the series, which has already been given a two-season order by the streamer, will follow a former cheerleader played by Witherspoon as she cons her way into teaching cheerleading at a school in England.

McKenna, who co-created the popular Crazy Ex-Girlfriend series on The CW, is slated to direct the pilot and several other episodes in addition to serving as showrunner. No other casting announcements have been made at this time, but expect to hear more about Witherspoon's first comedy-centric TV series in the coming weeks and months.
Tracy Flick Can't Win - TBA
Those who have long wondered what came of Election's Tracy Flick in the years following the release of the 1999 comedy will soon get to find out as a sequel is in the works at Paramount+. In December 2022, Deadline announced that Reese Witherspoon's overachieving and overly-ambitious student government president candidate would be returning for a sequel titled Tracy Flick Can't Win with Alexander Payne also returning to direct the movie.

Based on Election author Tom Perrotta's 2022 novel of the same name, the movie will follow an older Tracy as she finds herself vying for another high-profile role at her high school, only this time she's trying to earn the job of principal after the school's head administrator announces his retirement. There's no word on if Matthew Broderick, Chris Klein, or other members of the original cast will be returning, but one can hope.
Untitled Nick Stoller Comedy - TBA
Nick Stoller, who has crafted hilarious romantic comedies like Forgetting Sarah Marshall and Bros, will soon return to the genre with an untitled wedding comedy starring Reese Witherspoon and Will Ferrell. In July 2022, Deadline announced that Amazon had secured the rights for the upcoming comedy. There haven't been any updates on the project in the months since the initial announcement, but be on the lookout for more details in the near future.
The Cactus - TBA
In addition to the aforementioned Your Place Or Mine, it was also announced in May 2020, per Deadline, that Reese Witherspoon is set to star in and produce an adaptation of Sarah Haywood's The Cactus. The upcoming streaming exclusive follows a reserved woman who's unexpectedly pregnant at 45, causing her to restructure the life that she has created for herself and leading her into an unconventional journey towards life, love, family, and to learning to accept the unexpected.

The description certainly has an Eat, Pray, Love kind of vibe, though the source material is said to be more comedic. Nevertheless, it's the second of two romantic comedies that Witherspoon has in store with Netflix, both as a producer and star, which will keep her on the service's payroll for at least a few years.
Pyros - TBA
Throughout her career, Reese Witherspoon has often stayed earthbound. Even in an era where several of her A-list acting peers have traveled to distant planets and/or otherworldly dimensions through tentpole projects like Marvel movies, DC properties, and other billion-dollar enterprises, Witherspoon has generally avoided genre exercises, exploring dynamic and dramatic characters who often deal with very realistic and relatable problems. But now, that's set to change with, Pyros, which has been in the works for nearly half a decade at this point.

Set to be directed and produced by Simon Kinberg, this adaptation of the science fiction short story "Tardy Man" by Thomas Pierce, which appeared in The New Yorker, is the latest sci-fi blockbuster funded by Netflix. Pyros follows a group of people who wear indestructible Tardy suits that are connected to their spine, thus allowing them to endure dangerous conditions. This power is typically used to help rich people salvage their belongings, though those orders might not be followed too strictly. Pierce will also adapt his own story. Announced in 2019, it's unclear when the movie is expected to start shooting, as details have been slim-to-none since Deadline first revealed the project.
Upcoming Producing Projects From Reese Witherspoon
In addition to all the other projects in development where the actress will split her time with producing duties, Reese Witherspoon's company, Hello Sunshine, will also make several other films and shows that will allow the producer to stay strictly behind-the-camera. Along with the aforementioned Daisy Jones & the Six, the upcoming Amazon original series based on Taylor Jenkins Reid's novel of the same name, Witherspoon has multiple other high profile projects in the works.

Hello Sunshine is producing A White Lie, based on Karin Tanabe's novel, The Gilded Years, which will star and also be produced by Zendaya, a Martina Navratilova documentary, an adaptation of Gayle Tzemach Lemmon's Ashley's War, and This Above All, a drama centered around the controversial Westboro Baptist church.

But that's not all! The Oscar winner is also set to produce Starz's multi-generational family drama, Kin, an adaptation of Heath Hardage Lee's The League of Wives, and the upcoming AppleTV+ thriller-drama series, Are You Sleeping, starring Octavia Spencer, as well as You Think It, I'll Say It, a long-in-the-works AppleTV+ comedy series based on Curtis Sittenfeld's collection of short stories.

Furthermore, Witherspoon's production company is planning to produce New Line's adaptation of Ruth Ware's In A Dark Dark Wood, the ABC comedy series, Americanized, based on Sara Saedi's memoir of the same name, and the forthcoming MGM adaptation of Gail Honeyman's bestselling novel, Eleanor Oliphant Is Completely Fine, which is being directed by Fleabag's Harry Bradbeer, according to Deadline. Certainly, the actress/producer keeps herself plenty busy, especially with other upcoming titles like Tiny Trailblazers and The Last Thing He Told Me also in the works.

Expect to hear more about all of Reese Witherspoon's upcoming projects in the coming weeks and months. But, while we wait for more details, now would be a good time to check out the 2023 movie schedule to get caught up to speed on all those big upcoming releases.
Your Daily Blend of Entertainment News
Philip grew up in Louisiana (not New Orleans) before moving to St. Louis after graduating from Louisiana State University-Shreveport. When he's not writing about movies or television, Philip can be found being chased by his three kids, telling his dogs to stop barking at the mailman, or yelling about professional wrestling to his wife. If the stars properly align, he will talk about For Love Of The Game being the best baseball movie of all time.