Why Meat Loaf's New Album Couldn't Contain Just One Long Song, According To Meat Loaf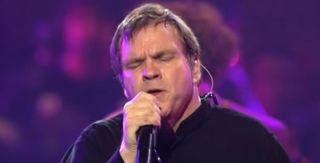 Meat Loaf is officially putting his legendary rock-operatic voice to rest after his upcoming album Braver Than We Are. The new release will be the rocker's thirteenth studio album, and sees him re-teaming up with his most famous collaborator, songwriter and producer Jim Steinman, but according to Meat Loaf himself, his final album won't be released the way he really wants it to be formatted.
Meat Loaf appeared on the TODAY Show on Tuesday to talk about his new album, which is being released this Friday, and revealed that he conceived of Braver Than We Are as one long song, but iTunes forced him to split it up into tracks.
Now, the 55-minute album has been split into 10 tracks. Like Meat Loaf's most successful albums Bat Out of Hell and Bat Out of Hell II: Back into Hell, all of the songs on Braver Than We Are were written by Jim Steinman. Also like those albums, the tone is very theatrical and involves Meat Loaf taking on characters. The singer told TODAY that he felt like a young kid back at the beginning of his career while preparing for the new record, and spent a long amount of time developing characters for the piece.
Meat Loaf also addressed his recent collapse on stage. While touring earlier this summer, this singer fell to the floor during one of his concerts, causing fans to worry about his health. The legendary rocker assured viewers that he fell simply because of dehydration and that he feels fine now.
Although, Meat Loaf did go on to admit that his declining physical prowess is one of the reasons that he's announced Braver Than We Are to be his final album, stating that after his knee surgery he can't run onto a stage anymore. The singer also cited his growing demand as an actor to be a reason to step away from the mic. Aside from his music, Meat Loaf has made numerous appearances on film and television dating back to the '70s in The Rocky Horror Picture Show. Most recently, he's had guest roles in hit shows like Glee, Monk, and House, and popped up in a variety of thrillers, dramas, and comedies on the big screen.
Braver Than We Are will be available for purchase on Friday, Sept. 16, and can be preordered on Amazon (opens in new tab) now. The album's first two single "Speaking in Tongues" has already been released. Check it out below.
Your Daily Blend of Entertainment News
Thank you for signing up to CinemaBlend. You will receive a verification email shortly.
There was a problem. Please refresh the page and try again.