Ethan Suplee Recalls The Super 'Weird' Cocaine-In-Butt Related Favor The Wolf Of Wall Street Team Needed From Him While Filming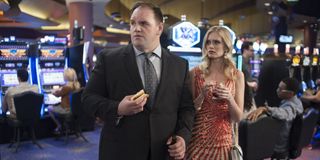 Every actor is sure to have one moment in their filming career that sticks out more than the rest, and it honestly may be pretty hard for an actor like Ethan Suplee to narrow it down. He's worked on a ton of wild films and has played everything from a skinhead nazi to a cluelessly devoted brother. But he recalls one moment on Wolf of Wall Street, where he was asked for his expertise in putting cocaine up a butt for that scene where Leonardo DiCaprio blows coke up a hooker's ass.
Ethan Suplee has struggled in the past with his self image, as well as multiple addictions for which he had checked himself into rehab for. The actor has been clean for going on two decades now, but apparently his experience with drugs caused the crew on the set of Wolf of Wall Street to wrangle him into teaching them the mechanics of blowing cocaine up a butthole.
In an interview with Michael Rosenbaum on his podcast Inside Of You about his amazing body transformation and learning to love himself, Ethan Suplee tells the funny story of how he was brought into a closed set on Wolf of Wall Street. Luckily, Suplee thought the "weird" request was a pretty humorous one. Here's the conversation that took place on the podcast, just as it happened:
I feel like requesting a recovering addict to describe just how to get cocaine up a hooker's butt is a pretty big ask, even if he had been clean for a decade. It sounds like those involved knew Ethan Suplee would be a good sport, and it did make for a pretty believable scene to be perfectly honest. Granted, you would think just being on set of a movie like Wolf of Wall Street would be a pretty big trigger for a recovering addict, so Suplee probably already had a pretty solid handle on things.
Cocaine laced asses all in his past, Ethan Suplee seems to be living his best life. Sober and now completely jacked, he is apparently hyper focused on a healthy lifestyle both physically and mentally. While things could have definitely turned out differently for him, I'm super glad we still have both him and this hilarious throwback around.
Constantly thinking about books, coffee, and the existential dread I feel from Bo Burnham's Inside. While writing I'm also raising a chaotic toddler, who may or may not have picked up personality traits from watching one too many episodes of Trailer Park Boys.
Your Daily Blend of Entertainment News
Thank you for signing up to CinemaBlend. You will receive a verification email shortly.
There was a problem. Please refresh the page and try again.