Jungle Cruise Has A Joke With A Sword The Adults Are Gonna Love, But The Rock And Emily Blunt Reveal It Was Supposed To Be Way Dirtier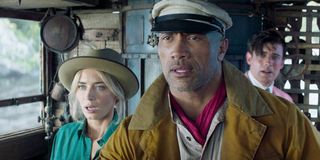 Like many Disney movies that have come before it, Jungle Cruise will appeal to kids and parents alike. By casting Dwayne "The Rock" Johnson and Emily Blunt as its lead actors, the movie's creative team made it possible for the movie -- based on the popular Disney theme park attraction - to be more of an adult-friendly crowd-pleaser. It turns out that decision meant they had to cut some of the actors' best bits back to keep Jungle Cruise kid-friendly -- including a hilarious scene involving some dirty jokes about a sword.
In Jungle Cruise, Dwayne Johnson's Frank "Skipper" Wolff and Emily Blunt's Dr. Lily Houghton team up to take a trip down the Amazon in search of an ancient tree that may hold healing powers. That journey proves to be an often dangerous adventure -- and Frank and Lily sometimes butt heads along the way. The tension between the characters is mostly lighthearted (remember, kids' movie), and it came to life, at times, because Johnson and Blunt were able to play off one another and improvise through some of their scenes. While that led to some great on-screen moments, the actors told USA Today that there was one moment that proved to go a little too far:
Now I'm curious as to what the unedited scene was like -- maybe Disney can release the NSFK version someday. In addition to their raunchy improvisations, Blunt and Johnson seem to have had a blast making Jungle Cruise together. While promoting the movie, they've done everything from troll each other mercilessly to fondly (or maybe not so-fondly) recalling their days on set together.
The actors' rapport was so strong, it seems they're already looking to the future for other projects. They hinted to USA Today that they'd be on board for Jungle Cruise 2 if the opportunity arose. And after learning that the Jungle Cruise adaptation was originally slated to star Tom Cruise and Tim Allen, they joked that they want to take on Woody and Buzz Lightyear in a live-action version of Toy Story. Unfortunately, there probably wouldn't be much room for R-rated sword jokes in either of those projects -- but at least they'd have a chance to team up together again.
Jungle Cruise is currently playing in theaters and available to stream on Disney+. And of course, keep it here at CinemaBlend for more on upcoming Disney movies that will be arriving in the near future.
Your Daily Blend of Entertainment News