Daniel Radcliffe Chose Two Harry Potter Characters He'd Like To Play In A Reboot, And They're Magical Choices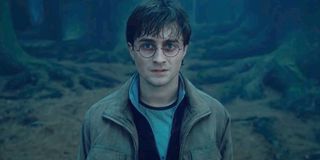 Reboots are all the rage in Hollywood. From Gossip Girl to Sex and the City, nostalgia always attracts viewers. Many reboots even enlist the help of the original actors, like the upcoming Jurassic World: Dominion reuniting Jeff Goldblum, Laura Dern, and Sam Neill. With the current reboot obsession, why not return to one of the biggest franchises of all: Harry Potter? Even better, Daniel Radcliffe, who played the titular Boy Who Lived, is already up for the hypothetical challenge. And he picked two characters to play.
The Wrap reported that Daniel Radcliffe appeared on "Game Night" with Josh Horowitz's Happy Sad Confused podcast to talk about his new project Miracle Workers: Oregon Trail. Naturally, the conversation veered towards D-Rad's most famous role, Harry Potter, and a possible reboot. Daniel Radcliffe already knows who he would want to play:
Daniel Radcliffe is, of course, referring to Sirius Black and Remus Lupin, two of the original Marauders of Hogwarts. While original actors Gary Oldman (Darkest Hour, Tinker Tailor Soldier Spy) and David Thewlis (Fargo, Wonder Woman), did an amazing job, it would be fun to see Harry Potter himself step into the role of Padfoot or Moony.
To be honest, I could genuinely see Daniel Radcliffe play either role. Physically, he looks a bit more like a Lupin. However, if he grows out the Sirius shag and puts on the Azkaban uniform, he could probably pull off Harry's godfather as well. Harry Potter had his share of yelling and generally acting unhinged throughout the film series, so it isn't hard to imagine Daniel Radcliffe as Sirius screaming about how he did his waiting (12 years of it, in Azkaban, etc).
Unfortunately, there's no actual plans for a Harry Potter reboot, although the Internet has wanted a Marauders movie or TV show for years (everyone on Tumblr wanted Ben Barnes to be a young Sirius, it was a whole thing). It wouldn't be the worst time for a reboot, though: the film adaptation of Harry Potter and the Sorcerer's Stone is celebrating its 20th anniversary later this year.
Luckily for Potterheads, there's no shortage of content based in the Wizarding World. In addition to the 8 Harry Potter films, there are two Fantastic Beasts and Where to Find Them movies with a third installment arriving next year. If you're looking to get out of the house, the theatrical sequel Harry Potter and the Cursed Child will return to Broadway in November.
Actor, singer, and occasional dancer. Likes: fashion, books, old buildings. Dislikes: cilantro, the NJ Turnpike, sneaker wedges.
Your Daily Blend of Entertainment News
Thank you for signing up to CinemaBlend. You will receive a verification email shortly.
There was a problem. Please refresh the page and try again.