Daniel Radcliffe: What To Watch Streaming If You Like The Harry Potter Star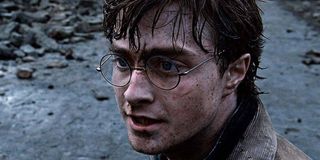 CinemaBlend participates in affiliate programs with various companies. We may earn a commission when you click on or make purchases via links.
Harry Potter has become one the most popular movie sagas of all time, standing up in the big leagues with film series' like The Lord of the Rings, Indiana Jones, Star Wars,and more. The series has spawned spin-off films, a possible HBO TV show, and even a full-fledged theme park through Universal Studios. But of course, there's no movie without its main star, and that man was Daniel Radcliffe.
From a young age, Daniel Radcliffe took on the role of Harry Potter, and grew up with the films, becoming a talented young British actor. It's been nearly ten years since the last Harry Potter film was released, which can only mean one thing – he's been quite active in the acting world. If you're a fan of the boy who lived, check out these films or TV shows to see what Daniel Radcliffe has been up to.
Miracle Workers (HBO Max)
If you were looking for something that changes with each season, Miracle Workers is the show for you. The anthology TV series follows short stories based on the humorist Simon Rich, with each season based on a different story. The first season took place as if Heaven was sort of run like a company, and the second season offers humor into what the dark ages were.
It doesn't sound like something that would flow well, but believe me when I say it works great for a comedy. Daniel Radcliffe is one of the main stars of this current TV show and does an excellent job of showing off some of his comedy skills, along with his hilarious co-star, Steve Buscemi. What really makes Miracle Workers a lot of fun, however, is that each season really is crazily different. There's no overarching plot – just fun and different takes on stories, and Radcliffe shines in it.
Stream it on HBO Max here (opens in new tab).
Unbreakable Kimmy Schmidt: Kimmy Vs. The Reverend (Netflix)
This has to be one of the most out-there movies to exist, but because of that, it's super unique and fun to watch. Unbreakable Kimmy Schmidt: Kimmy vs. The Reverend follows the story of Kimmy Schmidt from the Netflix comedy series, Unbreakable Kimmy Schmidt, telling the tale of how she hunts down the man that ruined the earlier years of her life, the Reverend.
I'd say that to watch this you should be at least a little bit familiar with the original show and the basic backstory of Kimmy, but other than that it's a fun story where you get to pick what happens next – literally. You are in charge of what happens, including who Daniel Radcliffe's character ends up being with. It's a crazy mess and sort of chaotic, but it's a good kind of chaotic, trust me. Radcliffe again shines in a great comedy role, further adding to his impressive resume.
Stream it on Netflix here (opens in new tab).
Escape From Pretoria (Starz)
If you want a thriller film, look no further than Escape From Pretoria. The film is based on the real-life prison escapes by three political prisoners back in South Africa in 1979, and Daniel Radcliffe takes on the lead role as Tim Jenkin, who wrote the original book on the escape.
Escape From Pretoria is an action-filled movie that is so much fun to watch. I've never really been a big fan of prison break sort of films because a lot of the time, the way they break out doesn't seem that realistic. But to know that the characters of this film actually broke out of prison in real life makes it super interesting and intriguing the watch. Radcliffe portrays Tim Jenken well, showing the seriousness of the situation they are in before they do inevitably escape from the prison. It's a shame that this movie had come out just as the COVID-19 pandemic caused lockdown, as I think it should have gotten much more hype than it received.
Stream it on Starz here (opens in new tab).
Guns Akimbo (Amazon Prime)
Okay, hear me out, but Guns Akimbo is a freaking fantastic and bloody time. The film is all about a man trying to somehow save his ex-girlfriend from kidnappers, but here's the catch – he has guns bloodily attached to his hands now, and he must use those to get to her.
I know, it sounds absolutely mad, but this was one of my favorites that Daniel Radcliffe has done recently. It's just so wacky and ridiculous that you can't help but laugh out loud and enjoy it as all the randomness occurs. The violence in this almost reminds me of a video game and seeing Radcliffe run around in dirty pajamas while screaming for his life gives me an unhealthy amount of joy. It's such a different take for an actor like him – which is why I can't recommend it enough to you. And yes, this is where that Daniel Radcliffe meme is from.
Stream it on Amazon Prime here (opens in new tab).
The Woman In Black (Showtime)
I often credit this movie as the first horror film I saw, all because I wanted to see Daniel Radcliffe in something right after Harry Potter ended. The Woman in Black is set in the 20th-century, where a recently widowed lawyer moves to a remote village and learns that the ghost of a scorned woman has been terrorizing the locals.
If it sounds like a basic ghost story, that's because it is, but that doesn't mean it's not enjoyable. As this was Daniel Radcliffe's first major acting gig after Harry Potter (this came out in 2012), he does well switching over from the fantasy genre to one of horror, and because of that he really makes this film stand out as one of his bests. For scary movie fans, this one is for you, but be aware of the woman in black. She'll haunt your dreams.
Stream it on Showtime here (opens in new tab).
Horns (Netflix)
Moving onto another horror/comedy film, Horns provides that and more. Based on a novel by Joe Hill, the story follows Daniel Radcliffe's character, who is falsely accused of raping and killing his girlfriend, so with his newly discovered supernatural powers, which allow him to hear people's thoughts, he decides to find out who the real killer is.
For fans of the paranormal and supernatural, this is most certainly the film for you. It's definitely a dark movie at some points, but Radcliffe performs the role well, even if he can be a little scary. It's almost like a love letter to what you would do to get vengeance for someone – how far would you go? And Radcliffe goes quite far.
Stream it on Netflix here (opens in new tab).
What If/The F Word (Prime)
"I just had sex and I'm about to eat nachos!"
That's just one of the many hysterical lines you will hear in this comedy starring Daniel Radcliffe and Zoe Kazan. What If? (or called The F Word in other countries) is the simplest rom-com you can imagine – two friends begin to develop feelings for each other, and hilarities ensue from there.
I know what you're thinking – been there, done that, but let me tell you that this movie is one of the funniest ones I've ever seen, if not for the crazy lines like that one above here, but for the chemistry between the stars. You really do start to believe the relationship of Radcliffe and Kazan over time and the struggles that come with that, along with the friendship and dynamic duo of Adam Driver's character pre-Star Wars and Radcliffe. They truly shine and I've absolutely loved rewatching this over and over.
Stream it on Amazon Prime here (opens in new tab).
Harry Potter films (Peacock)
Well, duh.
You're probably here because of the Harry Potter films so I'm assuming you've seen them before, but it's never too later for a good binging. Harry Potter follows the story of Harry Potter, the titular character, and his adventures at Hogwarts all while trying to take down the evil wizard, Voldemort. And this spans out for a decade.
There's a reason why Harry Potter is beloved by all. Not only is Daniel Radcliffe fantastic in the titular role, but the story is top tier, and I don't believe it could be topped. There's a certain homeyness to Hogwarts, and my heart always fills with warmth whenever I've watched the films again. Besides, this series is home to one of my favorite quotes: "Happiness can be found even in the darkest of times if one only remembers to turn on the light," a quote I live my life on.
If you haven't seen Harry Potter yet, watch them. You won't regret it.
Stream them on Peacock here (opens in new tab).
I can only imagine what Radcliffe has coming up in his life if Guns Akimbo was one of his latest – let's hope it's just as wacky and fun as some of his other films. What do you love seeing Radcliffe in?