Major League: 10 Cool Behind-The-Scenes Facts About The Baseball Comedy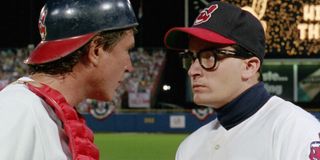 A little more 30 years ago, David S. Ward introduced audiences to one of the most dysfunctional, unlikely, and iconic baseball players brought to life by Tom Berenger, Charlie Sheen, and a new-on-the-scene Wesley Snipes in a little movie called Major League. Since its release in April 1986, the underdog story of the Cleveland Indians overcoming the odds, the New York Yankees, and a loathsome owner has become one of the most watched, quoted, and best sports movies of all time. But have you ever wondered how it all came together? Well, look no further.
Below is a breakdown of the some of the most impressive Major League behind-the-scenes facts ranging from why the movie wasn't actually filmed in Cleveland, how Charlie Sheen prepared to take on the role of Ricky "Wild Thing" Vaughn, and other great stories that will have rushing home to watch this raucous baseball movie…
Major League Shot In Milwaukee As Opposed To Cleveland For A Variety Of Reasons
The events of Major League are set in Cleveland, Ohio, the real-life home of the Indians baseball team, but the movie was actually shot in Milwaukee, Wisconsin, with Milwaukee County Stadium, the former home of the Brewers, filling in for Cleveland Stadium, the team's home ballpark until 1994. And while this is commonly known fact about the movie, the reason behind it might not be as well known.
During an interview with ESPN.com in 2016, writer-director David S. Ward, a Cleveland native, revealed Major League was filmed in Milwaukee because the Cleveland Browns, who shared a stadium with the Indians at the time, had already started preseason football and there were lines on the field making it not look ideal. There were also union issues that would have made shooting there much more expensive than taking the production to Wisconsin.
The Major League Cast Went Through A Version Of Spring Training To Prepare For The Movie
In order to look like an actual MLB team, the Major League cast was put through a rigorous training camp that was essentially a version of spring training or boot camp. With the help of former Los Angeles Dodgers catcher and 1981 World Series co-MVP Steve Yeager, who came on as a technical advisor, the movie's stars and supporting actors went through weeks of baseball drills and conditioning training. Director David S. Ward told Yahoo! Sports in 2019 that this was done to avoid having any members of the cast get injured during filming and throw the whole show off schedule.
Steve Yeager must have impressed everyone enough to earn a more long-term job as he was hired on to take the role of third-base coach Duke Temple in Major League as well as stand in for Tom Berenger as catcher Jake Taylor when certain scenes called for more accurate throws to first and second.
Charlie Sheen's Fastball Got Up To speed 85 MPH But Only After Taking Steroids
A few members of the Major League cast had a history with baseball, but none had as much experience than Charlie Sheen. Sheen revealed in Sports Illustrated's 2011 oral history that before following his father's footsteps, he was a decent enough baseball player, which made preparing for the role of California Penal League standout and Cleveland Indians rookie sensation Ricky "Wild Thing" Vaughn a lot easier. And while his history helped him get his fastball up to a respectable speed, he also had some assistance from the effects of the steroids he was taking:
On top of Charlie Sheen taking steroids to increase the speed of his pitch, director David S. Ward also moved up home plate 10 feet to make it appear he was throwing even faster during filming. Winning.
Willie Mays Hayes Was Always In Slow Motion Because Wesley Snipes Wasn't Very Fast
Willie Mays Hayes might have hit like Mays but he only ran like Hayes because all of Wesley Snipes' running scenes were shot in slow motion. During Sports Illustrated's Major League oral history, director David S. Ward revealed that while Snipes actually made that great grab that had him go over the outfield wall in the movie, all of his running shots were slowed down not to capture his speed but to make it appear is he were a speed demon because the actor was not very fast. Plus, it also makes that scene where Hayes runs in his pajamas all the more epic.
Director David S. Ward Made The Actors Play Catch As Part Of Major League's Casting Process
One part of the Major League casting process that seems both insane and totally understandable is the way David S. Ward tested the actors' baseball skills through a simple game of catch. This is brought up in Jonathan Knight's The Making of Major League: A Juuuust a Bit Inside Look at the Classic Baseball Comedy during the section about Tom Berenger auditioning for the role of clubhouse leader Jake Taylor. In the book it is revealed that even though Berenger had trouble throwing the ball during the meeting, Ward decided to go with the casting and figure out what to do with the mechanics later.
The Major League Cast Had Some Wild Nights Out While Filming In Milwaukee
With Milwaukee being one of the biggest beer towns in the United States, it would be more surprising if the Major League cast and crew didn't go out whenever given the opportunity. And boy, did they go out and party when the opportunity presented itself. When the topic came up in Sports Illustrated's Major League oral history, Charlie Sheen pointed out that James Gammon, who played coach Lou Brown was one of the biggest offenders as he put it so lovingly:
Later on in the piece, it was brought up that while James Gammon knew how to have a good time at a bar, it was Charlie Sheen who had most of the fun, especially when it came to figuring out airline schedules so the various women visiting him in Milwaukee never crossed paths. Maybe the crew will recreate the madness if Major League 4 ever happens.
Major League Was Able To Use The Yankees As The 'Bad Guys' Partially Because The Team's Then-Owner Was From Cleveland
You can't have a good underdog story without a team going up against one of the strongest franchises in the history of professional sports, so it only seemed fitting to have the Cleveland Indians take on the New York Yankees in Major League. There was only one problem: the film's producers had to get clearance from both MLB and the owner of the Yankees, George Steinbrenner. When speaking with ESPN.com in 2016, David S. Ward revealed that he didn't get the approval from the Yankees' owner right away but eventually got the go-ahead and he believes it was partially because Steinbrenner happened to be from Cleveland.
'Mr. Baseball' Bob Uecker Largely Ad-Libbed His Iconic Dialogue In Major League
To this day, one of the best things about Major League is Bob Uecker's iconic performance as radio announcer Harry Doyle and quotes like "Juuuust a bit outside" and "This guy threw at his own son in a father-son game" among other zingers. During the Sports Illustrated oral history of the movie, Uecker (who is the radio announcer for the Milwaukee Brewers) revealed the producers told him to just riff while filming and that he didn't have to follow the script. They told him to just do his thing and the rest is history.
Jeremy Piven Played An Insult-Hurling Bench Jockey But His Scenes Were Cut
As mentioned earlier, the Major League cast is one of the best ever assembled for a baseball movie, but the group of actors was originally included another future star before a last-minute decision left their performance on the cutting room floor. During the Sports Illustrated oral history, David S. Ward revealed that Jeremy Piven played an insult-hurling bench jockey who was featured at various points throughout the movie but he cut the character because the material didn't really work. Piven would go on to find fame and later became a fixture of the Entourage cast.
Major League Originally Had A Different Ending But It Performed Poorly With Test Audiences
Major League has one of the all-time great sports movie endings with the Cleveland Indians overcoming the odds and defeating the New York Yankees while also foiling owner Rachel Phelps' (Margaret Whitton) plan of moving the team to sunny Florida after an abysmal season. Well, the original plan for the movie, which was thankfully walked back, had a scene where Phelps revealed that she didn't want to move the team and her diabolical plan was just a way to motivate the team and avoid bankruptcy by building a roster of cheap players.
According to the Los Angeles Times, the big twist ending made it as far as early test screenings but audiences reacted to it poorly because they hated the owner so much. With that in mind, the producers dropped the "good guy" twist and filmed more of those iconic shots of her being annoyed by the team's success.
Well, now all there is to do is find a copy of Major League, pop it in, and take in the timeless story of one of the most remarkable seasons in baseball movie history. After that, check out our list of all the upcoming 2021 movies coming to a theater or streaming service near you.
Your Daily Blend of Entertainment News
Philip grew up in Louisiana (not New Orleans) before moving to St. Louis after graduating from Louisiana State University-Shreveport. When he's not writing about movies or television, Philip can be found being chased by his three kids, telling his dogs to stop barking at the mailman, or yelling about professional wrestling to his wife. If the stars properly align, he will talk about For Love Of The Game being the best baseball movie of all time.