Watch Bella Thorne Play Both A Nun And A Bad Girl In This Clip From Habit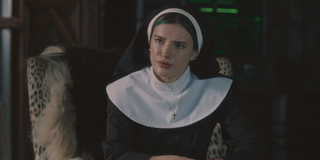 This edgy, outrageous thriller is one "habit" you'll want to acquire! Directed by Janell Shirtcliff and starring Bella Thorne, Paris Jackson, Hanna Mae Lee, Gavin Rossdale, and Josie Ho, Habit is reminiscent of early Tarantino and follows Mads, an L.A. party girl, who starts running drugs for a washed-up Hollywood star. The star is slain by a rival drug lord, forcing Mads and her friends into hiding masquerading as nuns.
Since Habit focuses on a group of girls that are no angels, watching them dress up as nuns and attempt to reclaim the money they lost is sure to be a good time. But this will also lead to some introspection, and possibly questioning the paths they've taken in life. Bella Thorne's character Mads does a bit of this in a new clip from Lionsgate. Check it out below.
In the above clip from Habit, Mads (Bella Thorne) is having a conversation with herself. One Mads is in a nun costume (assuming this is present day Mads, who is still in hiding), and the other has her hair down and is smoking a cigarette (assuming this is Mads prior to going into hiding). Smoking Mads tells Nun Mads that she knows what she's thinking of doing, and suggests thinking long and hard about her decision before acting. Nun Mads seems a little confused and lot annoyed, and responds "yeah, well, you are me."
Smoking Mads continues, telling Nun Mads that she's been given a fresh start and a clean slate and questions why she always has to fall back on bad habits. This begs the question, what bad habits? Is she talking about smoking, drinking, and partying, or is this a larger conversation about not ending up where she wanted in life and always self-sabotaging when things are going well? What is the decision Nun Mads has made? Will she commit a crime? Will she turn herself in?
Part of what makes the clip so intriguing is that Nun Mads is the bad version of her and Smoking Mads is the good version. Of course, she is only dressed as a nun to avoid being found by the drug lord she owes money to, but both versions of Mads are wearing the same cross necklace, indicating that she may have some personal religious ties.
We know from the Habit trailer that even while pretending to be nuns, the characters in this film don't let go of their bad habits. Check out the trailer below for a glimpse of the wild ride this story will take viewers on.
Find out if bad girls go to Heaven, too, and what decision Mads makes when Habit arrives in select theaters and everywhere you rent movies August 20. For more in the thriller genre, check out M. Night Shyamalan's Old and these psychological thrillers.
Obsessed with Hamilton and most things Disney. Gets too attached to TV show characters. Loves a good thriller, but will only tolerate so much blood.