Spider-Man: No Way Home And 5 Other Huge 2021 Movies We're Still Waiting To See Trailers For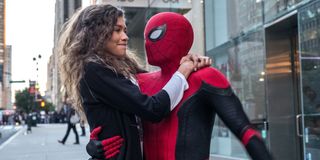 This year has been a strange one for the film world. The pandemic has continued to have a massive impact on the industry, and studios spent the early months of 2021 continuing to shuffle around the release schedule. Now, at long last, it seems like what's on the calendar is going to stay in place – and one of the best things about that is the fact that fans can now start getting really excited for the big titles set to come out in the fall. The downside is that there are a number of big titles set to come out that have yet to reveal a trailer for us to enjoy.
The wait for footage from Spider-Man: No Way Home in particular has been driving people nuts on social media, but there are also five other titles on the way that are testing the patience of cinephiles anticipating a preview. We're now more than a month into the second half of 2021, and we're tapping our watches patiently waiting for all of these trailers to drop.
Spider-Man: No Way Home (December 17)
Fans have been clamoring to see a Spider-Man: No Way Home trailer for months now, desperate to see what kind of trouble Tom Holland's beloved wall-crawler is in following the major cliffhanger at the end of Spider-Man: Far From Home… but the wait continues. With the movie not out until December, and two other Marvel Cinematic Universe titles on the way between now and then – specifically Shang-Chi And The Legend Of The Ten Rings and Eternals – it's possible that the marketing department for the new Spider-Man 3 is keeping quiet in order to not to be too much of a distraction from those other blockbusters.
The Matrix 4 (December 22)
Not only are we lacking a trailer for Matrix 4, but we are lacking… everything. The science-fiction film, arriving 18 years after the release of The Matrix: Revolutions, completed production during the pandemic in 2020, but details have been spectacularly hush-hush. It's one thing that we haven't seen even a split second of footage from the film with less than six months until its release, but what is far more shocking is that we also haven't seen a single still or even learned what the actual title is. When we do finally get an update about this production and a first look, it's going to be a long time coming.
Resident Evil: Welcome To Raccoon City (November 24)
Unlike the case with The Matrix 4, it's only been about five years since we last saw a Resident Evil movie, with Resident Evil: The Final Chapter theatrically released in 2016 – but what's significant is that the new film is intended as a reboot for the franchise… and we have yet to see a single frame from it. Sony Pictures announced back in March that the title of the new video game adaptation will be Resident Evil: Welcome To Raccoon City, but that's where the marketing for the project has stopped to this point. Production was able to be completed up in Ontario, Canada before the end of last year, but we're still patiently waiting for new confirmation that it will actually be arriving in theaters this November.
Red Notice (November 12)
Given that Netflix releases new material on a weekly basis now, it's understandable that they tend to not release trailers for their movies until they are just about to arrive… but how does the company not make an exception for Red Notice? The new action film has a powerhouse lineup of stars fronting it, including Dwayne Johnson, Ryan Reynolds and Gal Gadot, but rather than promoting it as one of the most exciting films of late 2021, we instead have barely heard a peep out of it. One might have thought that the arrival of The Hitman's Wife's Bodyguard or Jungle Cruise this summer would have inspired the streaming service to release at least a tease of what to expect from the upcoming heist thriller, but instead we haven't seen anything.
Nightmare Alley (December 3)
It's been nearly four years since Guillermo del Toro walked across the stage at the Academy Awards to accept multiple awards for The Shape Of Water, including the trophies for Best Director and Best Picture, and we've been patiently waiting for his next film ever since. At long last it is finally set to arrive at the end of this year, set to hit theaters in the first week of December… but we really have no idea what we will be getting from Nightmare Alley, because Searchlight Pictures has not yet started to promote the quickly arriving release. The new movie sports an outstanding supporting cast that includes Bradley Cooper, Cate Blanchett, Willem Dafoe, Toni Collette, Richard Jenkins, on Perlman, and Rooney Mara (among many others), and we couldn't be more excited to see their characters' various styles in the del Toro feature, but for now we're being forced to be extremely patient.
Untitled Paul Thomas Anderson Project (November 26)
Here's a fun fact: Bradley Cooper has not just one, but two movies set to come out at the end of the year that have yet to show us even a second of footage. In addition to Nightmare Alley, the actor is also starring in the latest film from writer/director Paul Thomas Anderson, which, like The Matrix 4, doesn't actually have an official title yet. The movie is set in Los Angeles during the 1970s, and follows the story of a child actor who befriends a director. In addition to Cooper, the feature also stars Skyler Gisondo, Emma Dumont, Benny Safdie, and Joseph Cross, and cinefiles everywhere are waiting to get a even a glimpse at the thing.
Hopefully it won't end up being too long before we actually get to see the trailers for Spider-Man: No Way Home, The Matrix 4, Resident Evil: Welcome To Raccoon City, Red Notice, Nightmare Alley and the new Paul Thomas Anderson film – and you can be sure that as soon as we do, you'll be able to find the footage here on CinemaBlend. While we continue to wait, we'd recommend checking out our full 2021 Movie Release Calendar to discover every title that is set to come out between now and the end of December.
Assistant Managing Editor
NJ native who calls LA home and lives in a Dreamatorium. A decade-plus CinemaBlend veteran who is endlessly enthusiastic about the career he's dreamt of since seventh grade.
Your Daily Blend of Entertainment News
Thank you for signing up to CinemaBlend. You will receive a verification email shortly.
There was a problem. Please refresh the page and try again.