Dawn Of The Dead Cast: What The Actors Are Doing Now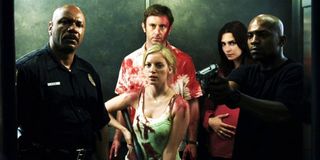 When it comes to zombie movies, there are so many films that fans can watch, from classics like Night of the Living Dead to newer tales like Warm Bodies. One of those films, Dawn of the Dead, a 2004 remake of the original George Romero 1978 classic, not only began Zack Snyder's career as a director, but established itself as another great addition to the zombie genre, becoming one of the best horror movies, in my opinion.
Of course Zack Snyder has done much more since his first ever zombie flick - including his latest hits like Zack Snyder's Justice League and the Netflix original film, Army of the Dead. But, even so, there's no denying Dawn of the Dead's impact on zombie culture. But, since it's been seventeen years since the film released, where exactly has the cast been? Like Sarah Polley? Or Ving Rhames and Ty Burrell? The Dawn of the Dead cast has been all over - here is what they are doing now.
Sarah Polley (Ana Clark)
As the lead in Dawn of the Dead, Ana Clark lost so much in just the first couple minutes of the classic horror film, but soon turned into a gun-wielding badass. Sarah Polley portrayed Ana in the film. She's mainly stuck to television since then, with a couple of bigger films like Splice and The Secret Life of Words, and also had a role in the miniseries John Adams.
However, Polley has been a lot more active in the producing/writing/directing world. She directed the film Stories We Tell, and the web series, Hey Lady!, as well as an upcoming film titled Women Talking. She's also produced the films A Better Man, Secret Path, and Alias Grace. I'm eager to see what the star of Dawn of the Dead might be bringing to the table next.
Ving Rhames (Kenneth Rhodes)
If you watched Dawn of the Dead, you had to like Kenneth. This no-nonsense cop who knew how to use a gun and had an attitude for days was the best type of survivor to be around. I can't imagine anyone besides the wonderful Ving Rhames playing him. Since his appearance in the zombie film, Rhames has been in a several films and TV shows, but his most notable role has been in the Mission Impossible series, playing IMF Agent Luther Stickell for all of the films, and is set to reprise the role in the two new Mission Impossible movies.
Ving Rhames also voiced Cobra Bubbles in the Lilo and Stitch films and television show, and has had several guest appearances on television. He had roles in the comedy-drama Gravity, as well as the medical TV series, Monday Mornings.
Jake Weber (Michael Shaunessy)
Michael in Dawn of the Dead was another great survivor that had a truly tragic end, but for the time he was in the film, he was one of the best members of the team. Jake Weber was the perfect guy to play Michael, and since his appearance in Dawn of the Dead, he's been active in both film and TV.
His biggest film appearances have been in the action film White House Down, the drama Wetlands,and the war film Midway. He also appeared in the Angelina Jolie-led film, Those Who Wish Me Dead. In terms of television, Jake Weber had a series regular role on Medium for seven seasons, and multiple recurring roles, including the controversial series, 13 Reasons Why, the sci-fi series, Star Trek: Discovery, and the drama, Homeland, so there's no denying that he's been extremely busy since his zombie days.
Mekhi Phifer (Andre)
While Andre in Dawn of the Dead seemed like he had the street-smarts to survive, he ultimately met his demise after witnessing the death of his wife. However, that doesn't mean that Mekhi Phifer, the man behind Andre, has had the same demise in his career. Quite the opposite, really.
For several years, Phifer was in the big screen young-adult dystopian series, Divergent, as Max. He was also in the science-fiction thriller film, Pandemic.
Moving into television, prior to his role in Dawn of the Dead, and after its premiere, Phifer starred in the medical series, ER from Seasons 8-14, playing Gregory Pratt. Mekhi Phifer has had guest roles and recurring parts on several popular shows, such as a guest spot on the comedy Curb Your Enthusiasm, a recurring role on Frequency, and a recurring role on Hulu's original coming-of-age series, Love, Victor.
Ty Burrell (Steve Markus)
Steve was someone that we all hated in Dawn of the Dead. I mean, how can you not? He was kind of the epitome of a jerk. Luckily, Ty Burrell is the complete opposite of that, and has had plenty of success since his role in the apocalypse film. His biggest so far has been portraying Phil Dunphy as a part of the Modern Family cast, for the entirety of its run, one he was nominated for several awards for.
However, besides his success in TV, Ty Burrell has done plenty of movies, like his roles in National Treasure 2, Marvel's The Incredible Hulk, Pixar's Finding Dory, and the animated film, Storks. Currently, he has a series regular role on the adult animated comedy, Duncanville. It's almost strange to think that the same man who played Phil Dunphy also played Steve in Dawn of the Dead, but that's what you call range.
Michael Kelly (C.J.)
I mean, C.J. was the literal worst until he wasn't anymore - that spot was kind of taken over by Steve as the literal worst survivor in Dawn of the Dead. Michael Kelly, who played C.J. in the film, has moved into several different genres of film and television. In terms of film, he's has roles in Changeling, Chronicle, DC's Man of Steel, the adventure movie Everest, and several others, and recently made an appearance in the Netflix original movie, Outside the Wire.
Kelly has also been active in TV. He had a role in miniseries Generation Kill, a minor recurring role in the HBO show The Sopranos, a main role in the Amazon original series, Tom Clancy's Jack Ryan, and a recent role in the political series, The Comey Rule. Hopefully we get to see more of him soon, considering how much he has done.
Kevin Zegers (Terry)
Terry was always the odd one out of the mall security guards in Dawn of the Dead, and because of this, he was a much nicer addition to the group with a bigger heart who actually cared for people, unlike his co-workers. Kevin Zegers played Terry, and has been active since his role.
He's had a couple of bigger roles in movies, such as a part in the romantic drama, The Jane Austen Book Club, the fantasy The Mortal Instruments: City of Bones, and the thriller, Nighthawks. Zegers also had a recurring role on the hit show, Gossip Girl, as well as a recurring role in the spinoff series, Fear the Walking Dead. Recently, he had on a main role in the crime drama, Rebel.
Lindy Booth (Nicole)
Okay, I'll admit that at first, I wasn't the biggest fan of Nicole because she seemed a bit wimpy, but we would all be her in Dawn of the Dead if our dog went out into a crowd of zombies. Lindy Booth portrayed Nicole in the film, and has done plenty since its premiere.
She's had roles in the action film, Kick-Ass 2, the thriller Dark Honeymoon, and plenty more. She's also had success in television, as well, including a main role on the dramas October Road and The Philanthropist, in the fantasy series, The Librarians, and a guest role in Grey's Anatomy. Booth will soon be in an upcoming film, titled Butterscotch, so keep an eye out for her.
Jayne Eastwood (Norma)
Norma in Dawn of the Dead was my favorite character in the film. Not only was she a kick-ass driver, but she went out of her way to save people that she didn't even know. Jayne Eastwood, who played Norma, has done plenty in Hollywood. She's been in several films, such as the romantic comedy My Big Fat Greek Wedding and its sequel in 2016. She also had a part in the 2007 musical Hairspray, as well as the Netflix original film, Work It.
Eastwood has also had success in television as well, with several guest, recurring and main roles in shows like the animated series, Ricky Sprocket: Showbiz Boy, the comedy, Little Mosque on the Prairie, the supernatural series, Haven, and recently, the web series, Hey Lady!, as mentioned before, with Sarah Polley. Soon, she will be in a new version of Home Alone, so who knows? We might get to see Jayne Eastwood swing around a gun again at some home intruders.
Boyd Banks (Tucker)
While his role wasn't that big in Dawn of the Dead, Boyd Banks' Tucker was still an essential part to the group for the time he was there. Banks hasn't been super active in movies since Dawn of the Dead, instead focusing a lot of his time in television.
He's had a guest role in Testees, as well as the comedy series, Star Falls. He's also had a recurring role in Hotbox, a Candian sketch comedy series, and appeared in Little Mosque on the Prairie, as well. He's also had a role in the series, Bajillionaires, and is going to be in the upcoming film, All My Puny Sorrows.
With all these upcoming horror films lately, I'm going to need to check to see if any of these awesome actors are going to show up in some. Whatever the case, Dawn of the Dead will continue to be one of my favorite zombie movies, and now, you at least get the chance to see where these actors have been for so long.
Big nerd and lover of Game of Thrones/A Song of Ice and Fire. Will forever hate season eight. Superhero and horror geek. And please don't debate me on The Last of Us 2, it was amazing!
Your Daily Blend of Entertainment News
Thank you for signing up to CinemaBlend. You will receive a verification email shortly.
There was a problem. Please refresh the page and try again.