New Spider-Man: No Way Home Merchandise Hints That An Old Villain Will Still Be A Huge Problem In The MCU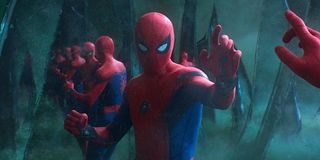 It's kind of comical that Spider-Man: No Way Home -- the third collaboration on a solo Spider-Man movie between Sony Pictures and Marvel Studios -- opens in December, and yet, we know next to nothing about it. Sure, it has been confirmed that Tom Holland, Zendaya and Jacob Batalon all reprise their roles as Peter Parker, Michelle and Ned, and that Jon Watts is back in the director's chair. But outside of Benedict Cumberbatch's supporting role as Doctor Strange, almost everything else is a mystery. Fans have been turning to toys and merchandise as a way to glean information on the sequel, so this fresh batch of merch should get the rumor mill spinning once again.
To date, Spider-Man: No Way Home has teased new outfits for Tom Holland's superhero in the form of Funko Pops and Lego sets. This past weekend, shirts and logos started to drop on Amazon, with one mirroring posters that fans saw in set photos around Atlanta and New York City. They show the potentially deceased villain of Spider-Man: Far From Home, Jake Gyllenhaal's Mysterio, and suggest that the public might be taking sides in the wake of the reveal of Peter Parker's true identity.
This bombshell occurred in the mid-credits scene of Spider-Man: Far From Home, where J. Jonah Jameson (JK Simmons, reprising his role) blasted Peter's face on the side of Madison Square Garden. Fallout from this reveal has to be a crucial plot point of Spider-Man: No Way Home, and there were posters and banners photographed on the film's set establishing a rivalry between people who sided with Spider-Man, and those who believe Mysterio, and consider Spidey to be a menace.
There's supporting gear for Spider-Man fans, as well. Are you Team Webslinger? Then grab this shirt:
And then we come around to the suits, which have been featured heavily in the merchandise for Spider-Man: No Way Home. I've already written at length about the fact that the Iron Spider Integration Suit only furthers the complaint that MCU Spidey is merely Iron Man Jr. And the point of Spider-Man: Far From Home was to show that Peter will never be Tony, so he should be the best Spider-Man he can be. He ends the movie with his own new suit… so why is THIS suit being featured so heavily in the No Way Home marketing and merch?
You know what would help clear all of this up? A trailer for Spider-Man: No Way Home. It seems like there are more rumors swirling around this movie than there are supporting actors. They can't all be true. A teaser clip, or a full trailer, would go a long way in calming down the masses who are ready to sink their teeth into anything related to Spider-Man: No Way Home. Until then? We wait. And scan CinemaBlend's guide to Upcoming Marvel Movies, thinking about all of the wonderful projects that are soon to come.
Movie junkie. Infatuated with comic-book films. ReelBlend cohost. Resident dad. Extroverted introvert. Wants to see the Snyder Cut. Managing Director at CinemaBlend.