Disney Lawyer Fires Back At Scarlett Johansson's Lawsuit As War Of Words Escalates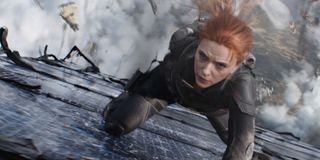 Scarlett Johansson continues to lead the charge on behalf of talent who might be getting short-changed by studio partners as the industry continues to experiment with day-and-date release structures. In just the past two weeks, Disney put its Jungle Cruise both in theaters and on Disney+, which Warner Bros. let James Gunn's The Suicide Squad screen on HBO Max as well as at your local multiplex. Language in the contract of a comic-book actor claims that it's the studio's prerogative to decide how best to release a new film, and a Disney lawyer is firing back at Johansson's Black Widow lawsuit on these very grounds.
Earlier, Scarlett Johansson's legal team filed a lawsuit in L.A. claiming that The Walt Disney Company's decision to put Marvel's prequel film Black Widow on Disney+ as opposed to giving it an exclusive theatrical run cost her bonuses that would have been hit if the movie crossed markers at the box office. But Disney attorney Dan Petrocelli, speaking with the Wall Street Journal (via Fox Business), calls the actress's lawsuit "wrong," elaborating:
Reportedly, there were conversations between senior Disney executives and Scarlett Johansson's legal team to reach a financial agreement before the studio decided to rely on Disney+ to get the Marvel movie in front of as many eyeballs as possible. But the demands made by Johansson and her team were described as "unreasonable" by Dan Petrocelli, and so the fight wages on.
This case is being closely monitored by all facets of the film industry, as it's one of the first times that a star is pushing back on the day-and-date decision that seems to be beneficial for the studio, but detrimental to the actor. Weighing in on the controversial case, the Screen Actors Guild sided with Johansson regarding the rhetoric and tone of Disney's initial, stern response. In a statement, SAG President Gabrielle Carteris said:
It doesn't sound like this dispute is going away any time soon. Personally, I thought it might get resolved quickly, and in quiet, behind the scenes. But the more that lawyers take statements to the press, it begins to feel like both sides are digging in for a protracted battle that will lead to some complicated negotiations -- but will also set a precedent for how upcoming movies such as Dune, Cry Macho and The Matrix 4 will handle profit sharing on their massive films.
Movie junkie. Infatuated with comic-book films. ReelBlend cohost. Resident dad. Extroverted introvert. Wants to see the Snyder Cut. Managing Director at CinemaBlend.